SPECIAL FEATURE

April 4th, 2007
written by Betty Morgan, "special features editor"
Educational Resources
Jump Start Guide to the Nikon D80 by Darren Kelly
Learn everything you need to know about your new Nikon D80 in 80 minutes! With all the new buttons and menus, buying a new camera can be distressing! But with the "JumpStart Guide to Nikon D80" Tutorial DVD, you can be up and running quickly.


The Jump Start Guide to the Nikon D80 includes tutorials on:
manual & automatic white balance
features & functions of the Nikon D80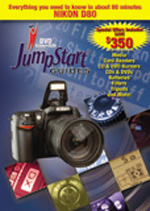 ISO settings
different quality settings
reading & using a histogram
basic principles of photography
depth of field
aperture vs shutter priority
program mode
various photo modes
composition
getting sharp images
storing & caring your camera
selecting & using a tripod
lenses and filters
digital media options
getting your photos into your computer
tips & tricks


For a fast start, slip this DVD right into your Mac's optical drive and you'll be up to speed for your new Nikon D80.

If you have another brand of camera, check out the other camera tutorials at JumpStartGuides.com.

WHERE TO ORDER
Get JumpStart Guide to Nikon D80 (A Tutorial DVD) from Amazon for $29.95.

OTHER TUTORIALS on the Nikon D80
• the eBook, DSLR: Nikon D80 by Peter iNova
• the Nikon D80 Made Easy by EliteVideo.com
• the eBook, Complete Guide to the Nikon D80 by Thom Hogan