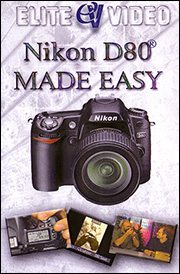 Nikon D80 Made Easy by Elite Video uses photo examples and close-up views of handling all the Nikon D80 dials and menus that few of us know everything about. This camera does so many things that are explained in detail without having to use the complicated and confusing Nikon D80 manual.
The section on "white balance" is essential in creating a better photograph. With your camera in hand, it's easy to follow the instructor right through each DVD training session.
Film speed, grain, depth of field, ISO sensitivity, and long exposure noise reduction make this 2 volume DVD set worth every penny of the purchase price.
The instructors are real world photographers who share all the secrets that they know about getting great professional results. Be sure to check out Disc 2, Chapters 7 and 8 for some insights and answers to questions that you've always wanted to know about lenses and depth of field soft focus backgrounds.
Disc 1
Chapter 1 Installing the Battery, SD Card, and Lens
• Walk Around of Camera
Chapter 2
• Setting Date & Time
• Shooting Menu, Image Quality, Image Size
• Color Matrix Metering Option
• Center Weighted Area Option
• Spot Metering Area Option
• Setting Exposure Compensation
Chapter 3 Mode Dial
• Auto
• Program
• Shutter Priority
• Aperture
• Manual
• Night
• Sports

Chapter 4 All About ISO
After viewing this chapter, all the mystery of taking photographs and using the right ISO will be clear!
Chapter 5
• Positioning your Camera
• Playback Mode
Chapter 6
• AF-AE Lock
• Shooting Great Pictures in Auto Mode
Chapter 7
• WB Preset
• AF Area Mode
Chapter 8
• Exposure Compensation
Disc 2
Chapter 1 Bracketing
• Exposure Bracketing
• White Balance Bracketing
Chapter 2 Optimize Functions
• Presets
• Custom set
• B & W
• Slide Show Options
Chapter 3 Flash Control
• Normal
• Redeye Reduction
• Night Redeye Reduction
• Motion Shot
• Flash Compensation
Chapter 4 Playback Menu
• Deleting Images
• Playback Folder Selection
• Print Set
• Shooting Menu
• Multiple Exposure Settings
Chapter 5 Custom Menu Settings
• Auto Focus Area Mode
• Center Auto Focus
• Auto Focus Assist
• ISO Auto
vExposure Compensation
• Self Timer
• MB D80 Batteries
Chapter 6 Setup Menu
• Format SD Card
• LCD Brightness
• Language Options
• Protect Images
Chapters 7 and 8 contain valuable information in how to create soft focus backgrounds, which lens is the BEST for projects, which lens to spend your money on and how much it will cost... it's like having your own private consultation with two pro users.

Recommendation
Personally, I prefer a movie, QuickTime, Flash or DVD for any type of training. Seeing someone do it and then copying their instructions makes for a fast learning curve. These DVDs combined with the Nikon D80 eBooks, makes The D80 Made Easy by Elite Video a must-have in my educational library.
Cost: $59
Order from EliteVideo.com
Adobe Creative Suite 3 Master Collection
Express your ideas in print, on the web, in film and video, and on mobile devices!
Order Now!
Related Articles
• the eBook, DSLR: Nikon D80 by Peter iNova
• the eBook, Complete Guide to the Nikon D80 by Thom Hogan