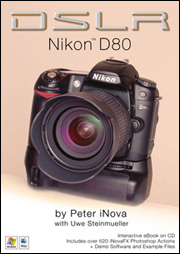 Nikon did it again! It was time to update cameras in the BareFEATS.com Lab and the Nikon D80 was our choice. With the updated camera, comes a new learning curve, but have no fear! We found three fabulous educational products available for the Nikon D80.
Three must-haves for your Nikon D80 Educational Library:
• the eBook, DSLR: Nikon D80 by Peter iNova
• the Nikon D80 Made Easy by Elite Video
• the eBook, Complete Guide to the Nikon D80 by Thom Hogan

And to get myself up and running at full speed, my first pick in educational resources is the eBook DSLR: Nikon D80 by Peter iNova. This little CD is packed with information that professionals and amateurs need for navigating Nikon's intensive buttons, modes and switches.
Case in point: How about a full-circle fish-eye image--from a genuine Nikon fish-eye optic--that produces stunningly sharp images if you know how to adapt and use it. Get this eBook and learn the technique! Nikon's own people were unaware of how to fit this to the D80 until they read this eBook. Hint: don't sell those add-on lenses from the Coolpix 950!
the eBook DSLR: Nikon D80 topics include:
• How to achieve stunning full circle Nikon fish-eye images with the D80.
• How to master the SB-800/600 Nikon flash system.
• How to get the most out of every button, switch and menu item.
• 19 pages detailing which Nikkor lenses to buy and which to pass up.
• How to dial in 4200 different settings of digital "film" and how they compare.
• Which techniques take practice and how you can become a D80 virtuoso.
• How to shoot remotely triggered repeating flashes.
• How to shoot images with tonal dynamics exceeding film or RAW format shots.
• How to make pixel-perfect D80 images over 5000 pixels wide.
• How to make those killer time-lapse movies.
• 18 Chapters
• 634 large-format pages
• Thousands of images
• 630 original custom Photoshop Actions
• 38-page D80 image Gallery
• High-resolution Images with (200% viewing) and Ultra-resolution (400% viewing) versions
• Two volumes including RAW Materials by Uwe Steinmueller.
• iNovaFX Actions have been completely rewritten to the unique requirements of the D80 and specific optics.
• For the beginner, there's also a whole chapter of original techniques for use with Photoshop Elements 2, 3 and 4

System Requirements
Windows & Macintosh Compatible
Requires Adobe Reader 7.0.5 or higher (included for Windows and Mac) and QuickTime 7 or greater which is free from apple.com/quicktime.
Recommendation
This investment is worth every dollar spent. I downloaded the PDF file from the CD to my desktop so I can access the information whenever I need it... in the car, on a remote location shoot, or in our lab studio.
Cost: $49.95
Order from GMBooks.com
Adobe Creative Suite 3 Master Collection
Express your ideas in print, on the web, in film and video, and on mobile devices!
Order Now!
Related Articles
• the Nikon D80 Made Easy by EliteVideo.com
• the eBook, Complete Guide to the Nikon D80 by Thom Hogan