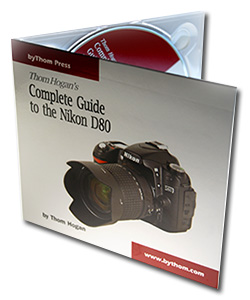 Thom Hogan's Complete Guide to the Nikon D80 is my eBook reference on my MacBook Pro. The powerful PDF search lets me look up anything I want. And it makes for a great read in learning more power techniques for using my new Nikon D80.
Thom covers details of the Nikon D80 that I had not even thought of along with more efficient ways for doing my usual tasks. Whether professional or amature, you'll find Thom's writing style is professional and concise.
This eBook is filled with 700 information-packed pages on one CD. I downloaded it to my desktop so that I read or look-up anything that I might be interested in when traveling, on location, waiting... you get the picture. Also I don't have to carry the CD with me.
The Complete Guide to the Nikon D80 by Thom Hogan includes:
• clear descriptions of how the D80 digitizes images
• full details on the camera's metering and autofocus systems
• complete easy to understand explanations of all controls and modes
• a full explanation of the i-TTL flash modes, including wireless, plus full instructions for using an SB-600 or SB-800 when used with a D80
• recommendations on when and how to use most D80 features
• bookmarked, cross-referenced, and hyperlinked... simply click on any of the live links and you are whisked to the appropriate section.
Bonus files included on the eBook CD:
• a PDF of a quick-reference chart
• custom curves action
• Excel spreadsheets on how to auto calculate depth of field, auto flash caluclations and macro lens calculations
• lens test PDF

System Requirements
(Macintosh and Windows CD-ROM supplied; uses Acrobat Reader).
Cost
North American orders: $29.95 plus $4.95 shipping.
International orders: $29.95 plus $7.95 shipping.
Published by byThom Press.
Order from ThomHogan.com
Adobe Creative Suite 3 Master Collection
Express your ideas in print, on the web, in film and video, and on mobile devices!
Order Now!
Related Articles
• the eBook, DSLR: Nikon D80 by Peter iNova
• the Nikon D80 Made Easy by Elite Video