We are busily testing the new 2.8GHz iMac Aluminum against various other Macs. In this second installment, we test some pro or productivity apps.
We ran Maxon's new Cinebench 10 CPU and OpenGL tests on various desktop Macs. The ORANGE bars signifiy the new Aluminum iMacs.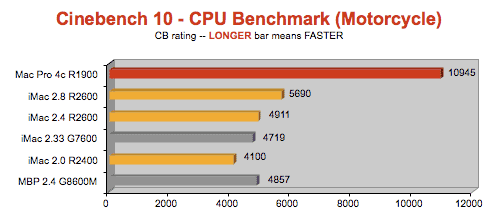 LEGEND
Mac Pro 8c FX4500 = Mac Pro 8-core 3GHz with Quadro FX 4500
Mac Pro 4c R1900 = Mac Pro 4-core 3GHz with Radeon X1900 XT
iMac 2.8 R2600 = iMac C2D 2.8GHz with Radeon HD 2600 Pro
iMac 2.4 R2600 = iMac C2D 2.4GHz (24") with Radeon HD 2600 Pro
iMac 2.33 G7600 = iMac C2D 2.33GHz (24") with GeForce 7600 GT
iMac 2.0 R2400 = iMac C2D 2.0GHz with Radeon HD 2400 XT
MBP 2.4 G8600M = MacBook Pro 2.4GHz with GeForce 8600M GT

INSIGHTS: If you are serious about rendering complex 3D models, you'll want the 4 or 8 Core Mac Pro.
The iMac 2.8 Aluminum shows its strength compared to the previous fastest iMac (2.33) by rendering the model 21% faster and flying through the sample 27% faster.
---
The next test was to do a RAM Preview Render of two Motion 3 Templates. The first one is the Fire-Mortise 2 NTSC (720x486) 300 frame template.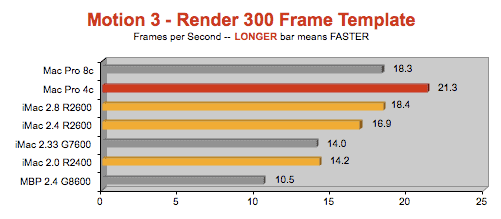 The second render was of the Tech Blue-Video Open (1920x1080) 150 frame "HD" template.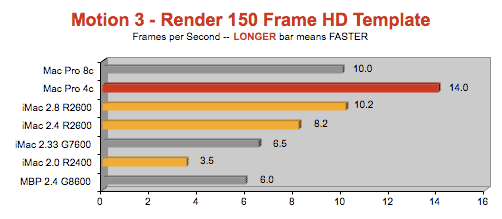 INSIGHTS: This test, which puts as much as a 30% load on the GPU, is definitely faster on the new iMac 2.8GHz with the Radeon HD 2600 GT. Are you surprised to see the Mac Pro 4-core with the Radeon X1900 XT beat the expensive Mac Pro 8-core with the Quadro FX4500? We're not. Not only does Motion NOT take advantage of more than 2 cores, but the $250 Radeon X1900 XT does a better job handling the render duties its given than the $1600 FX4500.
OTHER IMAC ARTICLES
We have results for 3D Games under Mac OS X comparing all three models of AL iMac to other Macs. See our Windows XP Pro/Vista version of the 3D Game tests comparing the 2.8GHz iMac to the 2.33GHz iMac.