In this latest version of this page, we now have 3D gaming results for all three models of Aluminum iMac (2.8, 2.4 and 2.0GHz) with iMac Update 1.0 installed. We compared them against various other Macs, new and old. We were most curious about the speed of the Radeon HD 2600 Pro and 2400 XT graphics chips compared to other Mac GPUs. (NEW iMacs appear with ORANGE bars in graphs.)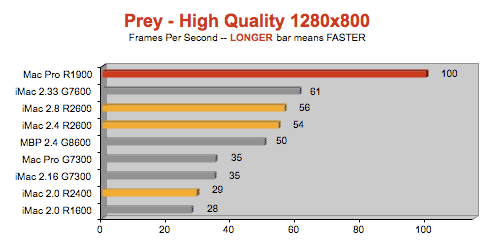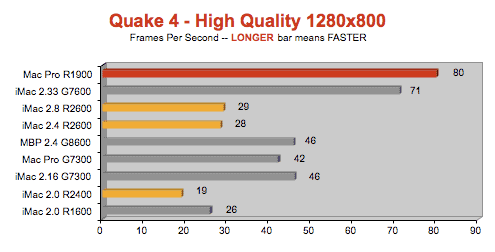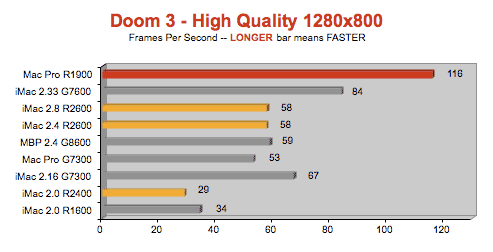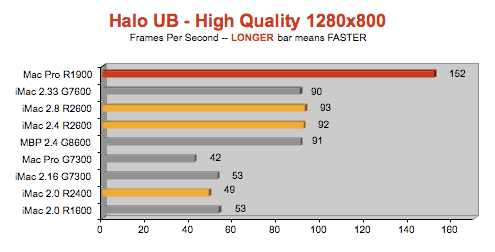 (Our first posting of the Halo graph showed the new iMac cranking out only 40 fps. We discovered we had FSAA turned on to 4X. Setting it to zero produced the results you see above.)


(Our World of Warcraft test is to go to FireTree realm. Our warrior stands next to the totem pole at the entrance to Camp Narache (Red Cloud Mesa). He runs East toward the large tree at the top of the hill. Turns around and runs West back to the totem pole. Using Titan Performance addon, we are able to capture min, max, and average frame rate. All settings were maxed, 24 bit 1X multi-sampling, no vertical sync, no glow effect. We not only get consistent results but we confirmed that this stresses the GPU mightily.)
LEGEND
Mac Pro R1900 = Mac Pro 3GHz with Radeon X1900 XT
iMac 2.33 G7600 = iMac C2D 2.33GHz with GeForce 7600 GT
iMac 2.8 R2600 = iMac C2D 2.8GHz with Radeon HD 2600 Pro
iMac 2.4 R2600 = iMac C2D 2.4GHz with Radeon HD 2600 Pro
MBP 2.4 G8600 = MacBook Pro 2.4GHz with GeForce 8600M
Mac Pro G7300 = Mac Pro 3GHz with GeForce 7300 GT
iMac 2.16 G7300 = iMac C2D 2.16GHz with GeForce 7300 GT
iMac 2.0 R2400 = iMac C2D 2.0GHz with Radeon HD 2400 XT
iMac 2.0 R1600 = iMac CD 2.0GHz with Raceon X1600 XT (256M)

UPDATED CONCLUSION
The Aluminum iMac (2.8GHz, 2.4GHz) with the Radeon HD 2600 Pro GPU disappointed us when it came to 3D gaming. It lost to the previous generation iMac (2.33GHz) with the optional GeForce 7600 GT in most 3D games we tested. And the Aluminum iMac (2.0GHz) with the Radeon HD 2400 XT was a slower than the older iMac 2.0 with the Radeon X1600!
In in all fairness, the Radeon HD 2600 Pro is the "stock" GPU. Compared to the previous "stock" GPU (GeForce 7300 GT), it was faster overall. We expect, since the Radeon 2600 Mac OS X driver is brand new, that performance optimizations will be made to it in the near future. We're hoping ATI/AMD will perform some magic to make it more competitive. If they can't, then I hope Apple will offer a CTO optional, faster GPU -- as they did on the previous iMac and as they currently do on the Mac Pro.
Note that the 2.4GHz iMac produced essentially the same 3D Gaming results as the 2.8GHz iMac. That's because they both have the same GPU (Radeon HD 2600 Pro) and our tests were GPU limited rather than CPU limited. So for iMac gamers on a budget, that's an important factoid.
We also tested a three games under Windows XP Pro and Vista in our BootCamp partition. If the Quake 4 results under Vista are any indicator, we have good things to look forward to as the Mac OS X Radeon 2600 driver "matures."
Needless to say, for hard core Mac gamers, a Mac Pro with the Radeon X1900 XT is the ultimate setup -- at least until Apple or a third party comes up with a faster optional graphics card.
NOTE: September 14th, 2007 -- We retested two of the AL iMacs with the iMac Update 1.1, which, among other things, installs a later version of the Radeon HD 2400/2600 driver (1.5.8.9). To see what difference the new GPU drivers make, see our iMAC UPDATE 1.0 VERSUS 1.1 SHOOTOUT.
OVERALL IMPRESSION of the NEW iMAC
We really like the new Aluminum iMac. It's not just beautiful desktop sculpture. It's a very capable "mid-level" Mac and the best iMac ever.
And we love the glossy screen. Some people fear reflections in the screen will impair their use of this iMac. Not so. We have skylights and windows in our lab. We had no problem with reflections overcoming the vivid screen images. When testing, we were not even aware of the reflections. Glossy is good. We love glossy. We ordered our two MacBook Pros with it. We hope the next generation of Cinema displays are glossy.
The more we use the new keyboard, the more we like it. We like it so much, we ordered two more of them for the lab.
For those wondering if the 2.8GHz model is worth the extra $$$ over the 2.4GHz model, it can be argued that it is NOT worth it in terms of 3D accelerated gaming. But remember that the extra $$$ buys twice the memory and a larger, faster hard drive. And if you use your iMac to get "real work" done, (Photoshop, iMovie, iTunes, etc.), the 2.8GHz model's clock speed advantage is worth the extra $$$, too.
MORE RESULTS for the NEW iMac
See our iMAC UPDATE 1.0 VERSUS 1.1 SHOOTOUT (two tough games on three tough iMacs)
See Cinebench 10 and Motion 3 results for all three Aluminum iMac versus others
See our Windows XP Pro/Vista version of the 3D Game tests comparing the 2.8GHz iMac to the 2.33GHz iMac.
See test results from Photoshop CS3 and After Effects CS3 for all three AL iMacs and how they stress the memory capacity as well as the CPU.