Though many "2006/2007" Mac Pro owners have been "bewitched, bothered, and bewildered" by the non-compatibility of the "2008" Mac Pro's optional GeForce 8800 GT kit, we have two pieces of good news:
1) The Radeon HD 2600 XT works on the "old" Mac Pro.
2) The Radeon X1900 XT works on the "new" Mac Pro*
So we wanted to see how both cards would do against each other as well as the two best cards for the "last great" G5 tower.
BLIZZARD WORLD OF WARCRAFT
Working with a WoW programmer, we devised a test that stresses the GPU and produces repeatable results. We placed our warrior in the Firetree realm. He started at the totem pole at the entrance to Village Narache, ran East to the two large trees on a nearby hill, turned around, and returned to the totem pole. By using an addon called "Titan Performance," we were able to capture average frame rate for the running sequence. (Test was run in Full Screen mode and best settings.)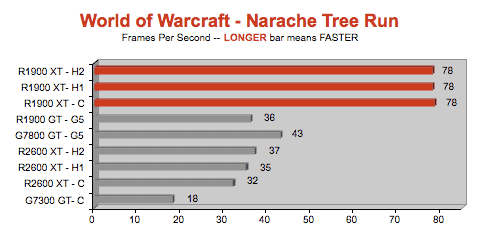 MACSOFT UNREAL TOURNAMENT 2004 FLYBY
We used the SantaDuck Toolkit to benchmark with UT2004. Though a Botmatch simulates actual game play, it is very CPU intensive. However, the Flyby benchmark is primarily GPU -- especiallly at max settings and high resolution. We used the Inferno map.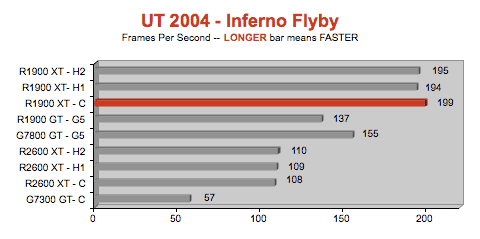 ASPYR PREY
It 'represents' for the games based on the Doom 3 engine. We use a demo file in our benchmarking that we downloaded from Overclockers in Australia. High Quality was selected (including 8X anisotropy).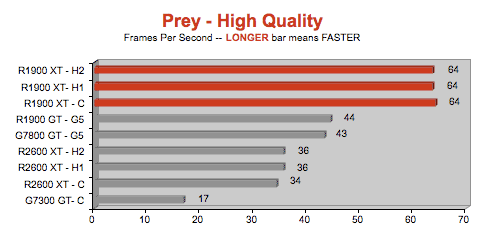 MACSOFT HALO
We ran the newest UB version. We set everything to the highest quality except lens flare. FSAA was set to OFF.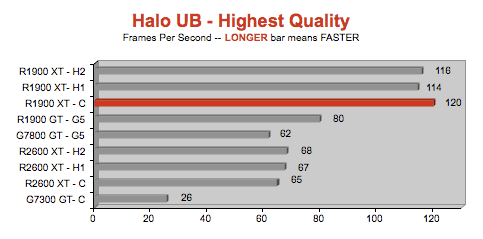 LEGEND of GRAPHS
R1900 XT = ATI Radeon X1900 XT*
R1900 GT = ATI Radeon X1900 GT (G5 Edition)
R2600 XT = ATI Radeon HD 2600 XT
G7800 GT = nVIDIA GeForce 7800 GT (CTO option on G5 PCIe)
G7300 GT = nVIDIA GeForce 7300 GT
H2 = card installed in Mac Pro 3.2GHz "Harpertown"
H1 = card installed in Mac Pro 2.8GHz "Harpertown"
C = card installed in Mac Pro 3.0GHz "Clovertown"
G5 = card installed in Quad-Core G5/2.5GHz Power Mac "2005"


In the case of each 3D accelerated game, we ran at High or Highest Quality settings at 1920x1200. All Macs were running Leopard 10.5.1.
(* One user reported that the Radeon X1900 XT did NOT work in his 2008 Mac Pro. We didn't do anything special to get it to work in our 2008 Mac Pro. However, we do recall running the firmware update back in October 2007 when it was installed in our 2007 8-core Mac Pro.)
INSIGHTS
The ATI Radeon HD 2600 XT standard on the 2008 Mac Pro exhibits a significant performance improvement over the GeForce 7300 GT that was standard on the 2006/2007 Mac Pro. In fact, as a $149 kit (MB198Z/A), it's a bargain upgrade for your "older" Mac Pro. It only consumes 50 watts, so it won't overwork your PCIe bus.
Notice that when it comes to high rez, high quality gaming, the 2.8GHz Mac Pro is every bit the equal of the 3.2GHz Mac Pro.
The Radeon X1900 XT (which is still available in a kit -- MA631Z/B) is fast -- faster than the Radeon HD 2600 XT, but it's pricey at $399. Yet it's currently the only "high end" GPU upgrade kit that's compatible with the 2006 and 2007 Mac Pro.
We added the Quad-Core G5 with two of its optional GPUs to the mix. You can see that overall it's faster than the Mac Pros with "stock" GPUs but slower than than the Mac Pros with the optional Radeon X1900 XT. Doubtless the GeForce 8800 GT will be faster still.
As of April 15th, 2008, Apple started shipping the "legacy" version of the GeForce 8800 GT in a kit form for 2006/2007 Mac Pro owners. When you visit the Apple Store USA, click on "Displays" in the left column and look for the Geforce 8800 GT labeled "1st Generation." Let me remind you that our testing has shown this to be a strong 3D OpenGL gaming card but a weak Pro App card (Motion, Aperture, FCP). We believe a Mac OS X compatible Radeon HD 3870 would perform better for Pro Apps. We are urging ATI/AMD to release such a card and will alert you if and when that happens.
RELATED LINKS