We've created much heat on Mac forums with our reports of poor "pro app" performance with the GeForce 8800 GT on the "early 2008" Mac Pro. Some doubt our testing methodology. Some are cancelling their orders for the GeForce 8800 GT. To "hammer" our point home, we went back and rendered RAM Previews on 15 APPLE MOTION 3 templates, each with from 450 to 900 frames.
The table below shows time in seconds to complete a "RAM Preview - Play Range" which renders the template on the fly using both CPU and GPU. The resulting preview is stored in our Mac Pro's 16GB of DDR2 memory. The fastest time is in bold RED.
CONCLUSION
The fastest times in all 15 cases were achieved by one of the two ATI Radeon graphics cards. The only time the nVidia GeForce 8800 GT beat the Radeon HD 2600 XT was when rendering the "Blocks-Detail.HD" APPLE MOTION 3 template. In all other cases, the Radeon HD 2600 XT's advantage over the GeForce 8800 GT (and Quadro FX 5600) was no less than 22% and as much as 42%.
We consider this incontrovertible evidence that the GeForce 8800 GT is deficient when rendering Core Image effects. This performance deficiency will extend to other Apple pro apps like Final Cut Pro video effects and Aperture functions that invoke Core Image.
RUN THE TEST YOURSELF
You can run the same test as we did. Just have at least 8GB of RAM and a stopwatch ready. Launch Motion 3 after a fresh Restart. Open the templates listed above. Select "Mark -> RAM Preview -> Play Range (Command + R). At the same time start your timer. When the progress bar disappears, stop the timer. For re-runs on the same template, you must first "Mark -> RAM Preview -> Clear RAM Preview."
WHY A FAST GPU HELPS MOTION
When you render a RAM Preview in Motion, it hands off part of the work to the graphics processor. Using Hardware Monitor, we measured as much as 75% load on the GPU during the RAM Preview Play Range (Render). That's why Apple recommends you get a good one if you are running Motion.
MORE EVIDENCE: STONE DESIGN IMAGINATOR
This app was created to showcase Core Image effects. We use it to test the GPU's ability to process those effects by having it render 1000 frames on the fly as it morphs from a leopard to a rose.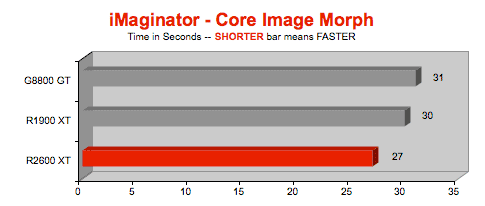 AT LEAST 3D GAMES ARE FASTER
As you can see from our page on 3D gaming, you can expect the GeForce 8800 GT to be much faster running 3D OpenGL based games than the Radeon HD 2600 XT. The same should be true of 3D OpenGL based animations in pro apps.
As of April 15th, 2008, Apple started shipping the "legacy" version of the GeForce 8800 GT in a kit form for 2006/2007 Mac Pro owners. When you visit the Apple Store USA, click on "Displays" in the left column and look for the Geforce 8800 GT labeled "1st Generation." Let me remind you that our testing has shown this to be a strong 3D OpenGL gaming card but a weak Pro App card (Motion, Aperture, FCP). We believe a Mac OS X compatible Radeon HD 3870 would perform better for Pro Apps. We are urging ATI/AMD to release such a card and will alert you if and when that happens.
MAKING THE RADEON X1900 XT WORK ON THE "EARLY 2008" MAC PRO
Some reports have come in that the Radeon X1900 XT does not work on their "2008" Mac Pro. We have had no problems running it in our 2008 Mac Pro 3.2GHz. We asked ATI about this issue. They suggest performing the firmware update on the Radeon X1900 XT while it is installed in a 2006 or 2007 Mac Pro. Then moving it to the 2008 Mac Pro.
NOTE: We can NOT get the Radeon X1900 XT to boot Vista 64 from our Boot Camp partition. We are forced to use the Radeon HD 2600 XT or GeForce 8800 GT or Quadro FX 5600 for that purpose. Native PC graphics cards will also work under Vista 64 and other Windows OSs.
THE ELEPHANT IS OUT OF THE CORNER
As you can see, we were able to obtain a Quadro FX 5600 thanks to our friends at AppleMacanix. As can see above, it offers no advantage over the GeForce 8800 GT costing one-tenth as much.
However, the Quadro FX 5600 does feature more video memory than the GeForce 8800 GT (1.5GB vs 512MB). And, according to one Maya guru, the extra memory (and superior memory management code) of the Quadro workstation cards becomes useful for frame buffering in apps like Maya. This is especially true for redraw of multiple views of the same complex 3D model.
This has been enhanced further by Quadro FX 5600's new integrated memory allocation which allows the card to dynamically allocate on-board RAM to whatever task is at hand rather than have specific hard wired allocations. So rather than say a maximum of 40% of total on-board RAM dedicated to the texture buffer the card can ramp up and down from 80% sharing with the immediate needs of the other buffers.

We hope to demonstrate this with some future Maya benchmarking.