With the latest update, we present to you two of the 2008 Mac Pro models against two previous Mac Pros and the "last great G5" tower.
AFTER EFFECTS CS3 TOTAL BENCHMARK
These results are using the latest 8.02 update of After Effects CS3 Professional which provides Mac OS X v10.5 Leopard compatibility fixes, Mac OpenGL support for supported video cards under Mac OS X v10.4.10 and v10.5, and more. We timed the second part of the Total Training benchmark. All cores are cranking at 100% and up to 13GB of RAM is gobbled up.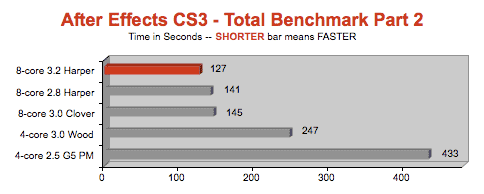 PHOTOSHOP CS3 ACTIONS
We selected six "MP-aware" actions and ran them on a 100MB and 300MB test file.


QUICKTIME EXPORT
We took the 720p "wildlifeHD Reel" sample from the QuickTime HD Gallery and initiated 6 simultaneous exports to iPod format, forcing all cores to crank.

APERTURE - LIFT and DROP
We made adjustments to one of the Tibet samples. Then dropped the adjustments to the other six samples. We saw over 500% CPU usage on the 8-core systems.

COMPRESSOR 3 (+ QUICKCLUSTER) - ENCODE DVD
We created a QuickCluster using instances to match the number of cores. Then using the "wildlifeHD" sample video clip, we encoded a DVD using 'Best 90 minutes' format. Batch Monitor recorded the elapsed time.
CINEBENCH 10 - CPU RENDER
Unlike some artificial benchmarks, Cinebench uses the same code as Cinema 4D for its CPU render and OpenGL test. This is one of the few apps that also stresses the memory bus.

GEEKBENCH 2
We ran the 64-bit version of this cross platform benchmark.

LEGEND of GRAPHS
Harper = "early 2008" Mac Pro "Harpertown"
Clover = "apr 2007" Mac Pro "Clovertown"
Wood = "aug 2006" Mac Pro "Woodcrest"
PM = Power Mac (last version with PCIe slots)
The 3.2GHz "Harpertown," 3.0GHz "Clovertown," and 2.8GHz "Harpertown" each had 16 GB of memory (8 x 2GB). The 3.0GHz "Woodcrest" and 2.5GHz G5 Quad both had 8GB of RAM (8 x 1GB). All were running Mac OS X Leopard 10.5.1.
ANALYSIS
Though the core frequency gain of the 3.2GHz "Harpertown" is only 6.7% compared to the 3.0GHz "Clovertown," the speed advantage in the tests ranged from 12% to 24%. That shows what a faster frontside bus and faster memory bus brings to the party.
Also, you might not be aware that the Harpertown has a larger L2 cache -- 6 MB versus 4 MB. Plus the North Bridge now has a 24 MB snoop filter which maintains an index of all cached data in each processor. This significantly reduces data traffic on the FSB, providing lower latencies and greater available bandwidth to handle requests between CPUs. (See Apple developer note for more detail.)
On January 26th we finally got our hands on the 2.8GHz "Harpertown." We configured it with the identical boot drive and identical memory modules (8 x 2GB). The 3.2GHz "Harpertown" was from 7% to 11% faster than the 2.8HGz model. Comparing that to the 14% faster core frequencies and the 40% higher price (comparably equipped) of the 3.2GHz model, I can see why many of you are opting for the 2.8 model. But don't forget, a few years from now the 3.2 model will have a higher resale value.