Originally posted 05/23/03 by rob-ART morgan, mad scientist
Updated 5/27/03 with comment on 32 bit PCI bus vs 64 bit PCI bus
For benchmarking a drive, it's hard to beat Intech's QuickBench X. For sustained test, I use 100MB block size so drive cache isn't a factor. For the random test, I average the 128K, 256K, 512K, and 1024K random transfers.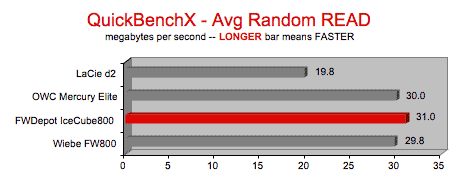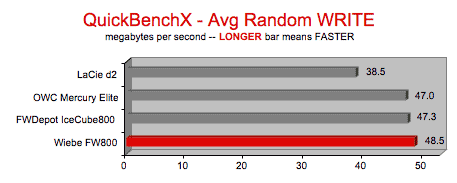 IN CASE YOU HAVEN'T SEEN PAGE ONE, IT CONTAINS REAL WORLD TESTS.
ANALYSIS
1. There is little difference in the speed of various brands of FireWire 800 enclosures, assuming they have the same kind of hard drive. With the exception of LaCie, the original source of the bridgeboards is MacPower.
The same is true of FW800 PCI cards tested. All but LaCie's are have MacPower as OEM and all ran about the same speed.
2. The LaCie d2 was slower in some tests due its use of the Western Digital 2000BB drive. Huh? Yes. The other enclosures had the Hitachi/IBM 180GXP drive. When I put a WD2000BB in the FWDepot enclosure, it produced almost identical (slower) numbers to the LaCie d2 with the WD2000BB.
Therefore, if you want the best performance from your FireWire 800 enclosure, I recommend you opt the 180GXP with 8MB buffer in either the 120GB or 180GB size. It's even faster than other drives when used in a FireWire 400 case.
2. The tests above were done using the built-in FireWire 800 port of the Power Mac G4/1.42GHz MP. When the FireWire 800 PCI card was used, the sustained and random write speeds dropped 8% and 16% respectively. However, if you don't have built-in FireWire 800, you're still better off using a FireWire 800 PCI card than the built-in FireWire 400.
3. FireWire 800 is now every bit the equal in speed to its Ultra ATA-133 cousin. Plus, it has the added versatility of being external and hot-swappable. Speaking of versatility, the FWDepot and OWC enclosures featured a FW400 port and USB 2.0 port in addition to two FW800 ports. The LaCie enclosures include a USB 2.0 port.
4. Don't expect all Power Macs or PowerBooks to run the FireWire 800 drives at the same speeds published above. For example, when I ran a LaCie FW800 drive on a 17" PowerBook, it ran my real world tests 12% slower on average. But then it could be argued that the Photoshop and QuickTime tests benefit from the presence of dual processors on the Power Mac.
I commented in an earlier version of this article that "older" Power Macs with 32 bit PCI bus would probably run FW800 PCI cards slower than Power Macs with 64 bit PCI bus. However, when I checked the Apple technical documents, I discovered Apple has been using 64 bit PCI slots since the advent of the Blue and White G3 Power Macs.

Some of you have asked about FW800 CardBus on a PowerBook. Since CardBus is only 32 bits "wide," there's some skepticism as to whether FW800 CardBus will go as fast as a FW800 PCI card on a 64 bit bus. I'm withholding my opinion until I can actually test one. After all, Ultra SCSI supported up to 80MB/s per channel on a 32 bit PCI bus.
IN CASE YOU HAVEN'T SEEN PAGE ONE, IT CONTAINS REAL WORLD TESTS.
RELATED LINKS
All the currently shipping FireWire 800 products are based on the Oxford 922 chip set. Read more about their bridge chip and bridge board at Oxford's website.
XLR8YourMac has also tested FireWire 800 products.
Check out Bare Feats' articles on FireWire 800 vs USB 2.0 vs Ultra ATA vs Ultra SCSI, two, three, and four drive FireWire 800 RAID, and FireWire 800 optimizations.
Storage Technology tested the newest Hitachi-IBM, Maxtor, Seagate, and Western Digital Ultra ATA drives. Although they test on Windows systems using Ultra ATA controllers, the results are instructive, since those are the Hitachi-IBM and Western Digital drives are being shipped in the new FireWire 800 case kits from OWC and LaCie. Be aware that putting the same drives in FireWire 800 cases may produce a different results from Ultra ATA controllers. In my tests, the Hitachi-IBM drive out performed the Western Digital drive.
TEST NOTES & WHERE TO BUY
The test computer was our trusty Apple Power Mac G4/1.42GHz Power Mac running OS X (10.2.6).
Enclosures used in the test included:
1. FWDepot IceCube800 Enclosure used our Hitachi-IBM 180GXP 180GB drive. You can purchase the enclosure and FW800 PCI card from them direct.
2. Other World Computing's Mercury Elite Pro FireWire 800 Enclosure with a pre-installed Hitachi-IBM 180GXP 180GB drive. Their enclosures come in other drive capacities. They also sell the empty enclosure and a FW800 PCI card.
3. LaCie's d2 FireWire 800 enclosure with pre-installed 200GB WD2000BB drive.. They are available in up to 500GB capacity. You can purchase enclosures and LaCie's own FW800 PCI card direct from Lacie's Online Store or from Other World Computing or from Small Dog Electronics.
4. Wiebetech's FW800 enclosure used our Hitachi-IBM 180GXP drive. Starting in June, you can purchase this enclosure direct from Wiebetech or from Dr.Bott.
TransIntl.com has the Hitachi-IBM 180GXP drive which is the fastest drive you can put in a FireWire 800 case. These drives also scream when used in an Ultra ATA setup. Check prices at Googlegear.com also.
Each enclosure kit comes with at least one FW800 cable. Additional FireWire 800 cables are available from the Apple online store.
SEE "HOW WE TEST" for details on the tests reflected in the graphs. We recently added a new random test. For RANDOM READ/WRITE, I averaged the 128K, 256K, 512K, and 1024K random read/writes from Intech's QuickBenchX. I feel they best reflect typical random access block sizes used by the OS X and most applications.