Originally posted 05/23/03 by rob-ART morgan, mad scientist
One source told me that, although cases vary, there will be little difference in the speed of various brands of FireWire 800 drive enclosures since the bridgeboards come from the same original manufacturer. Sort of the "Buick vs Oldsmobile vs Pontiac" thing. I wanted to see for myself.
I've split this article into two pages so it will load faster. PAGE ONE has real world tests. PAGE TWO has benchmark results and analysis.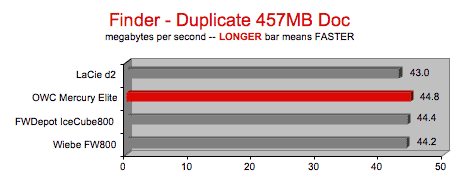 FOR BENCHMARKS AND ANALYSIS, GO TO PAGE TWO.