Originally posted 05/30/03 by rob-ART morgan, mad scientist
I'm still probing the limits of FireWire 800. For starters, the KIND of drive used DOES make a difference. I've added two additional drives to the SINGLE DRIVE TESTS to illustrate this:

I found that when it comes to SINGLE channel striped PAIRS (RAID 0), running off a FireWire 800 PCI card does NOT put you at a disadvantage to built-in FireWire 800. That should be an encouragement to those of you lacking built-in FireWire 800 on your Power Mac.
But to squeeze out the most speed, it's better to connect each cable to the PCI card instead of daisy chaining them, as you can see in this example using the Maxtor DiamondMax Plus 9 in FireWire Depot case kits and the OWC PCI card:

As I stated on numerous occasions, to get the most out of FireWire 400 or 800 RAID, you should have a channel or controller dedicated to each drive. The charts below illustrate this. However, in the case of FireWire 800, the single channel striped pairs don't run that much slower than dual channel in some tests (Photoshop). That's encouraging for those of you without the luxury of multiple channel setups.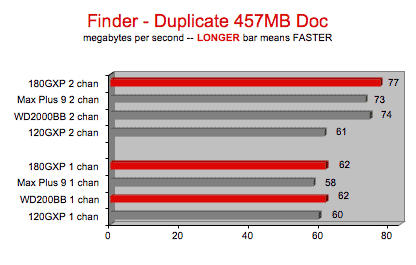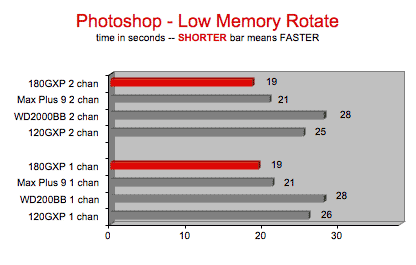 FOR BENCHMARKS AND ANALYSIS, GO TO PAGE TWO.