You might recall our review of the Microsoft Xbox 360 game console back in December 2005. Recently we acquired a Sony Playstation 3 and replaced the Xbox 360 with the Elite model. We thought it would be fun to compare the two premium game consoles in terms of features, performance, etc.
Being addicted to car racing simulations, we will focus on the best available on the Xbox 360 and Playstation 3. Then we will comment on the Mac as an alternative car racing "console."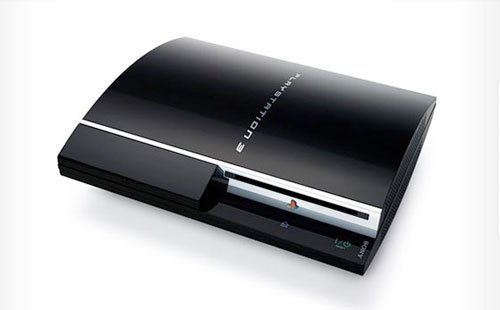 LOOK AND FEEL
Our initial response to the Playstation 3 is that it has a more elegant look and feel than the Xbox 360 Elite. It is glossy black with a slicker user interface than that of the Xbox 360. The startup sound reminds you of when the lights go out at the opera house. Very classy. Advantage: PS3
PROCESSING POWER
The CPU of the Playstation 3 is a 3.2GHz Cell Broadband Engine with up to 8 "synergistic" processing units. The Xbox 360 sports a custom 3.2GHz G5 with 3 dual-threaded cores. The Playstation 3 has 512K of L2 cache while the Xbox 360 has 1MB of L2 cache. The PS3 has 256MB of main memory plus 256MB of video memory while the Xbox 360 shares 512MB between the CPU and GPU. Plus it has 10MB of very fast eDRAM dedicated to the GPU. The memory bandwidth of the PS3 is 25.6GB/s versus 22.4GB/s for the Xbox 360.
The Playstation 3 uses an nVidia RSX "Reality Synthesizer" graphics processor (GPU) with 24 pixel pipelines and 12 vertex pipelines while the Xbox 360 uses a custom ATI processor with 48 unified pixel/vertex pipelines.
Combining the CPU and GPU power, the Playstation 3 is rated at 51 billion dot-product-operations-per-second (dpo/s). The Xbox 360 is rated at 34 billion dpo/s. Advantage: PS3
STORAGE OPTIONS
The PS3 model we tested came with a 60GB hard drive. The Xbox 360 Elite has 120GB drive. Advantage: Xbox 360 Elite

The PS 3 optical drive is a slot loading Blu-ray BD-ROM drive. It can launch games or play DVD movie discs or Blu-ray movie discs. The Xbox 360 has a tray load Dual-Layer DVD-ROM drive. To play HD movies on the Xbox 360, you must purchase a $199 optional external tray load HD-DVD player that can only be used for DVD or HD-DVD movie playback. The internal tray load optical drive is still required for launching games. Advantage: PS3

The PS3 has support for various memory cards (SD, CF, and Memory Stick). The Xbox 360 sports two memory card slots that accept proprietary memory units (up to 512MB each). Both consoles have multiple USB 2.0 ports. I understand you can use them to connect things like the iPod, Flash Drives, USB hard drives, and even Sony's PSP. Advantage: PS3

NOISE LEVELS
The Playstation 3's fans are quieter than the Xbox 360. When first turned on, the PS3 is under 40db while the Xbox hovers at 47db. When a game disc is loaded and the game is running, the PS3 rises to 44db while the Xbox rises to 55db. Of course, when we turn on the sound courtesy of our Bose 3-2-1 system, the decibel level rises over 73, drowning out any noise from the game console fans.

However, if you are trying to watch a quiet scene in a movie, the Xbox fan noise interfered with the pleasure of the moment. That wasn't the case with the PS3. Advantage: PS3
(NOTE: Placing the consoles on carpeted flooring helped keep the perception of fan noise to a minimum.)

VIDEO SUPPORT
The PS3 has an HDMI port and supports 1080p. That comes in handy with our new Sony 46" 1080p LCD flat panel screen. In the case of the Xbox 360 the best quality video output is component and maxes at 1080i. The Xbox 360 Elite, however, does include an HDMI port and supports 1080p. Advantage: neither

AUDIO SUPPORT
Toslink optical audio ports are available on both consoles. The PS3's audio circuitry can decode up to 7.1 channels of audio in the Dolby Digital, DTS, SACD and Dolby TrueHD formats. The Xbox 360 can decode up to 5.1 channels of audio in Dolby Digtal and DTS. It down-converts Dolby TrueHD. Advantage: PS3

GAMEPADS
The gamepads for the Playstation 3 are smaller and lighter than the Xbox 360's. The PS2 pads are Bluetooth wireless while the Xbox pads are 2.4GHz wireless.

The PS3 pads have non-removable batteries that recharge when connected to the USB port (or the optional charger). The Xbox 360 gamepads use two removable AA batteries. We use Ni-MH batteries which we recharge using a third party 15 minute charger. I understand you can get special battery packs and chargers. Advantage: PS3

GAME TITLES
At the time of our original posting, there were more native Xbox 360 titles (297) than native Playstation 3 titles (95). This may be due to the fact that the Xbox 360 shipped a year before the PS3. Given enough time, the PS3 could catch up. After all, the PS2 has 1394 titles to the old Xbox's 824 titles. Then again developers report that the Xbox 360 has easier-to-use development tools than the PS3. Plus, Microsoft Games has an exclusive on killer racing titles like Forza 2 Motorsport and Project Gotham Racing 3. Advantage: Xbox 360 -- for now.

Since we are focused on car racing, Gamefly lists 7 "coming soon" titles plus 5 current titles for the PS3 for a total of 12. They list 9 future racing titles for the Xbox 360 plus 10 current titles for a total of 19. Advantage: Xbox 360.
LEGACY GAME SUPPORT
What about compatibility with older models of consoles? The Xbox 360 will handle 23 Xbox racing titles while the PS3 can play 48 PS2 racing titles without any problems. That can be useful when you want to play a racing game like Gran Turismo 4 (PS2) until the HD version is released for the PS3. We've been playing the Xbox version of Forza Motorsport on the Xbox 360 since January 2006. Forza 2 for the Xbox 360 will finally ship on May 29th, 2007. Advantage: PS3 (even for non-racing titles)
CONCLUSION
If I had to pick between the Xbox 360 Elite and the Playstation 3 for car racing simulations, the Xbox 360 gets the nod because it has an exclusive on Project Gotham Racing 3 and Forza 2 Motorsport. Both games have spawned their own subcultures that rival that of World of Warcraft. Last year Microsoft sponsored a contest to find the best PGR race driver in the world. The twelve finalists received a free trip to the Lamborgini factory in Bologna, Italy. The 15 year old from Sweden won.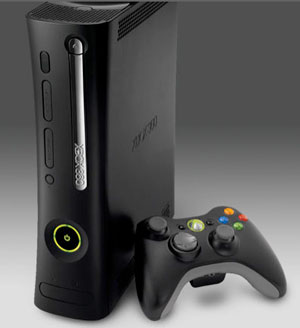 Thankfully we at Bare Feats don't have to choose between the two consoles and miss getting to play PS3 exclusive titles like MotorStorm and Gran Turismo HD.
If I had to pick one console for an all around entertainment system (both gaming and movie watching), the Playstation 3 has the edge with built-in Blu-ray, Dolby HD support, and compatibility with the most legacy games.
For those of you who have to choose, you'll be glad to know that there are game developers working on new car racing titles that run on both game consoles. Some notables coming soon are Dirt, Grid, and Pure.
WHAT ABOUT THE MAC?
You might be surprised to know that there are at least 12 car racing games that run under Mac OS X. Most date back to 2004 or earlier and are far from being state-of-the-art in their use of the full CPU and GPU processing power of the Mac, making it a very weak alternative to the Xbox 360 or Playstation 3.

That may seem odd since the Mac has state-of-the-art Shooter games like Quake 4 that are every bit the equal of the Xbox 360 version of Quake 4. But there are at least two reasons why racing games languish on the Mac. First, Microsoft's policy of "Xbox 360 only" for titles like PGR 3 and Forza 2 will prevent the porting of those titles to Macs (or PCs). And one game developer told us that it's hard to build a business case when resellers have a tendency NOT to stock Mac racing games in their inventory.

Yet, there are still occasions where we will want to get a "racing fix" from our Mac -- like when we are traveling with our MacBook Pros to a MacWorld Expo. And thankfully there are game developers working to provide better car racing for Mac owners. The soon-to-be-released Colin McRae Rally Mac is a good example.

We also think a gamepad might improve the Mac racing experience. We've ordered two of the Logitech Cordless Rumblepads and have downloaded drivers from third parties that are supposed to make the Xbox 360 controller work with the Mac. We'll report back.

Hopefully Mac racing game developers like Aspyr and/or Feral Interactive can negotiate with a company like Codemasters to bring cross-platform console titles like DiRT and TOCA Race Driver to the Mac. Meanwhile, we recommend you read Matt Stutz's "The State of Racing on the Mac" featured on Inside Mac Games.
THE DEAL ON THE RACING WHEEL
We have tried various racing wheels on both the Mac and game consoles. They improved our level of play on the Xbox 360 during PGR sessions but the wheel requires a firm mounting surface like a table. We prefer to lean back in comfortable office chair or lounge chair with the wireless gamepad in our lap. And if you race against one or more friends, they are going to complain about your racing wheel advantage (unless you are prepared to provide all of them with a racing wheel, too.)
I have this theory that gamepads work better with racing games because they use small, quick motions and require only small muscle coordination. The racing wheel, by comparison, uses bigger motions and requires the less precise large muscle coordination (steering, foot pedals) along with small muscle coordination (buttons). The latter makes sense for real world driving but puts you at a disadvantage when racing on a game console.
VIDEO/AUDIO CABLE MANAGEMENT
You might want to do some strategic planning if you have multiple devices in your entertainment center. Our entertainment "test lab" consists of a HD satellite receiver/dvr plus HD-DVD player plus Xbox 360 Elite plus Playstation 3. All four devices have an HDMI output. That's one more HDMI feed than our 46" Sony 1080p LCD flat panel display can handle. We found a 5-to-1 HDMI switch with wireless remote control that solves that problem.

All four devices also have an optical audio output port. Instead of having four optical audio cables feeding into yet-another-switch to our Bose sound system, we came up with a cleaner solution. Since the single HDMI cable going to the Sony display carries both audio and video, and since the Sony display has its own Toslink optical audio output port, we simply connect that port to the Bose sound system optical input port.

OUR FAVORITE CAR RACING GAMES
GameSpot.com has some well written reviews on all the available Xbox 360 and Playstation 3 car racing and car combat games. They also discuss future releases. Here's some of our favorites along with screen shots...

PROJECT GOTHAM RACING 3 (Xbox 360)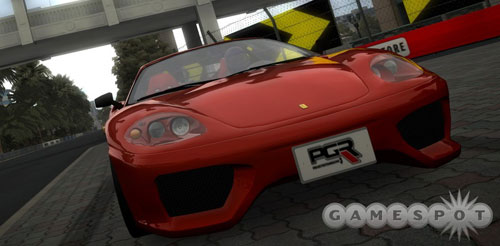 This is one of the two highest rated racing games that uses the full capability of the Xbox 360. Though the graphics and sound are outstanding, the user interface on this version isn't as well conceived as the interface on PGR 2 for the previous Xbox edition. My biggest gripe is that it doesn't support more than two local players (controllers). We wanted to have a four person race at our family Christmas party. The only way to have more than two is to play in Xbox Live mode between two boxes or over the internet. Bummer.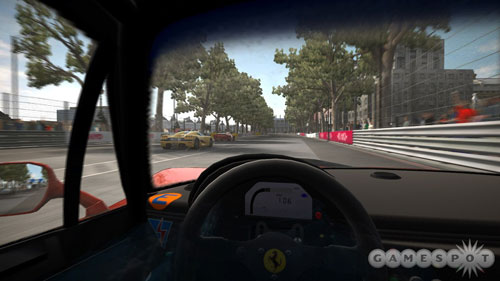 For me, the attraction of this game is the ability to race real cars I've only dreamed of driving (Ferrari Enzo and MacLaren F1 LeMans), much less owning. The fact that I can drive full speed on the faithfully recreated old Nurburgring circuit is the icing on the cake. It also has the best "in car" view of any car racing game.

There are certain cars missing from the Xbox 360 version 3 of the game that we enjoyed on the old Xbox PGR 2 including some of our favorites like the Porsche Carrera GT, Porsche Cayenne Turbo (in the rain), and Porsche 550 Spyder.

FORZA 2 MOTORSPORT (Xbox 360)




In the screenshot above, the rear bumper is being torn off the red car. This racing game was recommended by one of our readers as better than Project Gotham Racing 2 or 3. GameSpot gave it a 9.2 rating -- which is higher than the 8.8 that PGR3 was given. Back in January 2006, we got acquainted with the original Xbox version of Forza Motorsport which is compatible with the Xbox 360. Our favorite racing circuit (Laguna Seca) is available so it had us at "hello." Like PGR, it lets you choose real world cars from the MINI Cooper S all the way to the McLaren F1 Le Mans winning screamer.

The Xbox 360 version is now available in DEMO form. We downloaded it and are thrilled with the look and playability. We recommend the Saleen S7 if you are choosing one of the faster cars. Can't wait until the full version ships.

GRAN TURISMO 4 (PS2) and GRAN TURISMO HD (PS3)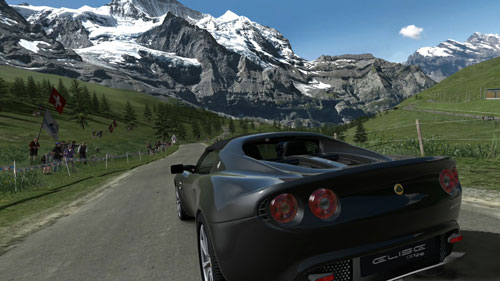 I was told by an employee of Best Buy that this is the title that inspired Microsoft to produce Project Gotham Racing for the Xbox. Whether that's true or not, GameSpot calls it a "genre-defining" car racing simulation that's exclusive to the Sony Playstation

We just recently acquired GT 4 which is the PS2 version. It runs very well on the PS3 at 1080i. We've been practicing on the Laguna Seca track and are hoping the HD version (native 1080p for the PS3) will soon be released. One feature we like is the ability to modify a given car by upping the horsepower and lowering the weight. One more than one occasion it's helped make up for my lack of skill and enabled me to win races. A free DEMO version of GT HD is available from Sony and, yes, we downloaded it already.

FULL AUTO (Xbox 360) and FULL AUTO 2 (PS3)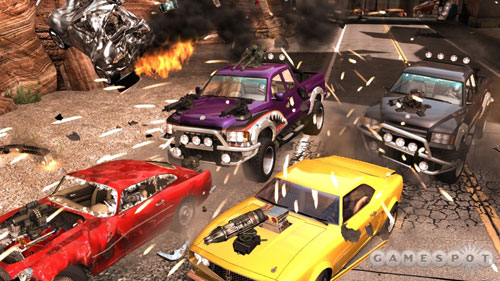 This car racing (and combat) game adds machine guns and rocket launchers to your car. Haven't you ever wished those came as optional equipment at your dealer? Now this is what I call "therapy." Full Auto 2 lets you race your opponents while shooting them or go to an arena and just shoot it out. This is one of my grandson's favorites. He loves shooting me until my car explodes but gets very upset if I shoot back.

BURNOUT SERIES (Xbox, Xbox 360 and PS2)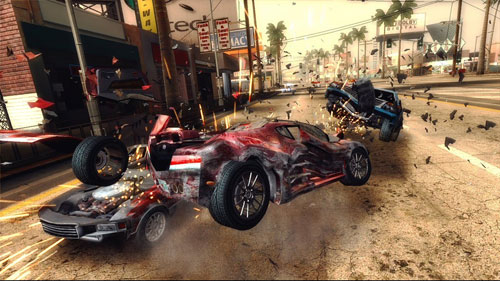 Earn points and money for crashing with the most cars or taking out your opponents during a race. I've discovered that I have a special gift for maximum destruction. This is great therapy, too. There are various versions for the old Xbox and PS2 (Dominator, Revenge, Takedown, Point of Impact) -- with an Xbox 360 version of Revenge -- but we're looking forward to a virtual vacation at Burnout Paradise -- which is due out in Q4 2007 for the Playstation 3 and Xbox 360.



WHERE TO BUY THE XBOX 360
The Xbox 360 Elite
is available from many sources including Amazon.
WHERE TO BUY THE PLAYSTATION 3
The Sony PlayStation 3 (60GB)
is available from many sources including Amazon.
WHERE TO RENT GAMES FOR THE GAME CONSOLES
We have a membership with GameFly to try out various games.
WHERE TO BUY GAMES FOR THE GAME CONSOLES
GameFly sells certain pre-played games at a large discount.

You can order PS3 racing games and Xbox 360 racing games from Amazon (free shipping in most cases).
WHERE TO BUY GAMES FOR THE MAC
Some can be ordered directly from the publisher and some are available on Amazon. For a list of Mac racing games, see the Inside Mac Games Forum on that topic.