I never miss a Formula One race on the SPEED TV channel. My best vacation was a weekend at the Jim Russell Racing School when it was still at Laguna Seca. My last birthday present was an all day session at a racing go-kart school in Ventura. I live in a remote area that requires me to drive over 20 miles of twisties -- which I do at the limit of adhesion. That may explain why my favorite computer games are car racing simulations.

I've never paid much attention to game consoles. I preferred to play racing games like 4X4 Evolution 4X and Total Immersion Racing on the Mac. I was introduced to the Xbox experience by my son, Jeff, last year. It had better graphics than I expected. I especially enjoyed Project Gotham Racing 2 -- not available on my Mac. Driving around the old German Nurburgring circuit in a Carrera GT is definitely my idea of fun. I was instantly addicted.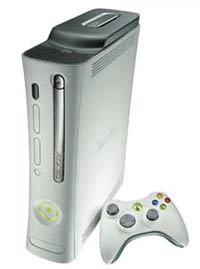 When I heard the Xbox 360 would ship with a Triple-Core CPU running at 3.2GHz, a 500MHz ATI GPU with 48 parallel shader pipelines, High Definition 1080i output, and support for up to 4 wireless controllers, I had to have one -- for lab testing, of course. On Monday, December 19th, 2005, we took delivery of our newest lab "rat." I'm now racing around the accurately recreated Nurburgring circuit at 1920 x 1080 resolution with dynamic lighting, shadows, and reflections in a faithfully simulated cockpit view of a Ferrari Enzo. Eeeeehah!

The Xbox 360 + a large LCD flat screen + Project Gotham Racing 3 = The "Final Racing Fantasy."

PERFORMANCE ANALYSIS
We have no means by which to measure framerates while playing games on the Xbox 360 -- at least no means of which we are aware. We can report that we never saw any jerkiness or hesitation once the game sequences were loaded and play had begun, even when multiple real or virtual players were involved.

As for comparing it to playing the same games on a Mac or PC, the best we can do in the short term is subjectively compare Quake 4 or Call Of Duty 2 on both the Xbox 360 and a dual-core Windows PC with high end PCIe graphics card -- both running at best quality and 1920x1080. If you have any suggestions for comparing the Xbox 360 to a Mac or PC, email the resident racing nut, .
STRENGTHS
The Xbox 360 takes the quality of the gaming experience to a whole new level. I sometimes lose focus during the car race because I'm mesmerized by the amazing graphics.

Why watch racing on the SPEED TV channel when you can "be the race"?

Xbox Live makes it possible for you to race against up to 8 friends or strangers anywhere in the world. One guy gave me a modified Skyline and then gave me drifting lessons. I'm hooked.

WEAKNESSES
Having to load each game segment off the optical drive is painfully slow. Why can't they use the optional hard drive for installing the game (like on a regular PC) and just require the optical disk for verification that you are a legitimate owner of the game? Is there something I'm missing? Or do gamers really tolerate this?

The game controllers are ultra sensitive when trying to steer a car at speed. Some games let you adjust sensitivity but Project Gotham Racing isn't one of them. The more time I spend using the controller, the more I'm able to avoid flying off the road or banging into barriers. We tried a the Microsoft Xbox 360 racing wheel. It does make driving in PGR easier but requires a solid mounting to a table to be effective. You can't sit on a chair with it in your lap like you can with the standard controllers.

The console's cooling fans are noisier than they should be. At 47 decibels, they are noisier than our Quad-Core G5. If you have a game disk that's out of balance (like the PGR 3 disk), the noise level rises to 57 decibels. I found by setting the unit upright and on carpet, the fan noise was less noticed.

It's too bad that Microsoft or a third party doesn't offer a DVI cable with optical audio or an HDMI cable as an alternative to the stock component video and analog audio cables. (Note: since we wrote this article, the "Elite" version of the Xbox 360 was released with an HDMI output.)

Though PGR3 lets you design custom tracks, they have to conform to the streets of certain cities like London or Las Vegas. I was hoping to create a track resembling Laguna Seca complete with elevation changes and the famous corkscrew turn. At least give us a really fun city like San Francisco. Hopefully there will be either an update to the game or addons you can download at some future time. (In May 2007, Microsoft released Forza 2 which does feature real world tracks like Laguna Seca and Road Atlanta.)

DISPLAYS FOR THE XBOX 360
Since we wrote this article, we ordered a 46" Sony Bravia LCD 1080p flat panel display since the Xbox 360 (and PS3) now support 1080p. Though it comes with good quality speakers, we added the Bose 3-2-1 sound system.



RACING GAMES FOR XBOX 360
GameSpot.com has some well written reviews on all the available Xbox 360 car racing and car combat games. They also discuss future releases. Here's some of our comments:

PROJECT GOTHAM RACING 3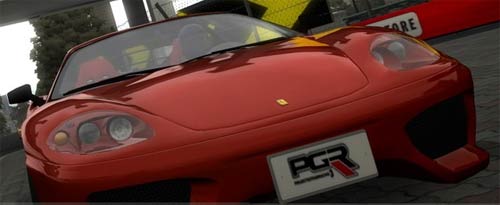 This is one of the two highest rated games that uses the full capability of the Xbox 360. Though the graphics and sound are outstanding, the user interface on this version isn't as well conceived as the interface on PGR 2 for the previous Xbox edition. My biggest gripe is that it doesn't support more than two local players (controllers). We wanted to have a four person race at our family Christmas party. The only way to have more than two is to play in Xbox Live mode between two boxes or over the internet. Bummer.

For me, the attraction of this game is the ability to race real cars I've only dreamed of driving (Ferrari Enzo and and MacLaren F1 LeMans), much less owning. The fact that I can drive full speed on the faithfully recreated old Nurburgring circuit is the icing on the cake.

On the other hand, there are certain cars missing from the Xbox 360 version 3 of the game that we enjoyed on the old Xbox version 2 including some of our favorites like the Porsche Carrera GT, Porsche Cayenne Turbo, Porsche Boxster S, and Porsche 550 Spyder. It's also lacking the rain weather option. Hopefully future updates or downloads will restore those options.

FORZA 2
I waited with great anticipation for this release in May of 2007. It was worth the wait. This is a worthy High Def "upgrade" to the original Forza for Xbox. I like the choice of real world cars (MINI Cooper S, BMW M3, Porsche Carrera GT) and real world tracks (Laguna Seca, Nordschliefe, Road Atlanta). You can tune and upgrade the cars. My son gifted me with a 2500 lb Camaro Z28 with 500HP engine, suspension mods, and special paint job with flames. I've sampled Xbox Live racing with up to 8 friends or strangers via our WiFi connection to internet. A fellow I've never me gifted me with a modified Skyline and gave me drifting lessons. I'm hooked.

BURNOUT REVENGE
Earn points and money for crashing with the most cars or taking out your opponents. This is great therapy. My favorite feature is the "crashbreaker." It allows you to detonate a hidden bomb in your car after you total it, exacting carnage on anything near you.

FULL AUTO 2
This car racing (and combat) game adds machine guns and rocket launchers to your car. Haven't you ever wished you had those options on your car when someone cuts you off or is going too slow in the fast lane? Now this is what I call "living the fantasy."

NEED FOR SPEED MOST WANTED
It uses real world cars like the BMW M3, but the graphics are not up to the quality of Project Gotham Racing. The best part is trying to elude the cops using the techniques observed on "World's Wildest Police Chases." Beware of the spike strips!

TEST DRIVE UNLIMITED
It lets you drive all over Honolulu and other parts of the island of Oahu in Hawaii. Having lived on that island a total of 15 years, I thought this would be really cool. But it has this story line you have to follow that's quite boring.

RIDGE RACER 6
This has Xbox 360 graphics but is still very "arcade-ish" when you can drive around corners in a full four wheel drift at full throttle. And it features imaginary cars instead of real world choices. Not my favorite.

OTHER XBOX 360 RACING GAMES RELEASED SINCE THIS ARTICLE WAS POSTED
FLAT OUT: ULTIMATE CARNAGE
PROJECT GOTHAM RACING 4 (sequel to PGR3 for Xbox 360)
WHERE TO BUY
WHERE TO BUY THE XBOX 360
The Xbox 360 Elite
is available from many sources including Amazon.
WHERE TO BUY THE PLAYSTATION 3
The Sony PlayStation 3 (60GB)
is available from many sources including Amazon.
WHERE TO RENT GAMES FOR THE GAME CONSOLES
We have a membership with GameFly to try out various games.
WHERE TO BUY GAMES FOR THE GAME CONSOLES
GameFly sells certain pre-played games at a large discount.

You can order PS3 racing games and Xbox 360 racing games from Amazon (free shipping in most cases).
WHERE TO BUY GAMES FOR THE MAC
Some can be ordered directly from the publisher and some are available on Amazon. For a list of Mac racing games, see the Inside Mac Games Forum on that topic.