Posted Friday, June 3rd, 2011 by rob-ART morgan, mad scientist
This is the third in a series of articles featuring the NVIDIA Quadro 4000 for Mac. You may recall the results we posted back in February showing the gains it provides to After Effects and Squeeze. Those gains were possible because the developers of those apps added code that takes advantage of the Fermi architecture including the 256 CUDA cores in the Quadro 4000. In this article, we will show the gains the Quadro 4000 provides to Adobe Premiere Pro and BlackMagic Design's DaVinci Resolve.
ADOBE PREMIERE PRO
You can add effects and then playback the video sequence without rendering -- at or above the target speed -- if you have a Quadro 4000 (or similar CUDA compatible GPU). It's called the "Mercury Playback and Render Engine." Without the presence of a NVIDIA CUDA compatible GPU, the playback of unrendered changes is very slow -- much slower than the target framerate.
The test project featured a 2 minute 1440x1080 video segment with five layers of effects. (RED bar means fastest.)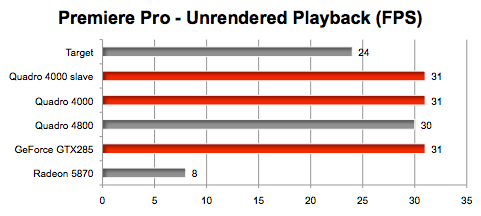 As you can see from the graph below, even if you render the changes before playback, the render time is faster on a CUDA GPU. (RED bar means fastest.)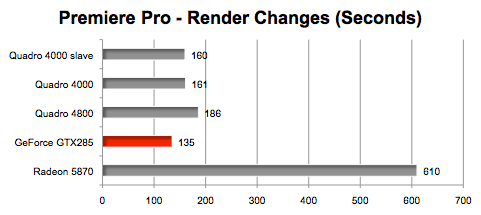 ANALYSIS: Having a Quadro 4000 or similar NVIDIA GPU with CUDA cores can reduce editing time signficantly with Premiere Pro.
LEGEND of GRAPHS
Quadro 4000 slave = Radeon HD 5770 in slot one connected to display with NVIDIA Quadro 4000 for Mac in second slot with no display attached
Quadro 4000 = NVIDIA Quadro 4000 for Mac
Quadro FX 4800 = NVIDIA Quadro FX 4800 (Mac edition)
GeForce GTX285 = NVIDIA GeForce GTX 285 (Mac edition)
Radeon 5870 = ATI Radeon HD 5870 (CTO option for 2010 Mac Pro)
Target = The target rate of 24 frames per second
DAVINCI RESOLVE
This is an amazing pro app on two levels. First, it adds speed and power to color grading of HD video. Watch the demo video on the BlackMagic Design site to see what I mean. Second, it uses the GPU to apply and playback effects in real time -- no rendering required. However, the more effect nodes created, the slower the playback. Version 7 requires an NVIDIA GPU with CUDA cores to run the app.
The test project featured a 20 second Apple ProRes 4444, 2048x1080 video. (RED bar means fastest.)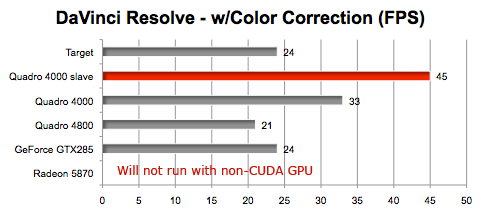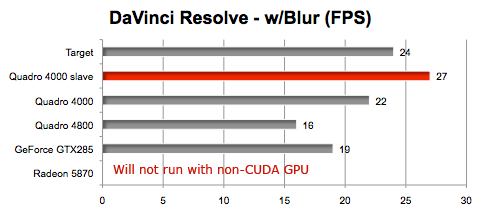 ANALYSIS: Even with compute intensive blur, the Quadro 4000 for Mac was able to maintain a framerate above the 24 fps target.
NOTE: We tested with the current Davinci Resolve Version 7.1.2. A future version is expected to support OpenCL compatible GPUs including the Radeon HD 5870. When that's available, we will retest and post the updated results.
SUMMARY THOUGHTS
Consider this a snapshot of the state of GPU technology. It will be interesting to take another shapshot in a few months to gauge the effect of GPU acceleration on Premiere Pro, DaVinci Resolve, After Effects (w/Kronos plugin), Squeeze, and Final Cut Pro. Not only are those apps constantly evolving but OS X Lion is expected to exert an effect.
For example, a future version of DaVinci Resolve is expected to support all OpenCL aware GPUs. I encourage you to download and read Silverado's White Paper on Final Cut Pro X explaining how it utilizes memory, CPU cores, and OpenCL GPUs as never before.
Comments? Questions? Email , mad scientist.
Follow me on Twitter @barefeats
WHERE TO BUY THE QUADRO 4000 for MAC (and other GPU upgrades)
Three of the four GPUs featured in this article are available on the Apple Store USA online including the NVIDIA Quadro 4000 for Mac
. Clicking that link will help us earn a commission when you purchase one. For all other GPUs or Apple products, CLICK THIS LINK and use the "Search Store" box to find what you want.
Other World Computing is offering the Quadro 4000 for Mac for $928. They also have the Radeon HD 5870.
The lowest price? Amazon has the PNY Quadro 4000 for Mac for $554 after rebate.