Posted Friday, February 18th, 2011 by rob-ART morgan, mad scientist
We've been hard at work testing the NVIDIA Quadro 4000 for Mac with various pro apps that run under OS X Snow Leopard -- some "aware" of the card's special architecture, some not. The challenge to software developers is to add code that will take advantage of the Fermi architecture including the 256 CUDA cores in the Quadro 4000. We selected five apps for this article. Two have functions optimized for NVIDIA GPUs with CUDA cores. Three apps benefit from any high-end OpenGL compatible GPU.
KRONOS
The Foundry has created an After Effects plugin called Kronos which enables you to take a video clip and produce a high quality Slow Motion effect. Though the TimeWarp plugin included with AE does slow motion, it uses the CPU to render it. But if you have a GPU with CUDA cores, Kronos uses it to render the effect. For our test, we rendered a 50% speed reduction of a 26 second HD clip with Motion Blur enabled. (RED bar means fastest.)
ANALYSIS: The Quadro 4000 was fast -- much faster than the Radeon HD 5870 -- but not as fast as the Quadro FX 4800 and GeForce GTX285.
GRAPH LEGEND
Q4000 = NVIDIA Quadro 4000 for Mac
Q4800 = NVIDIA Quadro FX 4800 (Mac edition)
GTX285 = NVIDIA GeForce GTX 285 (Mac edition)
R5870 = ATI Radeon HD 5870 (CTO option for 2010 Mac Pro)
CPU = result when GPU render option is not chosen
SQUEEZE
Some of the H.264 presets in Sorenson's Squeeze are CUDA "aware" -- specifically, the MainConcept H.264/AVC CUDA presets. We chose a preset that converted our sample 26 second HD video clip to an iPad compatible format.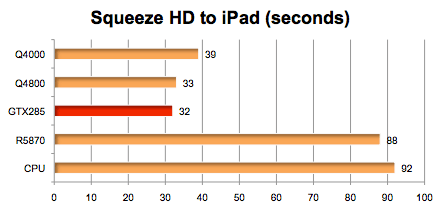 ANALYSIS: Notice the NVIDIA GPUs were as much as 2.8 times faster than the ATI GPU when we used the CUDA optimized preset.
COLORISTA II
Red Giant has a plugin suite for Final Cut Pro called Magic Bullet. One of those plugins is "Colorista II." It gives you the option to render the effect using either GPU or CPU.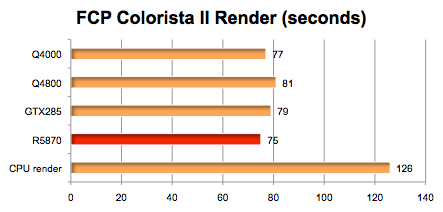 ANALYSIS: In this test you see gains for any GPU that supports OpenGL -- if you choose the "GPU" option. The Radeon HD 5870 has the edge here.
COLOR
Appe's Final Cut Studio includes Color. We forced it to playback a 23.98 FPS HD video as fast as it could. Notice which GPU plays it back the fastest.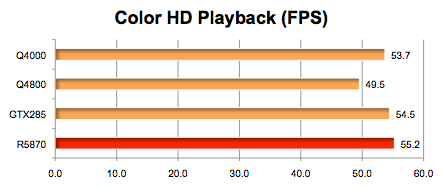 ANALYSIS: This is another example of an app that is not optimized for the NVIDA Fermi architecture.
MOTION 4
Another module in Final Cut Studio is Motion. We learned many moons ago that RAM Preview render speed is affected by the GPU. We used the Skyline Open template in this test.
ANALYSIS: The Radeon HD 5870 has a clear advantage here.
SUMMARY THOUGHTS
As we stated in our previous article, the advantage of the NVIDIA Quadro 4000 for Mac and other GPUs with CUDA cores depends on what apps you run and what functions you run within each app.
Though the Quadro 4000 was edged out by the GeForce GTX 285 in four out of five of the tests featured here, be advised it is no longer in production. As for the Quadro FX 4800, it costs nearly twice as much as the 4000 while being only slightly faster than the 4000 in three of the five tests. My sources tell me that the Quadro 4000 will "strut its stuff" in Premiere Pro and DaVinci Resolve. We hope to publish test results for those two apps along with Smoke once we climb the learning curve, discover what functions are Fermi "aware," and obtain a good test case.
Two advantages the Quadro 4000 has over the Radeon 5870 that don't show up in our graphs: it requires only one power connector and takes up only one PCIe slot width. You could easily install two of them in your 2009 or 2010 Mac Pro -- one in each x16 slot.
Comments? Questions? Email , mad scientist.
Follow me on Twitter @barefeats
WHERE TO BUY THE QUADRO 4000 for MAC (and other GPU upgrades)
Three of the four GPUs featured in this article are available on the Apple Store USA online including the NVIDIA Quadro 4000 for Mac
. Clicking that link will help us earn a commission when you purchase one. For all other GPUs or Apple products, CLICK THIS LINK and use the "Search Store" box to find what you want.
Other World Computing is offering the Quadro 4000 for Mac for $928. They also have the Radeon HD 5870.
NewEgg has the PNY Quadro 4000 for MAC
priced at $800.
The lowest price? Amazon has the PNY Quadro 4000 for Mac for $794 with free shipping.