Posted Wednesday, September 15th, 2010, by rob-ART morgan, mad scientist
September 17th, added some 12-core results
We published some artificial benchmarks (Cinebench, Geekbench) that showed the 2010 Mac Pro with the most cores beating up on the ones with less. Then we showed with After Effects, Compressor and Motion that much of the theoretical advantage shrinks in the real world. Continuing that theme, we present you results below for four more popular real world apps.
RED bar means fastest time. All graphs display time in seconds.
Aperture is popular with photographers. One CPU intensive operation is when you export RAW photos as JPEG. We did just that with the 50 "Soccer RAW Samples." However, for this function, it uses 6 cores max and 6GB of total real memory (OS X + Aperture).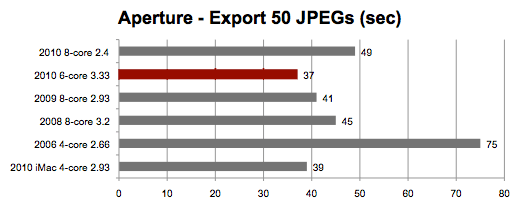 Color is an example of one Apple's pro apps that does not take full advantage of multiple cores. However, it does gain from the presence of a fast GPU. With the exception of the iMac Core i7, all the Mac Pros listed below had the Radeon HD 5870 installed.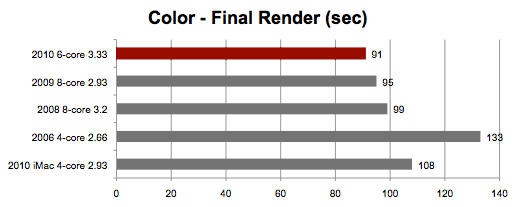 HandBrake is a popular app for converting DVDs to Apple TV or iPhone or iPad compatible format. We used a 2.5 min HD Movie file as our test case. Using a special preset, we converted it to an iPad optimized format.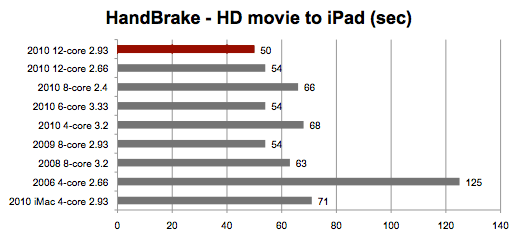 PhotoZoom Pro uses a patented S-Spline algorithm to do image enlargements while preserving the quality. All available cores (real and imagined) are called on during the rendering process.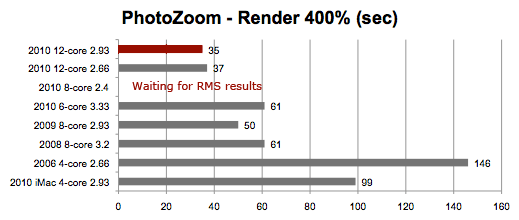 Legend of the above graphs:
2010 12-core 2.93 = 12-core Westmere 2.93GHz Mac Pro (2010) with 32G of RAM
2010 12-core 2.66 = 12-core Westmere 2.66GHz Mac Pro (2010) with 12G of RAM
2010 8-core 2.4 = 8-core Westmere 2.4GHz Mac Pro (2010) with 24G of RAM
2010 6-core 3.33 = 6-core Westmere 3.33GHz Mac Pro (2010) with 24G of RAM
2009 8-core 2.93 = 8-core Nehalem 2.93GHz Mac Pro (2009) with 16G of RAM
2008 8-core 3.2 = 8-core Harpertown 3.2GHz Mac Pro (2008) with 16G of RAM
2006 4-core 2.66 = 4-core Woodcrest 2.66GHz Mac Pro (2006) with 10G of RAM
2010 iMac 4-core 2.93 = 4-core Core i7 2.93GHz iMac (2010) with 16G of RAM
"Waiting for RMS results" = Waiting for remote mad scientists to send in their results since we don't have that model in the lab at a moment

All Mac Pros had a Radeon HD 5870 GPU. The iMac had a Radeon HD 5750.
OS 10.6.4 "Snow Leopard" was installed in all systems.
INSIGHTS
As you can see from the graphs, the difference between a 12-core, 8-core, and 6-core 2010 Mac Pro is not always dramatic when running cpu intensive pro apps. Even when all cores appear to be pedaling, they are not always functioning efficiently. In other words, there is not a one-to-one correlation between what you spend on a new Mac Pro, how many cores it has, and the performance you will experience in the real world.
I'm envious of the 12-core Mac Pro the same way I'm envious of a 12 cylinder Ferrari or Lamborghini. But the 8 cylinder Corvette and 6 cylinder Porsche Cayman S can reach the real world destination nearly as fast for a lot less $$$.
Notice how well the 2008 and 2009 8-core Mac Pros do compared to the 2010 6-core and 8-core. Maybe all you need is more RAM and a Radeo 5870 to "freshen" your machine.
With exception of PhotoZoom, the iMac Core i7 hung tough in these tests.
"Remote Mad Science"
You will notice we displayed 12-core results in only one graph (HandBrake). If you have a 12-core Mac Pro 2.93 or 2.66 and are willing to run our Aperture, Color, and PhotoZoom benchmarks, please contact , mad scientist.
Follow me on Twitter @barefeats
WHERE TO BUY A MAC or any other APPLE PRODUCTS
When you purchase products at Apple USA, please CLICK THIS LINK or any APPLE BANNERS. It's a great way to support Bare Feats since we earn a commission on each click-through that results in a sale.