SHOOTOUT -- 3D GAMING
Quad-Core G5/2.5GHz Power Mac
vs Single-Core Dual G5/2.5GHz
Originally posted November 18th, 2005, by rob-ART morgan, mad scientist
Updated December 13th, 2005, with full Quake 3 results.
CORE IMAGE TESTS
Some applications are very dependent on Core Image "aware" graphics processor. Two examples are Motion and iMaginator. The CPU uitilization wasn't close to 100% in the either test. Therefore, the Quad-Core's only chance to shine was with the optional graphics cards.
In the words of Gomer Pile, "Surprise, surprise!" The GeForce 7800 GT outperformed the Quaddro FX 4500 in the Motion test. Looks like we're going to need a more rigorous iMaginator test since both cards completed it in well under 10 seconds.
Graph Legend:
FX4500 = Quadro FX 4500 (PCI Express; 512MB, Dual Dual-Link DVI)
7800 = GeForce 7800 GT (PCI Express; 256MB, DVI + Dual-Link DVI)
6600 = GeForce 6600 (PCI Express; 256MB, DVI + Dual-Link DVI)
6800 UT = GeForce 6800 Ultra (AGP 8X; 256MB; Dual Dual-Link DVI)
X800 XT = Radeon X800 XT (AGP 8X; 256MB, ADC + Dual-Link DVI)
9800 SE = Radeon 9800 Pro Mac Special Edition (AGP 8X; 256MB, ADC + DVI)
9650 = Radeon 9650 (AGP 8X; 256MB, DVI and Dual-Link DVI)
Quad Core 2.5 = Quad-Core G5/2.5GHz Power Mac
Dual CPU 2.7 = Single-Core Dual G5/2.7GHz Power Mac
Dual CPU 2.5 = Single-Core Dual G5/2.5GHz Power Mac
I've already been exhorted by at least one reader that the Quadro FX 4500 is not designed for 3D Games. I agree. It would be silly to invest $1650 in a card used only for gaming. I included it in the game test because these frivolous apps really stress out a graphics card -- any graphics card.
More to the point is whether the GeForce 7800 GT is sufficient for professional applications. The San Diego Supercomputer Center chose the GeForce 7800 over the Quadro for their scientific visualization lab because they were convinced after testing both cards side by side that the 7800 ran their applications just as well at a fraction of the cost of the Quadro series. Anyhow, I know you are curious, so we used all three PCI Express cards available for the Quad-Core (and Dual-Core) G5 Power Mac to run the most demanding 3D accelerated games. And compared them to the fastest cards available for the AGP 8X Power Macs.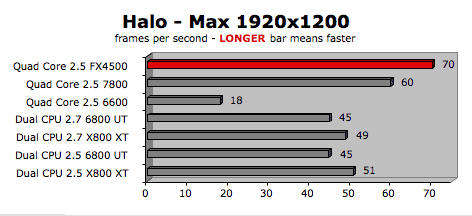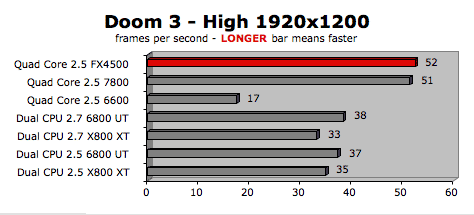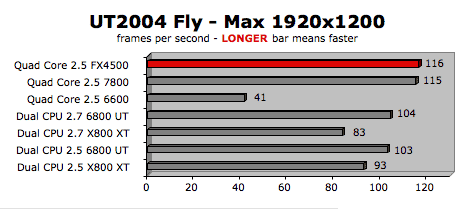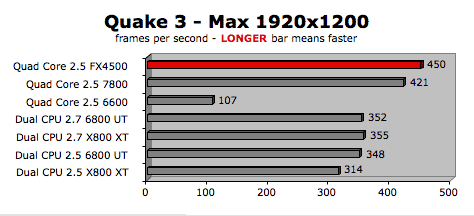 QUAD-CORE -- THE ULTIMATE GAMING MAC?
The Quad-Core is overkill of you are using it for primarily 3D gaming. That's because most games are NOT aware of multiple processors. Quake 3 is the only game that truly utilizes multiple processors for rendering scenes and it's considered old news. Some newer games use the second processor for sound rendering, but at this time, there's no "state of the art" 3D game out there that uses four processors.
The one reason for using a Quad-Core for gaming: because you can. It's a scarey machine. It has a mean growl when you start it up. There's a rush of fans as it starts to "sweat" during a fierce battle.
We haven't had a chance to verify this but we bet a Dual-Core G5/2.5 (if it existed) would be just as fast, given the same graphics card choices. That gives me an idea. We'll install C.H.U.D. tools and disable two of the cores.
The dominance you see in the graphs has more to do with the superiority of the GeForce 7800 GT and Quadro FX 4500 over the fastest AGP graphics cards than it has to do with the Quad-Core's power. They have faster cores and faster memory. The 16-lane PCI Express graphics interface provides throughput up to 4 GBps, double that of the AGP 8X standard. Their advantage is accentuated because we were running the games with high quality settings and high resolutions.
GRAPHICS CARD RECOMMENDATION
Apple's own test graphs show the Quadro FX 4500 running Motion only 3.3% faster and Halo only 3.6% faster than the 7800 GT. Yet it costs 3.7 times as much ($350 vs $1650). True the FX 4500 has 512MB of DDR3 and supports two 30" Cinema displays, but it "eats" two slots.
With the exception of Quad-Core (or Dual-Core) buyers who wish to run dual 30" Cinema displays on a single card, we think the optional $350 GeForce 7800 GT is the best choice for most users in terms of price/performance. It's a no-brainer option in our opinion.
COUNTERPOINT: A QUADRO FX 4500 MAY BE WORTH THE $$$
One of our readers (Mark Wilkins) reminded us that the Quadro has additional features that are not present on either GeForce card. These include hardware support for anti-aliased points and lines, accelerated clip planes, and two-sided lighting -- features important to advanced design and visualization applications. It also has an integrated stereo 3D port. For those users who are considering the purchase to run software like Maya, the Quadro may well be worth the extra money.
WHERE TO ORDER YOUR DUAL-CORE G5 POWER MAC
We found really good deals on PC2-4200 memory for the Dual-Core and Quad-Core is at Other World Computing. They are one of the few companies shipping a 4GB (2GBx2) kit and at a radically low price. Check out their PC2-4200 memory page!
For refurbished, reconditioned, open box (as well as new) G5 Power Macs, check with Small Dog and Power Max. Check also at the Apple SPECIAL DEALS section for factory refurbs and other specials.
WHERE TO BUY "OLDER" G5 POWER MACS
Some of you have asked which "older" G5 Power Mac models are most desirable. I recommend getting a model with 8 memory slots, 100/133MHz PCI-X slots, and 600W Power Supply. The table below gives the model number, etc., of these most desirable older G5s.
| | | | |
| --- | --- | --- | --- |
| Model Number | clock speed | processors | intro date |
| M9031LL/A | 1.8GHz | single | June 2003 |
| M9032LL/A | 2.0GHz | dual | June 2003 |
| M9393LL/A | 1.8GHz | dual | November 2003 |
| M9455LL/A | 2.0GHz | dual | June 2004 |
| M9457LL/A | 2.5GHz | dual | June 2004 |
| M9748LL/A | 2.3GHz | dual | April 2005 |
| M9749LL/A | 2.7GHz | dual | April 2005 |

All other models of G5 Power Mac (AGP) have only 4 memory slots, 33MHz PCI slots, 450W Power Supply, and slower frontside bus speeds. If you can't find the model you want at Apple's Special Deals page, Small Dog's site, or Power Max's site, go to Froogle.com and search on the model number.
Has Bare Feats helped you? How about helping Bare Feats?

© 2005-2006 Rob Art Morgan
"BARE facts on Macintosh speed FEATS"
Email , the webmaster and mad scientist