Originally posted November 18th, 2005, by rob-ART morgan, mad scientist
Updated January 11th, 2005 -- moved Core Image test results to the 3D Game Page.
REWORKED PHOTOSHOP TESTS
We were analyzing our Photoshop action files. We used Activity Monitor to verify which actions were multi-processor aware. While doing this, we noticed some of the filters used all four processors (i.e. 390% cpu load). We also found some of the filters and functions that we originally categorized as single processor are MP aware in CS2.
So after massaging the action files and increasing the test file size, the advantage of having four processors is clearly seen. Look at the these graphs and you'll see what we saw.
(* MP = multi-processor aware and SP = single processor only)
When running pure multi-processor "aware" actions, the Quad-Core was 70% faster than the Single-Core Dualie. But when running pure single processor actions, the result was a virtual tie between the dual and quad G5/2.5
Here's another app that "loves" the four processors:

And one more that uses all four cores:

NOT ALL MP AWARE APPS USE 4 CORES
Take a look at the iMovie HD render results:

More to the point, take a look at the graph below showing how different apps uses a different percentage of the available CPU cycles.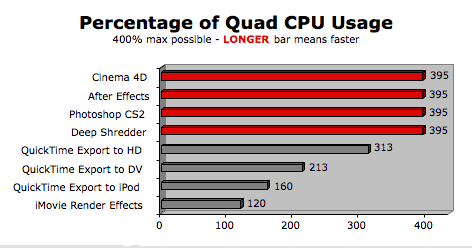 Though quite a few apps (or functions within apps) can't uses all for CPUs, that's not a totally bad thing. We all typicallly do more than one thing at a time when using our Macs. A dual or quad processor Mac handles a mixed work environment much more efficiently than a single processor system. Haven't you noticed what how sluggish your PowerBook gets when downloading email and updating the indexes?
DOES THE QUAD-CORE's MEMORY SPEED HELP?
We ran the memory tests on Xbench. The test that we thought was most interesting was the FILL RATE test. The Quad-Core's PC2-4200 533Mhz memory should produce a 8500 MB/s fill rate. The old Single-Core PC-3200 400Mhz memory should produce a 6400 MB/s fill rate.
We hesitate to post the graph below because it shows some of the memory exceeding those rates (which makes us wonder about accuracy of Xbench). The numbers you see are an average of three runs. Plus, even though it shows different fill rates for the three different PC2-4200 memory sets we tested, the real world tests came out identical for all three. So don't run out and spend big bucks on low latency ECC memory just because you saw this graph.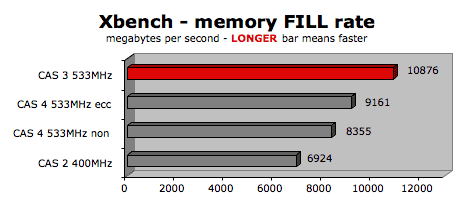 The most important message from the graph above is that, as Apple indicated, the memory bus speed has been significantly improved in Dual and Quad-Core G5 Power Macs compared to Single-Core G5 Power Macs.
NOISE LEVEL
The Quad-Core G5/2.5 ran 44 decibels (measured 6 inches from the rear fans) no matter what we ran. There was one app that maxed out all four processors for 30 minutes. We're speaking of Deep Shredder. In that case, the decibels rose to 50 then dropped back to 48. We find those noise levels very acceptable, especially considering the it has F-O-U-R cores!
By comparision, our Single-Core Dual G5/2.5 ran 48 decibels when "resting" and jumped up over 63 decibels when we did anything that was CPU intensive. (NOTE: The Single-Core had a Radeon X800 XT which reportedly triggers the fans more quickly than Apple's OEM cards. When we ran a GeForce 6800 Ultra, the noise level stayed below 50db.)
By the way, the Quad has a low frequency chorded growl during startup. Sounds like a 747 reving up its engines for takeoff. But it subsides once the boot is complete.

DON'T MISS OUR CORE IMAGE and 3D GAME PERFORMANCE page for the QUAD-CORE.


RESPONSE TO OWNERS EXPRESSING DISAPPOINTMENT WITH THE QUAD-CORE'S PERFORMANCE:
1. The Quad-Core's hard drive speeds are no faster than the Dual-Core or previous Single-Core G5 Power Macs. So if you are doing something disk intensive, don't expect the Quad-Core to dazzle.
2. The stock graphics card (GeForce 6600) is no faster than the Radeon 9800 Pro Mac Special Edition we tested in the Single-Core Dual G5/2.5 when it comes to graphics intensive applications like Motion, Aperture, iMaginator, Doom 3 and Halo. You need the Geforce 7800 GT or Quadro FX 4500 if you want to see faster frame rates in graphics intensive applications.
3. Hardware accelerated 3D Games don't utilize the four processors. Most don't even use two. So don't expect the Quad-Core to be a killer game machine -- unless you have a killer graphics card.
4. Not all MP aware apps fully use the four processors. But if an app uses anything over 200% of the available CPU cycles, then it will benefit from the Quad-Core. Also, if you have two or more "200%" apps active or three or more "100%" apps active, the Quad-Core beat the Dual-Core or Dual Single-Core.
We think the Quad-Core is an awesome G5 Power Mac. Once new owners learn to fully utiliize its power, I think they will agree.
RELATED ARTICLES
Core Image and 3D Game results using all three graphics cards available on the Quad-Core.

Check out our comparision of the Dual-Core G5/2.0GHz Power Mac with the Single-Core Dual G5/2.0 Power Mac.
PCI EXPRESS HOST ADAPTERS FOR QUAD-CORE and DUAL-CORE G5 POWER MACS?
SATA II -- HighPoint Technologies has posted Mac drivers for their RocketRAID 2320 PCI Express 4X SATA II RAID host adapter (8 internal ports, RAID 0, 1, and 5 support). We've tested it. It works as advertised. Won't let your Quad-Core (or Dual-Core) go to sleep, though. Expect them to release a 2322 model with external ports in February 2006.

FIREWIRE 800 -- Aaxeon has a FireWire 800 PCI Express card. We tried it. It works on the Quad-Core, but the write speed are one-half of what we get on the built-in factory FireWire 800 port. There are also sleep issues. (They are working on a FW/USB combo card, too.)

SCSI -- Atto Technology is shipping an Ultra 320 SCSI PCI Express card (UL5D). You can buy it direct from their ATTO store.

Serial Attached SCSI -- Adaptec has a PCI Express version of their Serial Attached SCSI host adapter. I've heard they are planning a Mac verson, but Mac OS X is not listed as one of the supported Operating Systems.
WHERE TO ORDER YOUR DUAL-CORE G5 POWER MAC
If you live in the USA and plan to purchase an APPLE product, please CLICK THIS LINK or any APPLE DISPLAY AD to help us earn our affiliate commission. It's a great way to support Bare Feats.
We found really good deals on PC2-4200 memory for the Dual-Core and Quad-Core is at Other World Computing. They are one of the few companies shipping a 4GB (2GBx2) kit and at a radically low price. Check out their PC2-4200 memory page!
For refurbished, reconditioned, open box (as well as new) G5 Power Macs, check with Small Dog and Power Max. Check also at the Apple SPECIAL DEALS section for factory refurbs and other specials.
Has Bare Feats helped you? How about helping Bare Feats?