Posted 9/18/03 by Rob-ART, mad scientist
Many of you asked to see more tests comparing the latest PowerBooks with recent models of Power Mac. Let's see how the PowerBooks compare to desktops for gaming....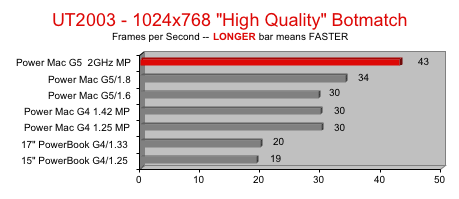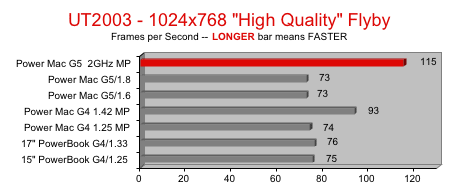 ANALYSIS
The Unreal Tournament 2003 Botmatch graph shows a cpu intensive gaming scenario. PowerBook G4s can't compete with the mighty desktops.
The Unreal Tournament 2003 Flyby makes the PowerBooks look more equal to some of the Power Macs. It's a bit misleading because of the variance in graphics processors.
The PowerBooks have the Mobility Radeon 9600. The G5/1.6 and 1.8 come standard with the slower GeForceFX 5200. Apple offers the Radeon 9600 Pro and 9800 Pro as a BTO option in the Power Mac G5 line. If the Power Macs had a 9600 Pro or better, they would beat the PowerBooks on this test, too.

Note the clear advantage of the G4/1.42MP and G5/2.0MP. They both had the Radeon 9800 Pro.
The Quake3 Arena "Fight," the Power Macs are clearly stronger, especially the G4/1.42 with the 9800 Pro. You should see frame rates in excess of 325 on a 9800 Pro equipped G5/2.0 MP. (Note: the G4/1.25MP had a Radeon 9000. If you want to see what a Radeon 9800 does for it, check out the article on XLR8YourMac.)
If you are planning to use your computer for serious 3D gaming, I recommend a G5 with Radeon 9800 Pro OEM or retail. In fact, because most games are NOT multi-processor aware, you might consider ordering the G5/1.8 with Radeon 9800 instead of the G5/2.0 MP with the Radeon 9600.
If you are ordering a G5 direct from Apple, you can specify the Radeon 9800 Pro as an option. It is an 8X AGP card (128M) with DVI and ADC ports.

If you already own a G4 or G5 desktop and want to goose your 3D gaming speed, especially at high quality settings, then your best option is the ATI Radeon 9800 Pro (Mac retail edition) 4X AGP card with VGA, DVI, and S-Video ports. You can purchase this card from Other World Computing, Buy.com, or direct from ATI.

If you want to see more on how the 9800 Pro compares to "lesser" cards, check out our medium resolution and high resolution articles on the subject.
To see "NORMAL" applications running on both PowerBooks and Power Macs, go back to PAGE ONE.