Originally posted October 10th, 2001
Updated October 12th to include concurrent task test.
by rob ART morgan, Bare Feats Mad Scientist

With the release of version 10.1 of OS X, for the first time I feel confident that it will succeed as a viable replacement for OS 9 and keep Apple alive in a ruthless industry. However, OS X does sap the CPU power more than OS 9. So which is the ultimate OS X platform, the G4/867 or G4/800MP? Or should I go for the closeout G4/533MP since it's selling at Small Dog for the same price as a stripped 867?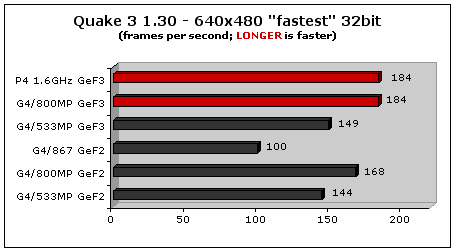 LEGEND:
GeF2 = GeForce2 MX
GeF3 = GeForce3
PERFORMANCE ANALYSIS
The three types of OS X applications above illustrate the complexity of choosing one Power Mac model over the other. Cinema 4D is MP aware. Quake 3 is G4 and MP aware. Bryce is neither G4 nor MP aware.
Whenever someone asks me which one to buy, I always begin my answer with, "It depends..." It depends on what you use your computer to do most of the time.
If you press me, I'd say go with multiple processors for two reasons:
1. Applications like Bryce (and MS Office, MS Exploder, FileMaker Pro) that are neither G4 nor MP aware may run faster on the 867 but not that much faster.
2. The really power hungry applications (like Cinema 4D, Final Cut Pro, Photoshop, Quake 3 OX) that include AltiVec and MP code go like a scalded dog on dual G4 machines.
3. When running multiple non-MP aware tasks under OS X, the dual CPU's really shine (see below).
WHAT ABOUT MULTITASKING? HAVE YOU TRIED RUNNING TWO OR MORE APPLICATIONS AT ONCE ON BOTH THE 800MP AND THE 867?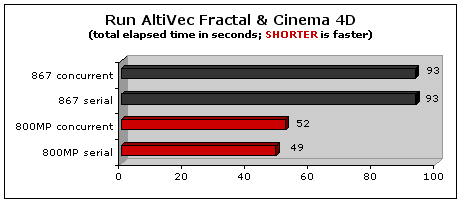 The above is an interesting graph. In the case of these two MP aware applications, the total elapsed time for concurrent and sequential operation was nearly identical. Maybe it's because they are both using the dual CPU's already.
However, when I run two non-MP aware tasks on the 800MP (like FileMaker Pro and Bryce 5), Mac OS X appears to use both processors, therefore, the total time to complete the task is cut almost in half (as you see below).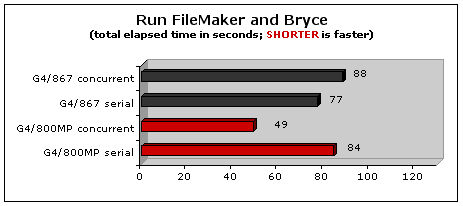 SO WHY AREN'T FINAL CUT PRO & PHOTOSHOP OS X VERSIONS OUT?
I've heard all the excuses... I mean reasons. Hopefully we will see them by January 2002. I'm praying that the delay has to do with learning from Graeme Devine how he got Quake 3 Arena 1.30 beta to go screamingly fast on OS X.
ARE OS X VERSIONS OF SOFTWARE FASTER THAN OS 9 VERSIONS
So far, only a few: Quake 3 and AppleWorks. The rest run slower. I'm sure that will change eventually as the Carbon or Cocoa code matures.

WHERE TO BUY
Visit the Apple Online Store to pricing on the new Power Mac G4's. If you want the GeForce3, it can be added as a BTO option.
Small Dog also does "build-to-order" on new Power Macs and doesn't charge you state sales tax. You can get a stripped G4/800MP for as little as $2699. They have G4/867's for as little as $1999 and G4/533MP's for $1949.
Need big, fast, second drive? I like the new 80G 7200 rpm Seagate Barracuda ATA IV. It clocked 41MB/sec sustained read and write on the 800MP. Check newegg.com for very low pricing.