Originally posted October 5th, 2001
UPDATE: October 6th, 2001 with speed tweaks and Pentium 4 numbers
by rob ART morgan, Bare Feats Mad Scientist

Graeme Devine was named "Chief Designer" at Id Software in March of 1999. One of his missions has been to modify the code in Quake 3 Arena to take advantage of Power Mac distinctives such as the Velocity Engine, Multiple Processors, and OS X. I don't know about you but I've been so depressed when I see those Wintel machines attaining frame rates in the stratosphere.
Well, this week I took delivery of three key ingredients: a Power Macintosh G4/800MP, OS X 10.1, and Quake 3 1.30. Let's see how successful Graeme has been: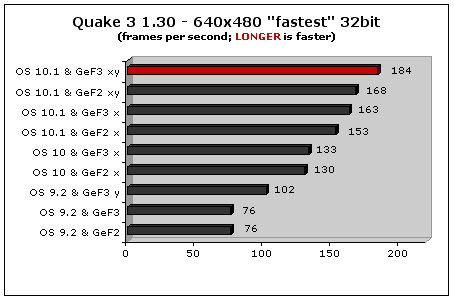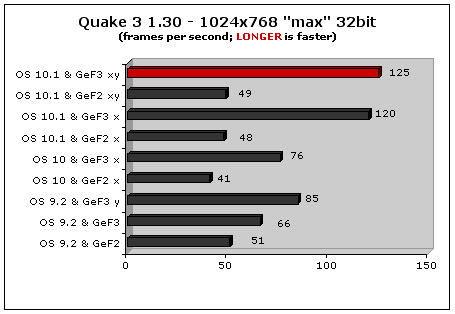 LEGEND:
GeF2 = GeForce2 MX
GeF3 = GeForce3
x = tweak #1 -- s_chunksize set 2048,
y = tweak #2 -- s_mixahead .07, cg_scoreplums 0
PERFORMANCE ANALYSIS
Excuse me a moment while I catch my breath...
Wow!
The latest version of Quake 3 Arena screams when you feed it the latest, bestest hardware and software from Apple. It also helps to tweak Quake settings (just like the Windows guys do).
If you are a game freak, you gotta get 10.1 and you gotta get a GeForce3 and you gotta get a dual G4 of some sort. (See graphs below.)
I love OS X 10.1! I love my new G4/800MP. I love my Geforce3! I love Quake 3 Arena 1.30! Thank you, Graeme and Id Software! Thank you Steve and Apple. God bless America!
MORE TEST DATA
Below is the beginning of a new comparison graph between the fastest Power Mac G4's and the fastest Pentium and Athlon based PC's. Email me your numbers and I'll post them. But be sure to follow the test setting guidelines at the bottom of this page. For now, here's a comparision between the two fastest Dual G4 systems and a Pentium 4 1.6GHz, all three with GeForce3 cards: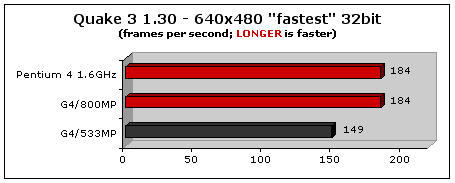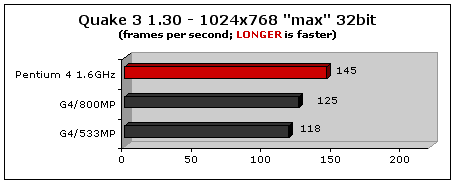 Isn't that amazing? The 800MP actually ties with the 1600Mhz P4!
Tom's Hardware compares the GeForce3 to the NEW GeForce Titanium on a Windows PC. (Note: They didn't run the same version of Quake 3 or the same DEMO file that I ran so you canNOT compare those figures to the ones on this page.)
12/29/01 -- The ATI Radeon 8500 was tested against the GeForce3 & GeForce3 Ti 500 using a 2GHz Pentium 4 system by SharkeyExtreme. The performance exceeded the GeForce3 and matched the GeForce3 Ti 500 in the "MAX" settings Quake 3 Arena test. (See also TomsHardware.) That's good news since ATI is introducing a Mac verswion of the Radeon 8500 at the upcoming MacWorld Expo.
1/24/02 -- AnandTech used the latest Unreal engine to test 15 different graphics cards on an Athlon 2000+ system.
Also, see other applications tested by Bare Feats using the 800MP.

WHERE TO BUY
You can purchase Quake 3 Arena from any software outlet. You can FTP the latest beta version of Quake 3 direct from Id Software.
Visit the Apple Online Store to pricing on the new Power Mac G4's. If you want the GeForce3, it can be added as a BTO option.
Small Dog Electronics also does "build-to-order" on new Power Macs and doesn't charge you state sales tax. You can get a stripped G4/800MP for as little as $2699. They have G4/867's for as little as $1999 and G4/533MP's for $1949.
Need big, fast, second drive? I like the new 80G 7200 rpm Seagate Barracuda ATA IV. It clocked 41MB/sec sustained read and write on the 800MP. Check newegg.com for very low pricing.
HOW I TESTED QUAKE 3 ARENA (and what settings you should use if you send me your numbers):

MODE 1: "Fastest"
GL driver ON, video mode 640x480, color depth 32 bit, Full Screen ON, Geometric Detail LOW, Texture Detail NEXT TO LOWEST, Texture Quality 32 bit, Texture Filter BILINEAR, Sound Quality HIGH
MODE 2: "Max"
GL driver ON, video mode 1024x768, color depth 32 bit, Full Screen ON, Geometric Detail HIGH, Texture Detail HIGHEST SETTING, Texture Quality 32 bit, Texture Filter TRILINEAR, Sound Quality HIGH
I also have made the following tweaks which added significant speed:
s_chunksize 2048 (OS X only)
s_mixahead .07 (.03 setting made it run faster but it turned sound off. No fair.)
cg_scoreplums 0
r_smp 1 (on 800MP to active dual cpu mode; left at default 0 for solo cpu Macs)
all other settings remain at default
The DEMO file run is the one that comes with version 1.30 called FOUR.DM_66
AppleTalk is disabled and VM is disabled; Extensions are BASE set.