Posted March 7th, 2006, by rob-ART morgan, mad scientist
Updated March 15th, 2006, with Photoshop SP actions and Halo results
We finally got our hands on a MacBook Pro. But what's really cool is that we got our hands on a PowerBook G4 that has been upgraded to 2GHz courtesy of DayStar! So we compared the performance of the two 2GHz laptops. Since the MacBook Pro has two cores, we also tested it with one disabled (using C.H.U.D. tools) to see how a 2GHz Intel Core Solo would do against an equally clocked G4.
In addition, we wanted to know how the new MacBook Pro compared to an iMac Core Duo running at the same 2GHz as well as the Dual Core G5 Power Mac running at 2GHz. So this is really a "Two Gigahertz Bonanza."
GRAPH LEGEND:
Dual Core G5/2.0 -- Apple Dual Core G5/2.0GHz Power Mac, 2GB of 533MHz memory and GeForce 6600LE with 128MB VRAM
iMac Core Duo 2.0 -- Apple Intel iMac with 2.0GHz Core Duo, 2GB of 667MHz memory and Radeon 1600 GPU with 128MB VRAM
MacBook Pro 2.0 -- Apple Intel MacBook Pro with 2.0GHz Core Duo, 2GB of 667MHz memory and Radeon X1600 Mobility GPU with 256MB VRAM
MacBook Solo 2.0 -- Apple Intel MacBook Pro with 2.0GHz Core Duo (with one core disabled using C.H.U.D.), 2GB of 667MHz memory and Radeon X1600 Mobility GPU with 256MB VRAM
PowerBook 2.0 -- Apple PowerBook G4/1.5GHz with 2.0GHz 7447A upgrade from Daystar Technology. Includes 2GB of 333MHz DDR memory and Radeon 9700 Mobility GPU with 128MB VRAM.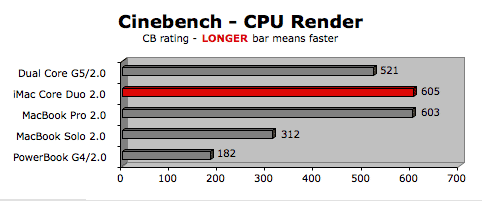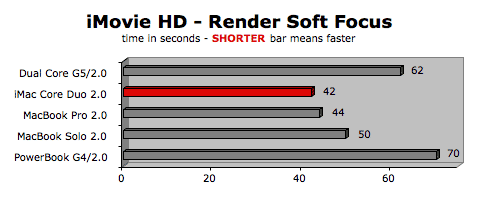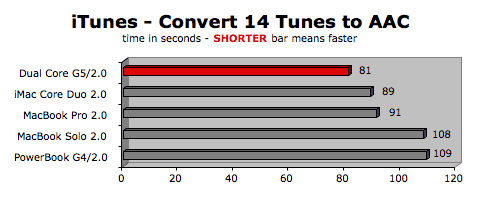 (NOTE: Adobe Photoshop CS is NOT Universal Binary and therefore performs "weakly" on the Intel Core Duo machines. This will be true of any non-UB application you will be using on an Intel Mac. Some non-UB applications won't work at all. This includes Apple's Final Cut Pro, Motion, and other Pro apps -- which are supposed to go UB by the end of March 2006.)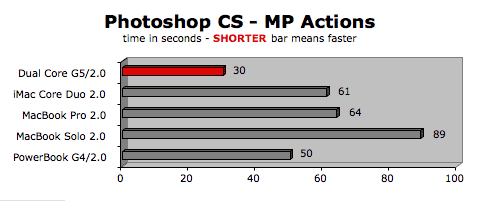 Compare how the G4 PowerBook does in comparison to the MacBook Pro on both Photoshop graphs.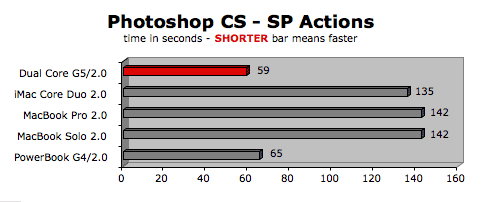 NOW FOR SOME GRAPHICS INTENSIVE APPS....
CORE IMAGE TESTS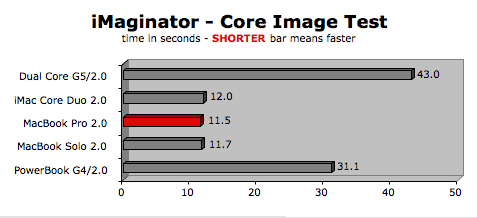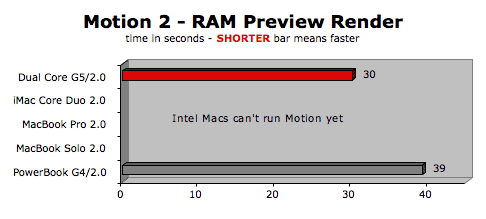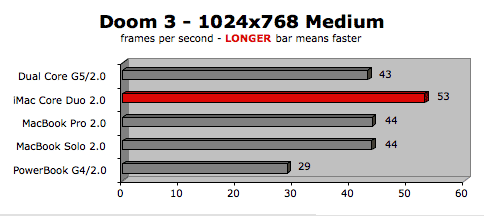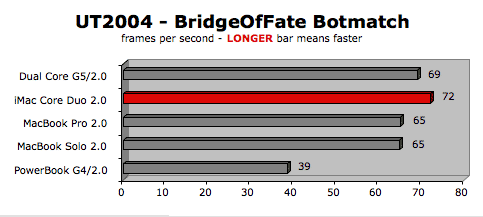 NON- UP 3D OPENGL APPS (Note how poorly the MacBook performs when the 3D game is NOT Universal Binary. The PowerBook G4 beats it.)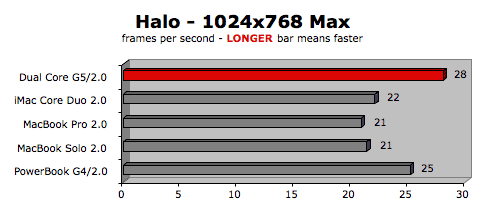 ANALYSIS AND INSIGHTS
The MacBook Pro ROCKS! With the exception of non-UB apps like Photoshop and Halo, it's clearly superior to an equally clocked G4 PowerBook. And it held its own against the equally clocked iMac Core Duo and Dual Core G5 Power Mac in CPU tests.
I don't want to under emphasize the importance of Universal Binary (UB) applications on the MacBook Pro. If you plan to replace your old PowerBook with the MacBook Pro, you need to inventory your keep apps to see if they have been converted to Universal Binary. Apple has a special page dedicated to listing all the apps by category that have been updated to UB. MacInTouch has an alphabetical listing.
The only hardware faults we see are...
a) the lack of a 17" version (rumored to be coming sometime this year)
b) the lack of Firewire 800 or Serial ATA external port. The Firewire 400 and USB 2.0 ports can't keep up with the speed of modern external storage systems. One remedy is the soon-to-be released ExpressCard SATA host adapters (from various third parties) that will provide either FireWire 800 or SATA II ports (or both).
I don't want to list the lack of Cardbus support as a fault. Apple has provided the ExpressCard slot. However, since it's a new standard, it may be a while before I find an ExpressCard replacement for my Verizon Aircard (which I use all the time).
DO MATCHING MEMORY PAIRS MAKE IT GO FASTER?
We tested the MacBook Pro with both matching pairs of 1GB SDRAM and non-matching pairs (one 1GB and one 256MB module). None of the GPU test results were affected but the matching pairs did provide a small gain in CPU intensive tests (2.5% in iMovie, 3.5% in Photoshop CS).
UPGRADE YOUR POWERBOOK OR SELL IT?
Though the Daystar Technology PowerBook 7447A 2GHz CPU upgrade definitely boosts the crunching power of the now obsolete G4 PowerBooks, it's no match for the MacBook Pro in terms of CPU and GPU power. It's still a great way to extend the life of your PowerBook -- especially if your 'Book is only running at 1.25 or 1.33GHz.
HEAT AND POWER USAGE
We plan to add some heat and power usage data to this article but we wanted to get the performance data posted first.
THERE IS MORE TO SPEED THAN A FAST CPU
Your laptop spends much of its time reading from and writing to the internal hard drive. You can increase performance by installing a faster hard drive. Hitachi and Seagate have notebook 7200RPM drives that hold 100GB. Apple now offers a 7200rpm Configure To Order option when you purchase the MacBook Pro online.
Expanding your memory to the maximum 2GB can increase performance in two ways:
1) The more memory you have, the less time is spent transferring to/from the disk based virtual memory.
2) Applications like Photoshop and Motion use memory as cache. If you don't have enough, they are forced to use the hard drive as scratch area.
Unfortunately, you can't upgrade the graphics processing unit (GPU) as you can with Power Macs. It's a shame that Apple's innovation doesn't include socket based GPU modules -- similar to what AlienWare uses with the Area 51 laptops.
RELATED ARTICLES
Mossberg's rough comparison of the MacBook Pro to the H-P Pavilion dv5000t
MacWorld's First Look at the MacBook Pro versus the PowerBook and iMac Core Duo
How fast does the Universal Binary version of Final Cut Pro and Motion run on the Mac Book Pro compared to a Dual G5/2.0 Power Mac? We hope to find out soon when our upgrade arrives but Creative Mac has the answer already.
Creative Mac also tested non-UB Photoshop CS2 and After Effects on the MacBook Pro.
WHERE TO BUY A MACBOOK PRO
Apple Online Store -- New MacBook Pros; New and Refurbished PowerBooks
WHERE TO BUY THE DAYSTAR CPU UPGRADE FOR THE POWERBOOK
Daystar Technology -- They specialize in CPU upgrades for "orphaned" Mac systems like the iMac G4 Flat Panel and various PowerBooks.

"AlumBook" upgrades take you up to 2.0GHz upgrade.

The base price of $499 includes all parts and labor.
  PowerBook G4 15": 1.0, 1.25, 1.33 can go to 1.92 GHz
  PowerBook G4 15": 1.5 can go to 2.0 GHz
  PowerBook G4 17": 1.33 can go to 1.92 GHz
  PowerBook G4 17": 1.5 can go to to 2.0 GHz

OTHER POWERBOOK PRODUCT SOURCES
FirmTek -- SATA Cardbus (and soon SATA ExpressCard); SATA enclosures

OWC -- MacBook and PowerBook memory upgrades; hard drive upgrades

TransIntl -- MacBook and PowerBook memory and drive upgrades

Wiebetech -- SATA and FireWire drive enclosures

MaxUpgrades -- PowerBook Sleeves and Briefcases; SATA and FireWire drive enclosures

FWDepot -- FireWire and SATA Cardbus cards; external FireWire and SATA drive enclosures

For noise suppression, nothing beats ear covering headphones like the Bose Quiet Comfort 2. For ear "fobs," we use the Bose In-Ear Headphones when listening to our iPod -- Help support Bare Feats by ordering your Bose headphones from Sharper Image.
Has Bare Feats helped you? How about helping Bare Feats?