Posted September 29th, 2005, by rob-ART morgan, mad scientist
Updated October 4th, 2005, with FW400 vs FW800 graph.
Up until now, the fastest notebook drive was the Hitachi Travelstar 7K60 (60GB 7200rpm). Now, there's a new "sheriff in town": The Seagate Momentus 7200.1 (100GB, 7200rpm, 8MB buffer).
We will be comparing the Momentus 7200.1 to the Travelstar 7K60 and several other typical PowerBook drives. For this article, we tested the various drives in a FireWire 800 enclosure because a) we didn't want to crack open our new PowerBook to play hard drive "roulette," and b) we confirmed that the speeds recorded on the FireWire 800 port are virtually identical to those recorded on the internal ATA-6 bus. In other words, the drives' maximum potential is well below the limits of those two interfaces.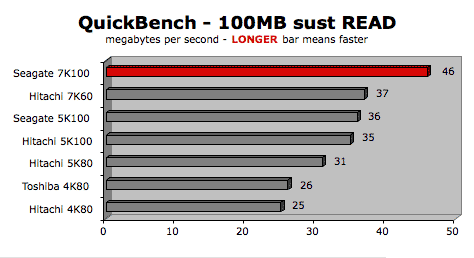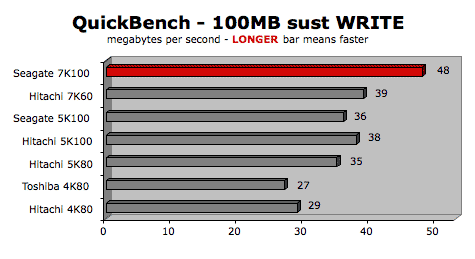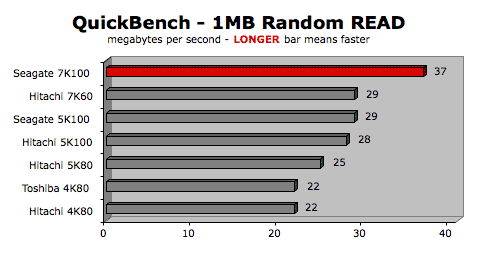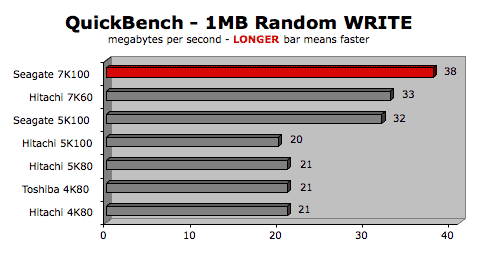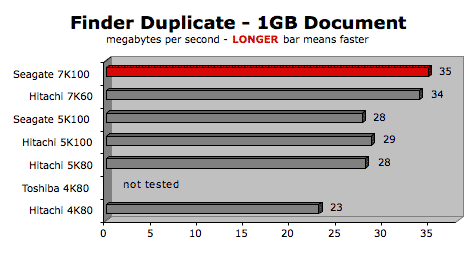 ANALYSIS
The Seagate Momentus 7200.1 takes notebook drive speed to a whole new level. It's not as fast as the fastest 3.5" 7200rpm drives but it's impressive nevertheless. And its quiet. It's a no brainer for a PowerBook internal drive replacement or as an external drive in a FireWire 800 enclosure.
WILL A 7200RPM NOTEBOOK DRIVE DRAIN MY BATTERY FASTER?
The short answer is, "Probably not." You see, the 7200rpm drives are as much as 28% faster doing random reads and writes compared to the 5400rpm drives. They are as much as 80% faster than 4200rpm drives. Yet the Hitachi Travelstar 7K100 uses the same amount of power as the Travelstar 5K100. The Seagate Momentus 7200.1 uses only 10% more power than the Momentus 4200.2. The Momentus 5400.3 uses less power than the Momentus 4200.2. My theory is that the "speed to power" ratio is so good with the 7200rpm drives that the net effect on the battery is negligible.
The Hitachi 7K100 shouldn't produce more heat than the 5K100 (since use the same wattage when active), but the Seagate 7200.1 will likely run hotter than the 5400.3. Assuming the factory specs are accurate, the Hitachi 7K100 will generate less heat and use less power than the Seagate 7200.1. Here's the kicker: The Toshiba MK8026GAX 80GB 5400rpm drive that came in our G4/1.5GHz PowerBook uses more wattage than either of the 7200rpm drives mentioned above. We're definitely going to upgrade our 15"!
Here's the factory specs on power usage, performance, and noise levels:
Hitachi
Travelstar
4K120

Seagate
Momentus
4200.2

Hitachi
Travelstar
5K100

Seagate
Momentus
5400.3

Hitachi
Travelstar
7K100

Seagate
Momentus
7200.1

seek (watts)

1.7

2.3

2.3

2.0

2.3

2.6

read (watts)

1.4

2.0

2.0

1.8

2.0

2.2

write (watts)

1.4

2.1

2.0

1.8

2.0

2.4

avg seek (msec)

11.0

12.5

12.0

12.5

10.5

10.5

avg latency (msec)

7.1

5.6

5.5

5.6

4.2

4.2

noise level when active (decibels)

27

26

27

29

30

29
WHAT HAPPENS WHEN THE DRIVE FILLS UP?
One more thing you should know about the Momentus 7200.1. When your drive gets full, it's still a lot faster than the existing drives. Check out this graph:

IS FW800 NECESSARY? OR WILL FW400 SUFFICE?
FireWire 800 (IEEE 1394b) notebook enclosures are scarce for some reason. It's true that 5400rpm and 4200rpm notebook (2.5") drives do not benefit from the faster interface compared to FireWire 400 (IEEE 1394a). Thankfully, some companies understand the gains afforded by installing a 7200rpm notebook drive in a FireWire 800 enclosure. To illustrate this, we prepared this sustained WRITE speed graph:

Why settle for a 9% gain over the 5400rpm drive when you can get a 37% gain by moving to a FireWire 800 enclosure? Not only does the 7200rpm 2.5" drive "scream" in a FireWire 800 enclosure, but don't forget it runs off of FireWire bus power. What's not to like? In fact, "just for fun," I installed two Momentus 7200.1s in two FW800 enclosures. Taped the two enclosures together. Daisy chained them. And used Disk Utility to create a striped pair (RAID 0). What do you think of a bus powered RAID set that does 84MB/s sustained READS on your PowerBook's FireWire 800 port? Check it out: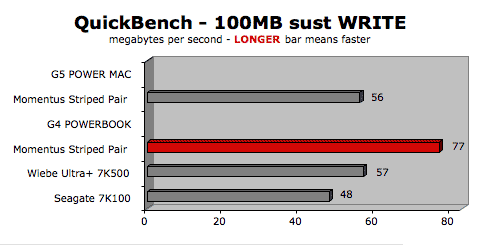 NOTE: As you can see in the graph, I tried my "home brew" dual Momentus 7200.1 RAID 0 set on both the PowerBook and a G5/2.5GHz Power Mac. The notorious G5 write speed deficiency with FW800 is still there. If you have one of the rare G4 Power Macs with built-in FireWire 800, it will do well on that system.
WHAT IS AN ULTRA+?
In the graph above I included results from the amazing bus powered Wiebetech UltraGB+ enclosure which supports 3.5 inch 7200rpm drives. Yes, bus powered 3.5 inch drives! I put a Hitachi Deskstar 7K500 500GB 7200rpm drive in it. Ran like a charm off the FireWire 800 bus of the PowerBook.
HOW ABOUT BUS POWERED RAID?
I've been campaigning among the FireWire enclosure companies to produce a FW800 RAID enclosure for 2.5 inch notebook drives so I can have a slick looking bus powered "miniRAID." I know of one company that's working on it. I'll tell you more when I can. Meanwhile, check out the Q14SA four 2.5 inch drive SATA unit from Enhance Technology.
Why a "miniRAID" using two Momentus 7200.1 drives? Because these 2.5" drives can handle 250Gs of shock while operating. The 3.5" drives, on the other hand, can only withstand 63Gs. High shock resistance along with small size, low power requirements, increased speed, and increased capacity make them very attractive alternatives to 3.5" drives.
TEST HARDWARE
Testing was primarily on our Apple G4/1.67GHz PowerBook.
Notebook (2.5") drives tested included the....
Seagate Momentus 7200.1 (7200rpm, 100GB, 8MB cache)
Seagate Momentus 5400.2 (5400rpm, 100GB, 8MB cache)
Hitachi Travelstar 7K60 (7200rpm, 60GB, 8MB cache)
Hitachi Travelstar 5K100 (5400rpm, 100GB, 8MB cache)
Hitachi Travelstar 5K80 (5400rpm, 80GB, 8MB cache)
Hitachi Travelstar 4K80 (4200rpm, 80GB, 8MB cache)
Toshiba MK1032GAX (5400rpm, 80GB, 16MB cache)
The FireWire 800 enclosure used was the Oxford 922 based Speedster2-800 from FWDepot. This is one of my favorite notebook enclosures. It's the thinnest of all and the thin aluminum not only dissipates the heat well but still looks good after months of abuse.
Our "miniRAID" experiment used two Wiebetech aluminum FW800/400/USB2 MicroGB+ enclosures, our other favorite, but, alas, it is no longer available.
We also tested the Wiebetech UltraGB+ FireWire 800 bus powered enclosure with a Hitachi Deskstar 7K500 (7200rpm, 500GB) 3.5" drive installed for comparison. Wiebetech pre-installs drives that they know will "play" on bus power.
WHAT ABOUT THE HITACHI TRAVELSTAR 7K100?
Hitachi has promised to send us a test unit as soon as they are available -- hopefully in a week or two. (The 7K100 is available in Parallel ATA and Serial ATA versions -- we hope to test both.)
TEST SOFTWARE
IntechUSA's QuickBench 2.0 tests both random and sequential reads and writes. It tests from very small to 100MB file sizes. We used their ZoneBench to test the drives at 90% capacity.
FINDER DUPLICATE of a 1gigabyte document is our old reliable test that forces the drive to read from and write to itself simultaneously and furiously. It's a reliable predictor of overall performance and correlates to how fast a drive can boot a system.
WHERE TO BUY BUS POWERED FIREWIRE 800 2.5 INCH ENCLOSURES
(with or without pre-installed drives)
Small Dog Electronics (Wiebetech Combo FW800 enclosure)

Wiebetech.com (Combo FW800 enclosure and FW800 Docks)

FWDepot (Speedster2-800 and G-Drive FW800 enclosures)
WHERE TO BUY 2.5 INCH NOTEBOOK BARE DRIVES
Other World Computing (Seagate Momentus, Hitachi TravelStar, Toshiba "GAX", and Fujitsu)

Small Dog Electronics (Seagate Momentus)

TransIntl.com (Hitachi Travelstar, Toshiba "GAX")
WHERE TO BUY THE ULTRAGB+
Wiebetech (UltraGB+ bus powered FW800 enclosure)
Has Bare Feats helped you? How about helping Bare Feats?