PowerBook G4/800: Speed Bumped or Supercharged? (PAGE TWO)
For you 3D game nuts, there's good news. Compare the 2002 PowerBooks with the 2001 PowerBook 667 to see what I mean.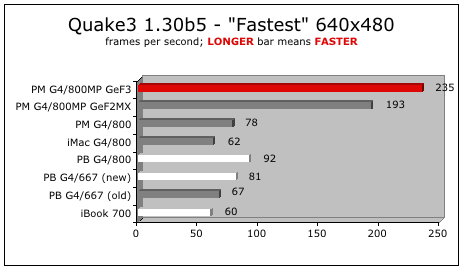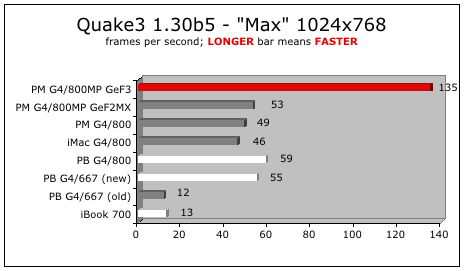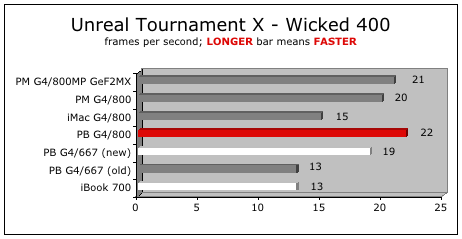 And for 2D performance, take a look at this....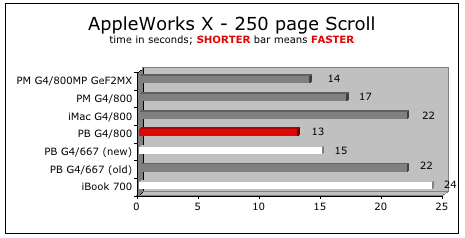 CONCLUSION?
The performance improvements to the 2002 PowerBook are significant. The L3 cache, increased memory bus speed, and better graphics chip all combine with the faster cpu clock speed to provide performance on the PowerBook G4/800 that equals or exceeds that of the new iMac G4/800 and G4/800 Power Mac. The Dual G4/800 Power Mac was only faster when running apps that take advantage of multiple processors (like iMovie, Photoshop and Quake3) or when it was running an app that utilized the optional GeForce3 acceleration (like Quake3 in "Max" Settings Mode).
The NEW version of the PowerBook G4/667 is faster than the old one. In purely CPU dependent tests, it was an average of 14% faster. In tests that utilized the graphics accelerator, it was 120% faster! In fact, it was faster than the iMac G4/800 and the Power Mac G4/800 in all but one test where they were compared.
How does the iBook G3/700 compare to the NEW PowerBook G4/667? If you run NON-AltiVec optimized applications such as Bryce, FileMaker, MS Office, and MS Explorer, then you will go as fast or faster on the 700MHz iBook. However, if you are using iMovie, iTunes, Final Cut Pro, Photoshop, and other AltiVec "aware" apps, you are better off with a PowerBook. And don't forget, the iBook can only be upgraded to 640MB of RAM.
Now the question comes, "Which PowerBook is the best buy, the 800 or 667?" Comparably equipped (same memory, hard drive, AirPort card, etc.), the 800 is $351 more or 12% more. Since the 800 is 13% faster on average, I'd say it's a wash. Go for the gusto. Get the 800.
IS IT THE PERFECT LAPTOP?
Not exactly. I have a few bones to pick with Apple. First, the Airport range has NOT been improved over the old 667. We walked the old 667 and the new 800 down a long hallway together away from the AirPort base station. They both lost the signal at the the same spot. The iBook 2001 we have in the lab has a much better range than both.
Secondly, the paint chips easily on the hinges and edges, parts not made of Titanium. My wife is going to inherit my old 667 so I can buy the 800 model. She's not pleased about the condition of the case after only a few months of use. I kept it in a leather sleeve when transporting or when not in use but that wasn't enough to protect it. And I'm not even going to mention the "scratches" that appear on the Titanium surface when the dull finish gets "polished" by some sharp object that comes in contact.
When running under OS X, the battery only lasts 1.5 hours... 2 hours tops. That's just with answering email, surfing the net, or editing a few HTML files. When running OS 9, I get more like 3 hours. Until Apple comes up with an improved power management scheme for OS X, I suggest you order your PowerBook with a second battery, especially if you plan to watch 3 hour DVD movies on transcontinental flights. (Or get an airline power adapter cord from Madsonline.com)
But will I still buy one? You bet!
RELATED LINKS
XLR8YourMac has some interesting results from the PowerBook G4/800 versus older G4/667.
MacWorld has posted a review of the PowerBook G4/800 comparing it to other models of Mac.
Wishing you could put a G4 upgrade in your Pismo PowerBook? Wish no more. Other World Computing is selling the Newer Technology G4/500 cpu upgrade for $299. PowerLogix has the same upgrade for the same price. NOTE: you have to send your Pismo in for modification in both cases.
If you love your Pismo, I think this upgrade is a "no brainer." Don't have a Pismo? Get one from The PowerBook Guy or PowerMax.com. Downsides? Drawbacks? Keep in mind that the Pismo's graphics processing unit (GPU) is whimpy and video RAM limited so Quartz Extreme advantages do not apply.
RETURN TO PAGE ONE or go to BARE FEATS INDEX.