Posted Tuesday, March 19th, 2009, by rob-ART morgan, mad scientist
Updated March 21st, 2009, with more CPU/GPU combinations.
Add the Quadro FX 5600 and iMac (GeForce 130 GT) on March 25th.
I can almost hear some of you snort in contempt when I publish 3D Games as a measure of the Nehalem's "manhood." I make no apologies because, whether you play 3D accelerated games or not, the state-of-the-art gaming environment stresses all subsystems of the Mac Pro. So it could be argued that games measure total system performance.
Having said that, I'm throwing you serious users a bone. I, too, want to know how the Nehalem Mac Pros with their two graphics card options handle the Core Image effects processing. We offer, for your edification, Motion 3 and iMaginator 4.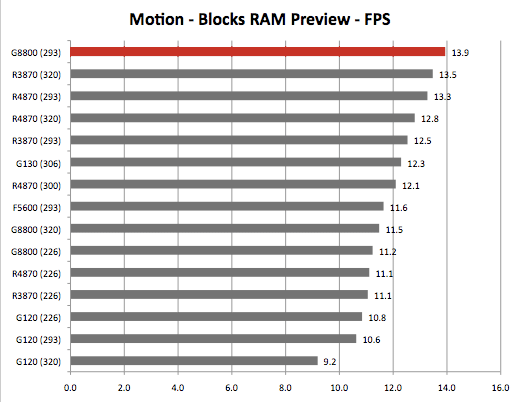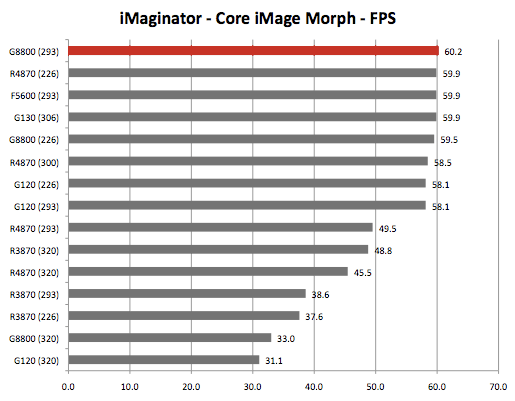 LEGEND of GRAPHS
NOTE: We converted our graphs from SECONDS to FRAMES PER SECOND since the iMac with 4G of RAM can't render all 900 frames.
293 = 2.93GHz Nehalem 8-core (2009) Mac Pro with 12G of RAM
226 = 2.26GHz Nehalem 8-core (2009) Mac Pro with 12G of RAM
300 = 3.0GHz Clovertown 8-core (2007) Mac Pro with 16G of RAM
306 = 3.06GHz iMac Core 2 Duo (2009) with 4G of RAM
320 = 3.2GHz Harpertown 8-core (2008) Mac Pro with 16G of RAM

R4870 = Apple OEM Radeon HD 4870
G120 = Apple OEM GeForce 120 GT
R3870 = ATI Retail Radeon HD 3870 "Mac and PC Edition"
G8800 = Apple OEM GeForce 8800 GT
F5600 = Quadro FX 5600
G130 = GeForce 130 GT (iMac only)
INSIGHTS and ANALYSIS
If you have a GeForce 8800 GT laying around feeling lonely, don't sell it on eBay yet. It beat all the other cards (including the Radeon HD 4870) in both of our Core Image intensive tests when installed in the 2.93GHz Mac Pro 8-core.
Results were mixed for the GeForce 120 GT. It did well in the Nehalem Mac Pros in the iMaginator test but brought up the rear in the Motion test. We still think the Radeon HD 4870 is worth the price of admission ($200 CTO) and when you add in the 3D performance, it's the fastest GPU overall.
Keep in mind that graphics card performance is "moving target." A tweak here and there in the firmware and drivers can change performance dramatically. Compared to last year's GeForce results, the nVidia engineers must have been burning the midnight oil improving their Core Image performance. And ATI engineers should look at the graphs and realize they can't rest on their laurels.
If you bought the GeForce 8800 GT kit for your 2008 Mac Pro, you can migrate it right into your 2009 Mac Pro. Ditto for the retail Radeon HD 3870 "Mac and PC Edition" card. Bring it along to the party, too.
If you didn't buy a new 2009 Mac Pro but want to use the new graphics cards released with the Nehalem Mac Pros, you can buy the GeForce 120 GT and Radeon HD 4870 in kit form from Apple. They both worked in our 2008 Harpertown 3.20GHz Mac Pro as you can see from the graphs above. We also got the Radeon HD 4870 to run in the 2007 Clovertown first generation Mac Pro. A close colleague has one working in the 2006 Woodcrest first generation Mac Pro.
WHERE TO BUY APPLE PRODUCTS
When you purchase Apple USA products, please CLICK THIS LINK or any APPLE BANNERS at the top of our pages. It's a great way to support Bare Feats. since we earn a commission on each click-through that results in a sale.
The Radeon HD 4870 kit can be found on the Apple online store by doing a keyword search such as "4870 graphics." Ditto for the GeForce 8800 GT kit and 120 GT kit.