Posted Tuesday, March 17th, 2009, by rob-ART morgan, mad scientist
Added Quadro FX 5600 and GeForce 130 GT (iMac) on March 25th, 2009.
Our 2.93GHz 8-Core Mac Pro 'Nehalem' with the Radeon HD 4870 showed up recently. Though this article is not exhaustive, we're continuing to add results as we get them.
Our goal is to test various 2009 Mac Pros and previous Mac Pros with the four most recent graphics cards:
The Radeon HD 4870, the Radeon HD 3870, the GeForce 8800 GT, and the GeForce 120 GT.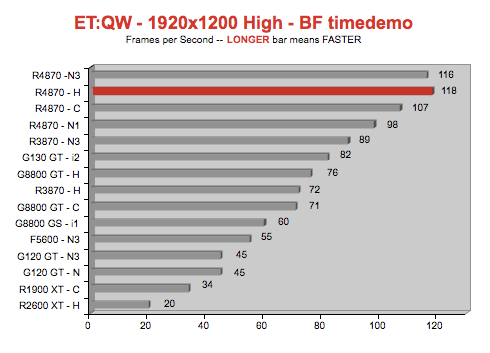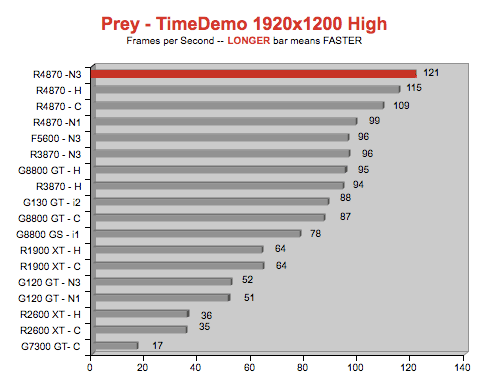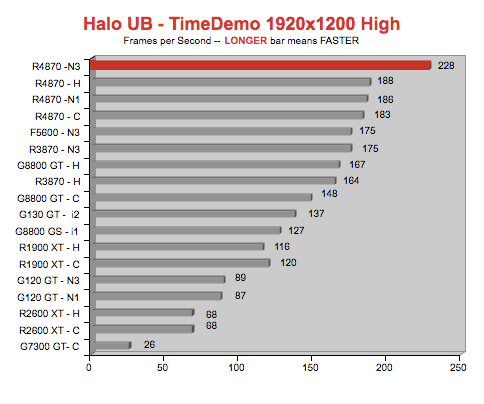 LEGEND OF GRAPHS
N3 = 2.93GHz Nehalem 8-core Mac Pro with 12G of RAM
N1 = 2.26GHz Nehalem 8-core Mac Pro with 12G of RAM
H = 3.2GHz Harpertown 8-core Mac Pro (2008) with 16G of RAM
C = 3.0GHz Clovertown 8-core Mac Pro (first generation) with 16G of RAM
i1 = 2008 iMac 3.06GHz Core 2 Duo (GeForce 8800 GS)
i2 = 2009 iMac 3.06GHz Core 3 Duo (GeForce 130 GT)
R4870 = OEM Radeon HD 4870
G120 GT = OEM GeForce 120 GT
R3870 = Retail Radeon HD 3870 "Mac and PC Edition"
G8800 GT = OEM GeForce 8800 GT
R1900 XT = Radeon 1900 XT
R2600 XT = OEM Radeon HD 2600 XT
G7300 GT = OEM GeForce 7300 GT
G8800 GS = GeForce 8800 GS (CTO for 2008 iMac)
G130 GT = GeForce 130 GT (in 2009 iMac)
THOUGHTS SO FAR
The Radeon HD 4870 appears to be the ultimate gaming card for the Mac Pro -- especially when installed in either the 2.93GHz Nehalem or 3.2GHz Harpertown Mac Pro. For $200 CTO, the 4870 is a no-brainer in my book. As for those of you with older Mac Pros, for $350, it's still a compelling upgrade.
NOT NOISY
The Radeon 4870, unlike the 3870, does not rev up when stressed. Other than the initial whoosh when Starting Up or Re-Starting, it was quite subdued with a low rpm, low frequency fan. I repeat, it's nothing like the 3870 in terms of noise. It is as quiet as the GeForce 8800 GT. With decibel meter 6 inches from the heatsink fan, we never saw higher than 44 decibels even under a load.
POWER FOR THE REST OF US
Apple is officially supporting only 2009 and 2008 Mac Pros with the Radeon HD 4870 kit. And it requires either the build of OS X 10.5.6 with the February 2009 ATI drivers -- or OS X 10.5.7 (not yet golden).
As with the Radeon HD 3870 and HD 2600, ATI included both a 32-bit and 64-bit EFI driver in the ROM, so it should work in all models of Mac Pro with the latest drivers. We installed in the Clovertown first generation 8-core Mac Pro (as you can see from the graphs above) and a close colleague installed it in a 2.66GHz Woodcrest 4-core first generation Mac Pro. As long as you have two power feeds for the card in your first generation Mac Pro and have the correct drivers properly installed, it should work fine.
"THE BEST OF THE WORST"
The GeForce 120 GT is obviously weak when it comes to 3G gaming (or any 3D accelerated app). It's better than the Radeon HD 2600 or GeForce 7300 GT and does sell in a kit for $150. It works in older models of Mac Pro, but it's not in the same league as the GeForce 8800 GT and Radeon HD 3870 -- much less the 4870.
iMAC 2009 IMPRESSES
Notice that the GeForce 130 GT that comes in the high-end iMac ran right in the middle of the pack. And it blows away the 120 GT comes standard on the Mac Pro.