Originally posted February 4th, 2005, by rob-ART morgan, mad scientist.
Updated February 16th with full test results.
The Mac mini's weak point is hard drive speed since it uses a 4200rpm 2.5 inch "notebook" drive (either Toshiba or Hitachi). I understand the idea is small size and weight, but a relatively slow drive can contribute to slow overall performance when booting, launching apps, and doing virtual memory operations. Apple could have used a faster drive but it would drive the cost up. They should at least offer alternatives as a CTO option. Enough editorializing.
We tested the two stock drives. Then we replaced them with both a Hitachi 7K60 7200rpm and Seagate Momentus 5400rpm 100GB drives and ran the same tests. We also tested the same drives in an external FireWire 400 enclosure to see how that compared. Finally, we added a fast 3.5 inch drive in a FireWire 400/800 enclosure.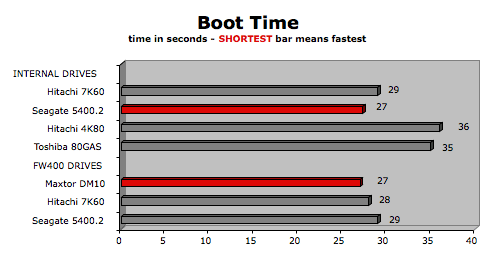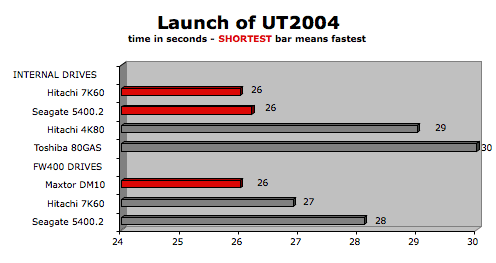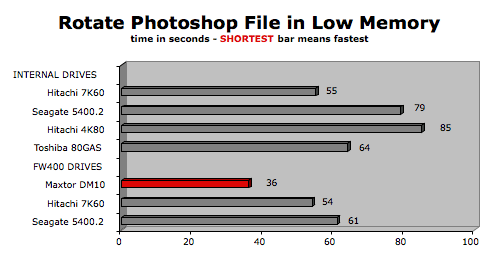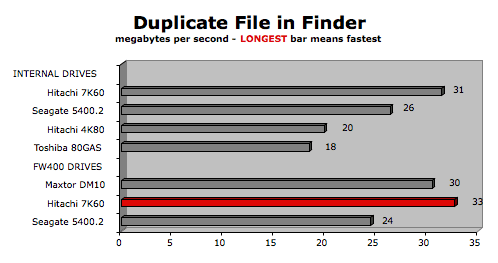 LEGEND of GRAPHS
Graph Label

Hitachi 7K60

Seagate 5400.2

Hitachi 4K80
(factory)

Toshiba 80GAS
(factory)

Maxtor DM10

Manufacturer

Hitachi

Seagate

Hitachi

Toshiba

Maxtor

Model

7K60

Momentus 5400.2

4K80

MK8025GAS

DiamondMax 10

Specifications

7200rpm
60GB
2.5 inch
8MB cache

5400rpm
100GB
2.5 inch
8MB cache

4200rpm
80GB
2.5 inch
8MB cache

4200rpm
80GB
2.5 inch
8MB cache

7200rpm
300GB
3.5 inch
16MB cache
INSIGHTS
The Mac mini's drive is similar to what you find in an iBook or PowerBook -- 4200rpm with sluggish average seek time and latency. This can make the Mac mini feel more sluggish than the clock speed would imply -- especially if you are running with less than 1GB of memory.
As you can see from the graphs, there are faster alternatives to the factory drives. The Hitachi 7K60 was the fastest alternative internal drive. If you find the 60GB capacity too confining, the Seagate Momentus 5400rpm drive provided much more speed than the stock drives in all except the Photoshop test while providing greater 100GB capacity.
Another way to add speed to your Mac mini without cracking open the case (and risking warranty nullification) is to attach a fast drive to the FireWire 400 port. That's exactly what we tried. Not only did we test the same drives externally as we tried internally, but we added the fast Maxtor DiamondMax 10 300GB 3.5inch 7200rpm drive to the mix. It added both speed and mucho capacity to the Mac mini system. Too bad the mini doesn't sport a FireWire 800 port. The sustained transfer speed jumped from the mid 30s to the mid 50s when we connected the FireWire 400/800 enclosure with DiamondMax 10 drive to a G4 PowerBook's FW800 port.
Of course, the cost of drive (and memory) upgrades can cause the price of the mini to mushroom. Be sure to do "what if" exercises before you buy the mini to make sure the faster, aggressively priced G5 iMac isn't a better deal for you.
DON'T MISS OUR OTHER PAGES ON THE MAC MINI
Tests with iMovie, iTunes, Photoshop, and FileMaker Pro
Tests with Halo, Unreal Tournament 2004, Quake3, AppleWorks scrolling, Quartz Extreme Bench, and Cinebench flyby

WHERE TO BUY DRIVES for the MAC MINI

Wiebetech has a cool storage product called Maxcelerate which lets you add an external FireWire enclosure with fast 7200prm 3.5" drive. The cool thing is that it looks just like a mini and fits under the mini without increasing your footprint. It also acts as a USB and FireWire hub. Newer Technology has a similar product called the miniStack, which can be purchased from Other World Computing. You can get it empty or with a drive installed. LaCie has the LaCie mini.
Check for internal drive upgrades from Other World Computing or TransIntl or FastMac such as the Hitachi 7K100 7200rpm 100GB and Seagate Momentus 7200.1 7200rpm 100GB drives.
If you do the upgrade yourself, you'll want some instructions like those posted by MacWorld. And you'll want to have two THIN, clean putty knifes handy. If that is too scarey, there are two companies that will do the memory and/or drive upgrades for you:
Other World Computing has a memory and drive upgrade special. For $99, you can send your Mac mini to OWC to do both upgrades for you -- and pay bargain prices for the drive and memory you choose. (They have a high quality movie on their site.)

FastMac is offering a similar "send it in" upgrade for memory, hard drive, and 8X SuperDrive.
Has Bare Feats helped you? How about helping Bare Feats?