Originally posted February 4th, 2005, by rob-ART morgan, mad scientist.
The Mac mini comes with a built-in ATI Radeon 9200 graphics processor. Here are various 3D games and 2D tests which give you a feel for how it compares to similar Macs.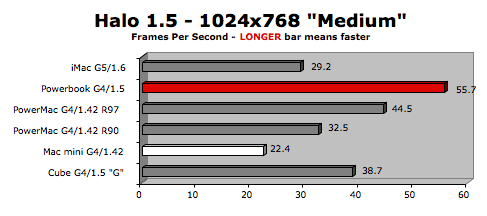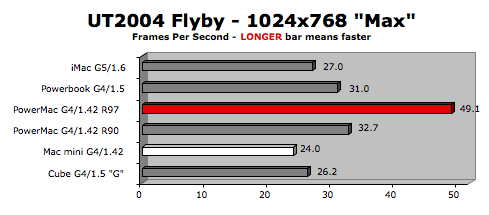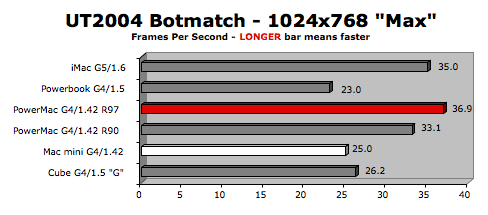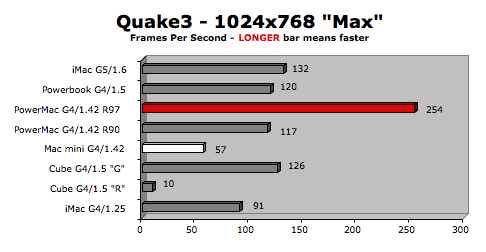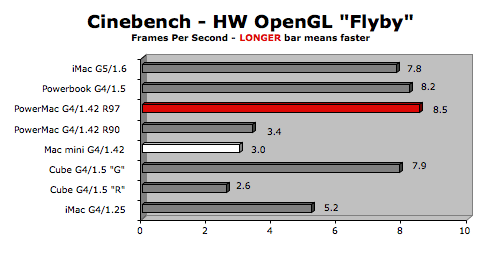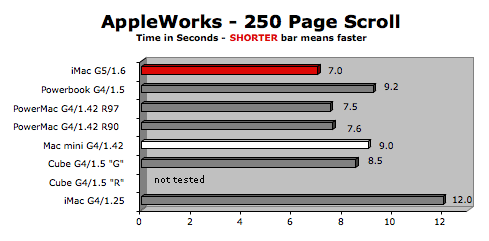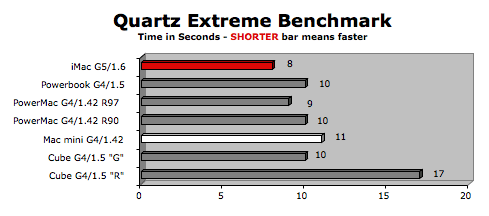 GRAPH LEGEND
Graph Notation

Graphics Processor

iMac G5/1.6

GeForceMX 5200 Ultra

PowerBook
G4/1.5

Mobility Radeon 9700

PowerMac
G4/1.42 R97

Radeon 9700 Pro

PowerMac
G4/1.42 R90

Radeon 9000 Pro

Mac mini G4/1.42

Radeon 9200

Cube G4/1.5 "G"

GeForce3

Cube G4/1.5 "R"

Rage 128 Pro

iMac G4/1.25

GeForceMX 5200 Ultra
INSIGHTS
As you can see, in the case of 3D accelerated apps, the Mac mini performed poorly compared to Macs running at similar speeds and similar graphics processors. The limited 32MB of VRAM has to be a factor along with the Radeon 9200's core specs. Though I don't show it on the graphs, when I put a Radeon 9200 in the PCI slot of the G4/1.42GHz Power Mac, I get similarly lousy numbers.
If you do play 3D games with your mini, don't expect a lot and don't use high quality settings or astronomical resolutions.
The mini didn't do too badly in the Quartz 2D scrolling and Quartz Extreme (transparent, shadowed) window creation tests. That indicates that there should be no screen related sluggishness when running browsers, email and wordprocessors.
DON'T MISS OUR OTHER PAGES ON THE MAC MINI
Tests with iMovie, iTunes, Photoshop, and FileMaker Pro
Tests with stock versus alternative hard drives

WHERE TO BUY THE MAC MINI
Order the Mac mini from the online Apple Store or visit your local Apple authorized dealer. You can also order them from Small Dog Electronics and PowerMax.
Again, I suggest buying the 1GB memory upgrade from Other World Computing or TransIntl or FastMac at less than half the price that Apple charges. They also have the Hitachi 7K60 7200rpm and Seagate Momentus 5400.2 5400rpm drives we tested.
If you do the upgrade yourself, you'll want some instructions like those posted by MacWorld. And you'll want to have two THIN, clean putty knifes handy. If that is too scarey, there are two companies that will do the memory and/or drive upgrades for you:
Other World Computing has a memory and drive upgrade special. For $99, you can send your Mac mini to OWC to do both upgrades for you -- and pay bargain prices for the drive and memory you choose. (They have a high quality movie on their site.)

FastMac is offering a similar "send it in" upgrade for memory, hard drive, and 8X SuperDrive.
Need a snazzy but low priced LCD display for your Mac mini? PowerMax has a large selection of LCD displays at good prices. Ditto for Small Dog Electronics. Check also with WalMart Online. I've seen 17" LCD displays for as low as $228, and 19" LCD displays for as low as $300. I recommend one with a DVI port and response time of 16ms or less.
Need a mouse for your mini? The right mouse can make it seem faster than it really is. See my mouse article.
Has Bare Feats helped you? How about helping Bare Feats?