Originally posted January 8th, 2010, by rob-ART morgan, mad scientist
No sooner do we put to bed our Android Eris article when Google announces (and ships) the Nexus One. Could it be the iPhone "killer"? It certainly has some clear advantages: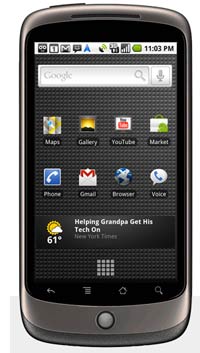 FASTER PROCESSOR
The Nexus One features a 1GHz Qualcomm QSD 8250 processor with 512MB of RAM. The iPhone 3GS features a 600MHz 32-bit ARM Cortex A8 RISC processor with 256MB of RAM. The Nexus One's "Snapdragon" processor has onboard graphics that Qualcomm claims to produce 22 million triangles per second which, on paper, beats the iPhone's PowerVR SGX which is rated at 7 million triangles per second.
Some interesting results from SunSpider JavaScript Benchmark:
Overall elapsed time: Nexus 10% faster
3D speed: Nexus 36% faster
Math speed: Nexus 40% faster
Bitops speed: iPhone 25% faster
Controlflow speed: iPhone 28% faster
Both phones use flash memory for non-volatile storage. The Nexus One comes with built-in 512MB flash memory pluse a 4GB microSD card standard, upgradeable to 32GB. The iPhone 3GS gives you the choice of 16GB or 32GB non-removable flash memory.
MULTITASKING
As we talked about in our Droid Eris article, the Android OS on the Nexus One allows you to have multiple apps loaded and running. The iPhone has to quit each app to launch another, though it does let you continue with a phone call while you run an app. One downside of multitasking is that the battery runs out of juice faster, especially if those apps continue to diddle in background. Another downside is that you can potentially use up all of RAM with multiple apps loaded, though HTC assured me that when that happens, the "oldest, least active" apps are terminated to make room.
Though the number of available apps for the Android based phones pales in comparison to the number available for the iPhone, many of the most useful ones already exist in either identical or similar form.
BIGGER SCREEN, HIGHER REZ
The Nexus One's screen is slightly larger than the iPhone 3GS (3.7" vs 3.5") but the resolution is much higher (480x800 vs 320x480). How does that affect you? Check NBA games with SportsTap. The Nexus One displays the status of 12 games on a single screen. The iPhone displays 8 games.
HIGHER REZ CAMERA WITH FLASH
The Nexus One has a 5 megapixel camera with an LED flash for low light settings. The iPhone 3GS has to limp along with 3 megapixels and NO flash. The Nexus records video at 720x480 at 20fps while the iPhone records video at 640x480 at 30fps.
IMPROVED NETWORK SPEED
We tested the Nexus One on our lab's WiFi setup (AirPort Extreme Base Station connected to 50Mbit/s internet service.). It measured 9.7Mbit/s download and 4.4Mbit/s upload. While that's a big improvement over the Verizon Droid Eris (3.1Mbit/s download, 1Mbit/s upload), the iPhone 3GS recorded equal download speeds (9.8Mbit/s) and faster upload speeds (9.1Mbit/s).
We have limited experience with the T-Moblie 3G network. We'll have more to say about it in a few days.
JAVA ANYONE, ANYONE?
Try going to http://newionicbulb.com/ on your iPhone. Then try it with an Android phone.
THINNER, NARROWER, and LIGHTER
Though fractionally taller than the iPhone 3GS, the Nexus one is narrower and thinner. And it weighs slightly less than the iPhone 3GS.
HOW DOES THE NEXUS ONE FALL SHORT OF THE iPHONE 3GS?
1. It lacks sync-abiility with OS X apps like iTunes, iCal, iPhoto, Notes, and Address Book. You can mount the microSD card to import photos to iPhoto or copy tunes to the Nexus One that can be seen by the music player, but there is no comprehensive, automated sync/backup for OS X users. If you choose a smart phone running the Android OS, I recommend MyBackup Pro app which can backup everything (including apps) to the microSD card or everything (not including apps) to an online server. Also if you use Google Mail, Calendar, and Address book, you can sync with those items between the Android phones and your online Google account.
2. It lacks support on Verizon Wireless and AT&T Wireless, the two largest USA cellular service providers. Currently only T-Mobile service is available to Nexus One early adopters. That's supposed to change in the near future, but until then, the Nexus One's potential customer base will be constricted.
3. It lacks "je ne sais quoi." Accuse me of drinking the Kool-Aid, but I say the iPhone has the advantage in terms of user interface design. It's still the BMW of smart phones. And I doubt Apple R&D is sleeping. Apple, for example, could leap frog the competition by introducing a 4G/WiMax capable iPhone in early or mid 2010 that matches the Nexus One feature for feature plus runs on both CDMA and GSM networks.
CONCLUSION:
If the Droid Eris (Android 1.5) fires a shot across the bow of the Apple iPhone 3GS, the Nexus One (Android 2.1) rams it broadside. It is slim and fast and affordable (with a 2 year calling plan). Competition improves the breed. The consumer wins as smart phone companies shoot it out.
FEATURE COMPARISON

Memory

288MB RAM
512MB ROM
8GB MicroSD
(Expand to 16GB)

256MB RAM
32GB Flash Memory

512MB RAM
512MB Flash
4GB MicroSD
(Expand to 32GB)

Screen Rez

320x480

320x480

480x800

Screen Size

3.2"

3.5"

3.7"

Battery

1300mAH

1219mAH

1400mAH

Max Talk Time

5 hr on 2G
3.6 hr on 3G

12 hr on 2G
5 hr on 3G

10 hr on 2G
7 hr on 3G

Max Standby

373 hours

300 hours

290 hr on 2G
250 hr on 3G

Internet Max Use

n/a

5 hr on 3G
9 hr on WiFi

5 hr on 3G
6.5 hr on WiFi

Video Max Playback

n/a

10 hours

7 hours

WiFi (802.11)

b + g

b + g

b + g

3G protocol

EVDO Rev A 3.1Mbps

HSDPA 7.2Mbps

HSDPA 7.2Mbps

Height

4.45"

4.55"

4.69"

Width

2.19"

2.44"

2.35"

Depth

.51"

.48"

.45"

Camera

5MP

3MP

5MP
plus LED flash

Weight

4.23 oz

4.76 oz

4.59 oz

OS X Sync/Backup

Finder copy of music to MicroSD card; iPhoto capture of photos

Automatic Sync/Backup of Tunes, Movies, Contacts, iPhone, and Calendar using iTunes

Finder copy of music to MicroSD card; iPhoto capture of photos

TV Output

No

Yes

No