Originally posted December 21st, 2009, by rob-ART morgan, mad scientist
Appended December 23rd, 2009, with more insights on Droid apps and sync-ability with the Mac.
Appended December 27th, 2009, with 3G upload speed insights.
Appended January 4th, 2009, with signal strength data.
On January 5th, 2010, added Google Nexus One to feature comparison table.
Is Verizon's Droid an iPhone "killer"? Or does it at least cure iPhone envy for Verizon Wireless users? I spent the last month using a Droid along side the Apple iPhone 3GS. I chose the Droid Eris by HTC since it appeared closer to the iPhone 3GS in form and function than the Droid by Motorola (with slide-out physical keyboard). I have some impressions to share.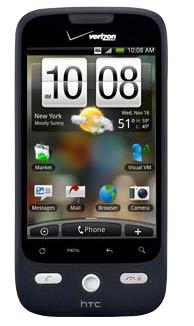 APPS
I was pleasantly surprised with the selection of apps for the Droid. I was able to find apps identical to the iPhone apps such as Bump, Pandora, Shazam, SportsTap, The Weather Channel, Unit Converter, Yelp, and YouTube. Some apps were similar to many useful iPhone apps such as Altitude, Barcode Scanner, Battery Graph, Calculator, Calendar, Compass, deciBel, Dictionary, GoogleMaps, HotelsByMe, Mail, Movies, Speedometer, and Thesaurus. Needless to say, the Droid only has a fraction of the choices available compared to those on the iTunes App Store, but it they have enough to make it a very useful smart phone.
Though there is a description of the app, you have to go the developer's website to see screen shots. And easier way to see sample screens is to go to android.com/market. However, I found it was not comprehensive or up-to-date. The Market app on the Droid lets you search by keyword or see most popular in each category or see most recent apps in each category. (One other way to get a sense of the app quality is to Google and visit Android app review sites like 101BestAndroidApps.com.)
You can't download the apps to your Mac and then sync them on the Droid. You must download them direct to the Android phone. I didn't "invest" in any games but I sampled the free ones. The quality and graphics are unimpressive compared to the free ones available on the iPhone. Maybe the "for profit" games are more impressive. (See addendum for more on this.)
NETWORK SPEED
AT&T advertises that they have the "fastest 3G network." I did not find that to be true in all locations in our city. In one location Northeast of downtown, the Verizon Droid averaged 1689Kbit/s while the AT&T iPhone 3GS averaged 811Kbit/s. Move to the Southeast section and the results were much different: Droid = 429Kbit/s, iPhone 3GS = 1557Kbit/s.
WiFi performance was puzzling. Using an AirPort Extreme Base Station (802.11.n) to connect to Comcast Cable Extreme 50 internet connection (up to 50Mbit/s), I typically see 30+Mbit/s download speed on the Mac Pro and MacBook Pro. Though both phones are rated for 802.11g (and both recognized by our Base Station as 802.11g devices), there was a big gap in WiFi performance. Using Ookla's SpeedTest app, the iPhone 3GS measured a max of 10,823Kbit/s download speed while the Verizon Droid maxed at 3,163Kbit/s download speed. (See addendum for UPLOAD speeds.)
NETWORK COVERAGE
Both Verizon and AT&T have a strong 3G network signal in our city. In fact, we have a strong 4G coverage, but that's another story. When inside certain buildings, the AT&T iPhone's 3G signal was weak or non existent. Verizon Droid was not phased by being indoors.
As for the "map wars" depicted in commercials, it's true that Verizon's 3G network is more extensive. In AT&T's TV ads, you'll notice they don't argue that their 3G data coverage is as good as Verizon. They change the subject and talk about voice coverage. Speaking of voice coverage, I took both phones with me into various stores and restaurants. I was always able to make and receive calls on the Verizon phone. The AT&T phone was only able to initiate and receive calls 1/3 of the time. (This comment is based on impressions. See addendum for some discrete signal levels.)
I hope when the 4G networks become the norm that Apple will have terminated their exclusive agreement with AT&T. If they offer 4G phones for all carriers, I predict their sales will double or triple.
USER INTERFACE
There are many similarities in the touch screen functions. The Droid supports the pinch zoom, drag scroll, app tile customization, predictive text, etc.
There also many differences. One obvious difference is the number of keys. In addition to the "Home" and "Lock/Power" keys, the Droid Eris has "Menu," "Back," "Search," "Add," "See All Apps," and "Phone" keys. When you touch a key, it vibrates indicating that your touch was effective. There is also a trackball for navigating which doubles as a button for taking photos with the 5MP camera.
BATTERY LIFE
Though the batteries have similar MhA ratings, the iPhone's battery lasted longer in my test. The Droid's battery level dropped from 100% to 28% during a 24 hour period though it was not used for anything but to check the battery level using the "Battery Graph" app. During the same period, the iPhone was used to make phone calls and do Google searches. Its battery went from 100% to 71%.
One explanation for the iPhone's better performance might be the fact that the Droid had 11 apps loaded even though I wasn't using any of them. When I repeated the test with only Clock, Mail, and Battery Graph running, I had the same results. Why? Because those same eleven apps were running when I checked it the next morning. Apparently, apps like SportsTap are self starting even when it is sleeping.
Multi-tasking has its advantages but, as you can see, it has its penalties in terms of battery life.
ADDENDUM: more insights on Droid vs iPhone
GAME QUALITY: I finally found a FREE game on the Droid that was identical to one on the iPhone: Raging Thunder. The graphics and animation were virtually identical. It convinced me that the Droid has the potential to host games with the same quality as those on the iPhone. It would be interesting to see Tiger Woods PGA Tour running on the Droid.
SYNC/BACKUP: Droid's PDF manual explains how to get the microSD card to mount as a virtual USB drive using the Droid's Notification Panel drop down menu after connecting to the Mac using a USB cable. Once mounted, iPhoto automatically launched, allowing me to import photos taken and stored on the Droid.
I was also able to move AAC music files from the iTunes Music Folder to the Droid's microSD card using Finder Copy. After disconnecting, the Music app on the Droid searched the microSD for music. It found the tunes and allowed me to play them. However, there's currently no automatic sync of the apps, tunes, photos, contacts, and calendar for the Droid with your Mac. Nor is there automatic backup the same items to your Mac. Apps do exist that do piecemeal syncing such as the one that downloads information about your Facebook Friends.
Though HTC does not provide a sync or backup app for Mac OS X, it's possible that a developer could create such an app. Meanwhile, for those who bought the Droid, I recommend MyBackup Pro app which can back up everything (incuding apps) to the microSD card or everything (not including apps) to an online server.
As for Windows PC users, HTC offers a sync app that can sync contacts and calendar with Outlook and Outlook Express. And Android OS includes a way to sync up with your Google Mail, Google Calendar, and Google Contacts. (Download the Droid Eris documentation for details.)
UPLOAD SPEED: I wasn't paying too much attention to upload speed but here's an interesting factoid: the iPhone 3GS will not upload any faster than 384Kbit/s. (The best we saw was 295Kbit/s). The Droid Eris clocked as high as 835Kbit/s upload speeds during our 3G testing on Verizon's network. Advantage Droid. My 3G testing was not as comprehensive as what Gizmodo did. In their 12 city testing, AT&T won.
WiFi upload speeds deltas were reversed. On our test lab's WiFi network, the iPhone 3GS measured as high as 7668Kbit/s. The Droid Eris never measured higher than 943Kbit/s. Advantage iPhone.
SIGNAL STRENGTH: Using some utilities, I was able to measure signal strength in various locations. Minus 51 is very strong. Minus 119 is very weak.
Location A: iPhone 3GS = -81, Droid Eris = -89
Location B: iPhone 3GS = -105, Droid Eris = -115
Location C: iPhone 3GS = -71, Droid Eris = -81
Location D: iPhone 3GS = -71, Droid Eris = -115
Location E: iPhone 3GS = -101, Droid Eris = -97
As you can see from my numbers, the iPhone's signal was stronger in 4 out of 5 situations. If you go by the numbers, the AT&T iPhone has the advantage, which flies in the face of my subjective experience. One explanation is that, though you have a good signal, a busy network can cause calls to drop or fail.
CONCLUSION:
I'm not ready to trade my AT&T iPhone 3GS for Verizon's HTC Droid Eris. It is not an 'iPhone killer," but it does have enough "iPhone-ness" to keep many Verizon Wireless customers from "jumping ship." There are more iPhone competitors firing salvos across Apple's bow. There's a comparison of the HTC Droid HD2 with the iPhone 3GS on TechKnots. Since we posted this article, the Google Nexus One was released (see our review).
Apple can maintain leadership by introducing an iPhone with 4G support, 10MP camera with LED flash, WiFi "n" (802.11n), 4" screen with 960x640 rez, and Java support -- and offer it to both CDMA and GSM service providers.
FEATURE COMPARISON
(Google Nexus One added January 5th, 2009)
Memory

288MB RAM
512MB ROM
8GB MicroSD
(Expand to 16GB)

256MB RAM
32GB Flash Memory

512MB Flash
512MB RAM
4GB MicroSD
(Expand to 32GB)

Screen Rez

320x480

320x480

480x800

Screen Size

3.2"

3.5"

3.7"

Battery

1300mAH

1219mAH

1400mAH

Max Talk Time

5 hr on 2G
3.6 hr on 3G

12 hr on 2G
5 hr on 3G

10 hr on 2G
7 hr on 3G

Max Standby

373 hours

300 hours

290 hr on 2G
250 hr on 3G

Internet Max Use

n/a

5 hr on 3G
9 hr on WiFi

5 hr on 3G
6.5 hr on WiFi

Video Max Playback

n/a

10 hours

7 hours

WiFi (802.11)

b + g

b + g

b + g

3G protocol

EVDO Rev A 3.1Mbps

HSDPA 7.2Mbps

HSDPA 7.2Mbps

Height

4.45"

4.55"

4.69"

Width

2.19"

2.44"

2.35"

Depth

.51"

.48"

.45"

Camera

5MP

3MP

5MP
plus LED flash

Weight

4.23 oz

4.76 oz

4.59 oz

OS X Sync/Backup

Finder copy of music to MicroSD card; iPhoto capture of photos

Automatic Sync/Backup of Tunes, Movies, Contacts, and Calendar using iTunes

Finder copy of music to MicroSD card; iPhoto capture of photos

TV Output

No

Yes

No