Posted October 27th, 2004, by rob-ART morgan, mad scientist
There have been many opinions and claims tossed round on the web regarding the speed benefits of matching pairs of memory on the iMac G5. We decided to test many memory combinations ourselves to see if there was any real world benefit to matched memory pairs.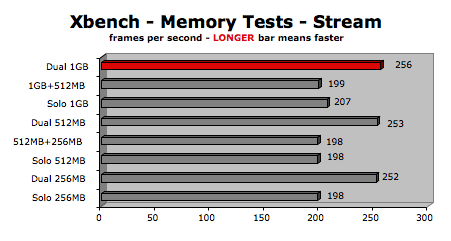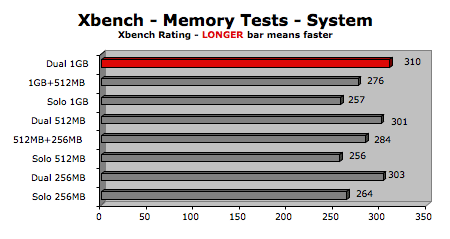 XBENCH SHOWS UP TO 29% GAIN WITH MATCHED PAIRS.
The classic STREAM tests (Copy, Scale, Add, Triad) in Xbench showed a consistent speed gain of up to 29% with matched pairs. The SYSTEM tests (Allocate, Fill, Copy) showed not only a 21% gain with matched pairs but a 12% gain with unmatched pairs (as opposed to single stick).
However, Xbench failed to show any gain in CPU, THREAD or GRAPHICS tests related to memory configuration. Ditto for Cinebech 2003 and AltiVec Fractal -- zero gains. So next we tried REAL WORLD application tests:
| | | | |
| --- | --- | --- | --- |
| | Dual 512MB | Single 1GB | Gain/(Loss) |
| Photoshop MP | 58 sec | 58 sec | 0% |
| Photoshop SP | 78 sec | 80 sec | 2.5% |
| AppleWorks (f/r, spell, scroll) | 11.9 sec | 11.2 sec | (5.9%) |
| Motion Render | 4 fps | 4 fps | 0% |
| iMovie Render | 78 sec | 78 sec | 0% |
| iTunes Rip | 100 sec | 99 sec | (1%) |
| Halo Timedemo | 42.8 fps | 41.4 fps | 3.3% |
| UT2k4 Botmatch | 33.4 fps | 32.9 fps | 1.4% |
| AVERAGE GAIN | | | 0% |
THE REAL WORLD VERDICT: AVERAGING 8 TESTS, NETS 0% GAIN FROM MATCHED PAIRS.
The gains or losses shown in each application above are within the "margin of error," as they say in the political polling biz. That's why we averaged the 8 tests. As you can see, zero gain overall by using matched pairs.
WHETHER PAIRS MATCH OR NOT, BUY AS MUCH MEMORY AS YOU CAN AFFORD
Whether you use one stick or two, matched pair or mis-matched, the more memory in your iMac G5, the less thrashing it has to do on the virtual memory hard drive scratch area. Did you know that just booting OS X gobbles up over 500MB? If you run apps like Photoshop and Motion, both are memory hungry. In fact, unless we had 1.25GB or more in the iMac G5, it would not render all 300 frames of our Motion template.
Since it comes with one 256MB DIMM, I suggest you add at least one 1GB DIMM. It should cost the same as two 512MB DIMMs (depending on who you buy from). Then later, when you can afford it, buy another 1GB DIMM and give away the 256MB DIMM to a local school or church who unwittingly bought their iMac G5s with minimum factory configuration.
DON'T BUY MEMORY WITH HEATSINK
The spacing between the DIMMS is so tight in the iMac G5, that memory with heatsinks will not fit without stressing the sockets. If something breaks, you'll be very sad.
NOT JUST ANY PC3200 400MHZ DDR MEMORY WILL WORK IN THE iMAC G5
We had some PC3200 memory to spare since we were running 8 DIMMS in our G5/2.0GHz MP Power Mac. We pulled a couple of DIMMS out and stuck them in the iMac G5. When we powered up, it gave a couple of steady tones and refused to boot (black screen). The power light commenced to flash on and off. We unplugged it.
We learned from TransIntl.com that not all PC3200 memory is compatible with the iMac G5. They sent me two sample 1GB DIMMS that are compatible with the iMac G5. They worked fine. Be sure your memory source knows this -- or at least has a policy of no hassle, no penalty returns if what they send you does not work. If they goof, they should even pay shipping.
FOR iMovie, iTunes, and other CPU tests on the iMac G5, SEE PAGE ONE.
For 3D Game tests on the iMac G5, -- SEE OUR PAGE TWO.



WHERE TO BUY THE iMac G5s
Ordering products from Apple USA? Please click THIS TEXT LINK or the Apple display ads to help support Bare Feats.

Apple tends to charge too much for memory. That's why I don't order from the factory or buy at the Apple Retail Store -- unless they are having some "half off" sale. I get my memory from either TransIntl, Other World Computing or MacGurus.
Has Bare Feats helped you? How about helping Bare Feats?