iMac G5
versus
"the rest of the family"

Originally posted September 21st, 2004, by rob-ART morgan, mad scientist
Updated September 27th with separate 3D GAME PAGE
Updated October 7th -- iMac G5 and iMac G4 have 1GB of RAM instead of 512MB
and added AppleWorks, iTunes, and Photoshop apps
TEST 1: APPLEWORKS - THREE TASKS
We created a test with a 250 page file. We scroll from top to bottom. Replace all "dogs" with "cats" (21,577 occurrences), and then do a spell check of the whole document (one misspelled word at the end). The graph below shows how long it takes to complete all 3 tasks.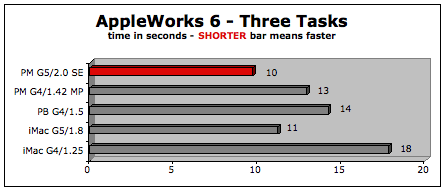 GRAPH LEGEND
Pmac G5/2.0 SE = G5/2.0GHz MP Power Mac with Radeon 9800 Pro SE
Pmac G4/1.42 MP = G4/1.42GHz MP Power Mac with Radeon 9700 Pro
Pbook G4/1.5 = G4/1.5GHz PowerBook 17" with Radeon 9700 mobility
iMac G5/1.8 = iMac G5/1.8GHz with GeForceFX 5200 (20" screen)
iMac G4/1.25 = iMac G4/1.25GHz with GeForceFX 5200 (20" screen)

TEST 2: iMOVIE - RENDER (APPLY) SOFT FOCUS EFFECT
In this test we take two clips from the original iMovie tutorial and apply a soft blur effect on the two clips simultaneously.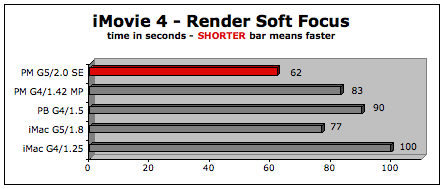 TEST 3: ITUNES - CONVERT MP3 to AAC
We took 14 Beach Boys tunes (34 minutes and 46 megabytes). We timed how long it took to do the conversion.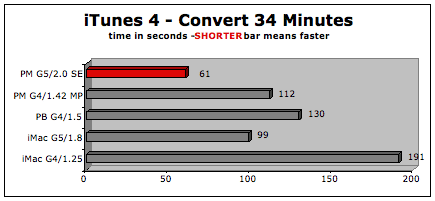 TEST 4: FILEMAKER PRO - RUN 12 ACTION SCRIPT
This FMBENCH has been updated for version 7 of FileMaker 7. However, it's still not optimized for multiple processors, so the uni-processor iMac G5s hold their own.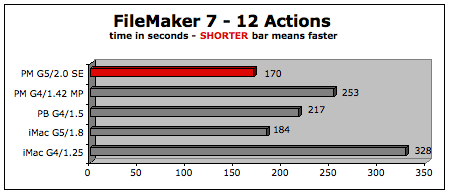 TEST 5: PHOTOSHOP - RUN "MP AWARE" ACTIONS
I often get asked, "Why do I need dual processors?" This test answers your question. The Power Mac G4/1.42 beats the iMac G5/1.8 -- because it has two processors and both are used by Photoshop for many filters and functions.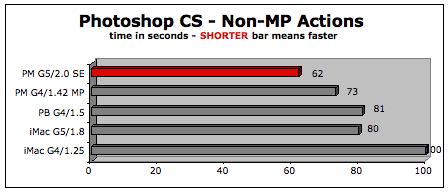 TEST 6: MOTION - RENDER RAM PREVIEW
Instead of total seconds, we calculated "frames per second rendered." That's because sometimes, depending on the hardware configuration, not all 300 frames in the template are rendered.
This test may not belong here, but I could not resist since Motion is so affordable and represents the newest software technology that takes advantage of all the hardware available. In addition to a fast CPU, in the months and years to come, you also need a fast graphics processing unit (GPU).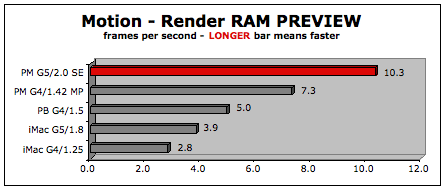 SEE THE SPECIAL GAME PAGE WERE WE REFUTE APPLE'S CLAIM THAT THE IMAC G5 IS 200% FASTER THAN THE IMAC G4.
SEE THE "NORMAL" GAME PAGE WHERE THE IMAC G5 ENTERS A GAME TOURNAMENT AGAINST THE POWER MACS AND A POWERBOOK.
DOES MATCHING PAIR OF MEMORY MAKE THE iMAC G5 GO FASTER? SEE OUR ANSWER.

CONCLUSION
The iMac G5 is as much as 93% faster than the iMac G4 running iLife apps and as much as 37% faster running pro apps.
It is not just faster and slimmer than its predecessor. It's a great value. The 17" G5/1.8GHz iMac costs $1096 less* than the 17" PowerBook G4/1.5GHz. The 20" G5/1.8GHz iMac costs $1499 less* than the G5/1.8GHz dual processor Power Mac with a 20" Cinema display.
(* When playing "what if" with prices, we equipped each with 512MB memory, comparable hard drive, AirPort Extreme card, and Bluetooth module. Of course, the iMac G5 doesn't have FireWire 800 or Gigabit Ethernet, but I still say it has a great price/performance ratio.)
It's been said that 80% of Mac buyers never upgrade their machine beyond adding memory. If that's true, the iMac G5 is ideal for most Mac desktop buyers.
If you are considering a PowerBook or iBook but need transportability more than mobility, the iMac G5 might be a better choice. I observed one customer who entered the Apple Retail Store to buy an iBook or Powerbook. He left with an iMac G5. You see, he works in two offices in two different towns. He decided when it was time to travel to the other office, he would just pack up the iMac G5 in its original box and treat it as carry-on luggage.

RELATED ARTICLES
MacWorld reviews the iMac G5
MacInTouch reviews the iMac G5



WHERE TO BUY THE iMac G5s
Ordering products from Apple USA? Please click THIS TEXT LINK or the Apple display ads to help support Bare Feats.

It's also available from authorized resellers like Small Dog Electronics and PowerMax.
Has Bare Feats helped you? How about helping Bare Feats?
© 2004 Rob Art Morgan
"BARE facts on Macintosh speed FEATS"
Email , the webmaster and mad scientist