Posted Thursday, October 3rd, 2013 by rob-ART morgan, mad scientist
Updated January 3, 2014 with 3TB Fusion results for 2013 iMac
Our earlier article features GPU intensive tasks. Now we will take a quick look at the CPU power and STORAGE speed of the 2013 iMac versus other Macs.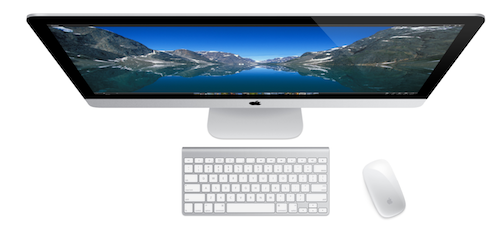 CPU CRUNCHING GRAPH LEGEND
2010 Xeon 6c 3.33GHz = 2010 Mac Pro 3.33GHz Westmere 6-Core (24G of RAM)
2013 Core i7 3.5GHz = 2013 iMac 3.5GHz Core i7 Haswell (32G of RAM)
2013 Core i5 3.4GHz = 2013 iMac 3.4GHz Core i5 Haswell (8G of RAM*)
2012 Core i7 3.4GHz = 2012 iMac 3.4GHz Core i7 Ivy Bridge (32G of RAM)
(* Though the Core i5 had less RAM than the others, none of the tests on this page caused it to dip into virtual memory.)
Cinebench R15 is the newest version of the 'almost real world' test derived from a similar version of Cinema 4D. It produces a rating for CPU power and uses all available cores, real and imagined. (HIGHER rating is FASTER.)

Geekbench version 3.0 produces a single core and multi core rating. We ran the 64-bit tests. (HIGHER rating is FASTER.)


CPU INSIGHTS
We chose the 6-core Mac Pro as a 'mid level' example of a tower alternative to the iMac. As you can see from the Geekbench 3 Single Core graph, when Turbo Boost kicks in, the quad core iMac is faster. But when all avaialable cores are 'cooking' in the Cinebench CPU test and Multi Core Geekbench 3 test, the hex core Mac Pro has the edge. An octo core and dozen core Mac Pro would have an ever bigger edge.
Notice the 2012 Core i7 iMac beats the 2013 Core i5 iMac running multi-core tests (Cinebench and Geekbench Multi Core) even though both are clocked at the same 3.4GHz. That's because the Core i5 does not support Hyper-threading. However, the 2013 Core i5 beats the 2012 Core i7 in the Single Core Geekbench test.
Your choice between Core i5 and Core i7 will depend on how demanding your apps are when it comes to multi core crunching. For example, Aperture uses 8 cores when running the Noise Ninja plug-in. Motion, on the other hand, only uses one core.
STORAGE SPEED GRAPH LEGEND
2013 Flash 1TB = PCIe 1TB Flash in 2013 iMac 3.5GHz Core i7 Haswell
2013 Flash 512G = PCIe 512G Flash in 2013 iMac 3.5GHz Core i7 Haswell
2013 Flash 256G = PCIe 256G Flash in 2013 MacBook Air Core i7 Haswell
2013 Fusion 3TB = 3TB HDD fused with 128G Flash in 2013 iMac Core i7 Haswell
2012 Flash 768G = 768G Flash in 2012 iMac 3.4GHz Core i7 Ivy Bridge
2012 Flash 512G = 512G Flash in 2012 Retina MacBook Pro Core i7 Ivy Bridge
2012 Fusion 1TB = 1TB HDD fused with 128G Flash in 2012 iMac Core i7 Ivy Bridge

QuickBench 4.0.4 measures both small random transfers (average of 4K to 1024K size) as well as large sequential transfers. (HIGHER number in Megabytes per Second is FASTER.)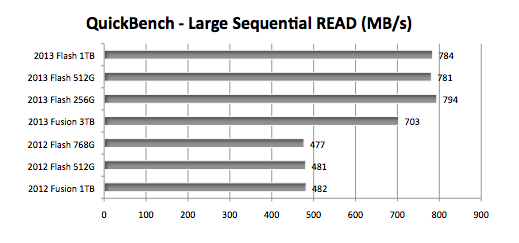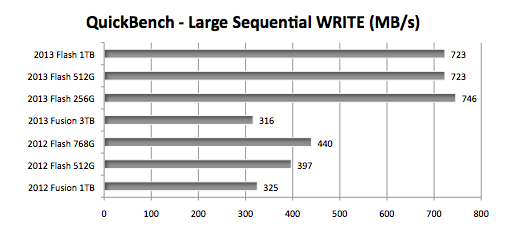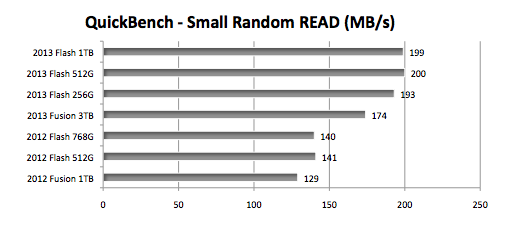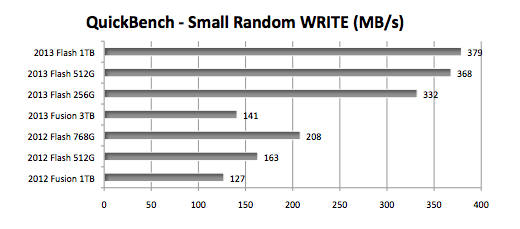 STORAGE INSIGHTS
The increase in transfer speed is significant (both small random and large sequential transfers) for the next generation 2013 PCIe Flash storage in the 2013 iMac (and 2013 MacBook Air) as compared to the 2012 Flash storage options.
Fusion drives do great on reads, but our tests revealed write speeds much lower than the pure PCIe flash drive. Plus when the "fused" flash module becomes full and overflowing, the speeds will drop precipitously as illustrated in the graph below from the 2012 Fusion Drive.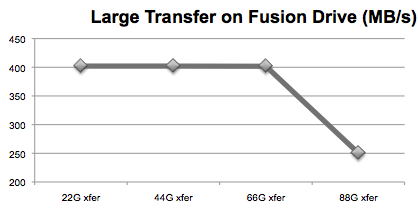 Should I buy the new 2013 iMac or a refurbished or used 2012 iMac?
It depends on your performance target and your budget. The 2012 iMac is a capable machine in terms of CPU and GPU speed. The largest gap in performance between the two models is with the Flash storage and with WiFi.
Will a new iMac replace my old Mac Pro?
It terms of internal flash storage speed, the 2013 iMac wins hands down. The internal SATA bus of the Mac Pro is limited to 270MB/s no matter what SSD you use. However, if you want to spend some $$$$, you can get a bootable PCIe card with dual 6Gbps SSDs that will go as high as 1000MB/s. And then there is the "coming real soon now" 2013 Mac Pro which will have a PCIe flash module rated at 1250MB/s (large sequential).
In case you missed it, today we also posted GRAPHICS SHOOTOUT: Fastest 2013 iMacs versus other Mac Desktops
So many models, so little time.
I wish we could test all six CPU and all five GPU permutations of the 2013 iMac, but our budget won't allow that. Big Mahalo to Mark Gray of The CodeHive who contributed the 2013 iMac Core i5 results you see on this page. If you purchase one of the models of 2013 iMac we have not shown above and want to run some benchmarks (and share your results here), email me,

For notices on new articles, follow me on Twitter @barefeats