Posted Thursday, October 3rd, 2013 by rob-ART morgan, mad scientist
We have two goals in this GRAPHICS INTENSIVE SHOOTOUT:
1. To show how the 2013 iMac with the fastest Core i7 + GTX 780M and fastest Core i5 + GTX 775M compare to the fastest 2012 iMac Core i7 + GTX 680MX.
2. To show how those iMacs compare to a 2010 Mac Pro Xeon 6-core with both the GTX 680 and GTX 780 GPUs.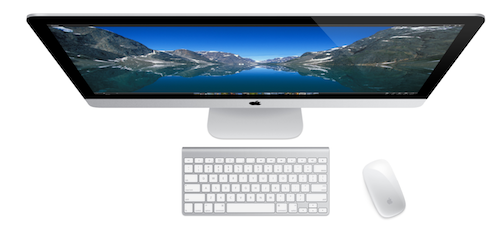 GRAPH LEGEND
Mac Pro GTX 780 = 2010 Mac Pro 3.33GHz 6-Core with GeForce GTX 780 (flashed)
Mac Pro GTX 680 = 2010 Mac Pro 3.33GHz 6-Core with GeForce GTX 680 Mac Edition
2013 i7 GTX 780M = 2013 iMac 3.5GHz Core-i7 Haswell with GeForce GTX 780M
2013 i5 GTX 775M = 2013 iMac 3.4GHz Core-i5 Haswell with GeForce GTX 775M
2012 i7 GTX 680MX = 2012 iMac 3.4GHz Core-i7 Ivy Bridge with GeForce GTX 680MX
LuxMark 2.1 is an OpenCL benchmark that renders scenes of various complexity. For this round we used the default Sala scene (488K Triangles) and rendered using GPU only. (LARGER number means FASTER in Thousands of Samples per Second.)

CUDA-Z 0.6.133 is a benchmark that measures the performance of the CUDA cores in NVIDIA GPUs that are CUDA capable. We chose to show the Double Precision Floating Point results since it tends to predict performance for rendering video effects and math/simulation. (LARGER number means FASTER in Gigaflops.)

TessMark is a OpenGL 4.0 tessellation test included in the GPUTest 0.5.0 suite. (LARGER number means FASTER in Frames per Second.)

Diablo III was chosen as a game example because, in our experience, it exhibits the clearest differentiation between GPUs. (LARGER number means FASTER in Frames per Second.)

DaVinci Resolve 9.1.6 uses the graphics card to render corrections and effects to video on the fly during playback. This example is the '2 node 1 NR' preset (Noise Reduction) in the Candle benchmark sample. (LARGER number means FASTER in Frames per Second.)

REDCINE-X PRO allows you open and work with your REDCODE RAW R3D files. It includes a RED PLAYER which we used in this test to measure Fast Forward speed using our RAW R3D sample. The new BUILD 211 BETA version adds GPU acceleration. (LARGER number means FASTER in Frames per Second.)

After Effects CC (12.0.0.404) supports GPU acceleration of Ray-traced 3D rendering. Note how long it takes in MINUTES for each GPU to render the 6 SECOND Robot animation*. Now multiply that by at least ten if you are using a GPU that is not CUDA capable. (SMALLER number means FASTER in Minutes.)

(*NOTE: The AE Ray-traced 3D animation we refer to as "Robot" was provided courtesy of Juan Salvo and Danny Princz. Danny has posted a compilation of render times using various models of CUDA capable GPUs.)
OctaneRender 1.2 is an amazing app that uses CUDA GPUs to do all the work when rendering a scene created by Cinema 4D, Maya, and other 3D modeling apps. Seriously. Activity Monitor shows the CPU load at ZERO! (SMALLER number means FASTER in Minutes.)

INSIGHTS and SURPRISES
The 2013 iMac's GPU is faster, but . . .
. . . the top GPU for the 2013 iMac (GeForce GTX 780M) was only incrementally faster than the top GPU for the 2012 iMac (680MX). In fact, the OctaneRender results for it were slower than the 2012 iMac with the 680MX as well as the 2013 iMac with the 775M. Huh? (Reach up and scratch head.)
The mobile GPUs are not equivalent to desktop GPUs with the same model number.
As you can clearly see from the graphs, the three year old Mac Pro with the desktop version of the GTX 680 and 780 smoked the iMacs with GTX 680MX and 780M.
Will a new iMac replace my old Mac Pro?
It depends . . . on what you are doing with it. If you have upgraded your Mac Pro's graphics processor (GPU) to the latest, greatest model, it may be a letdown for running graphics intensive pro apps. In that case, it would be worth holding off to see what the 2013 Mac Pro can offer.
If your requirements are not extreme and you don't require the internal expansion ease of the Mac Pro tower, the new iMac will likely be a very satisfying replacement.
When will you post CPU benchmarks and storage benchmarks?
Today. CPU and STORAGE SHOOTOUT: Fastest 2013 iMacs versus other Macs
So many models, so little time.
I wish we could test all six CPU and all five GPU permutations of the 2013 iMac, but our budget won't allow that. Big Mahalo to Mark Gray (The CodeHive) and Russell Tolman who contributed results from their 2013 iMacs for this page. If you purchase one of the models of 2013 iMac we have not shown above or have an optional component we didn't test, we would welcome your help in testing. So email me,

For notices on new articles, follow me on Twitter @barefeats