Originally posted February 22nd, 2008, by rob-ART morgan, mad scientist
Updated February 29th, 2008, with WD and Samsung 1TB drives
Many of you are asking for our advice on the best boot drive for your 2008 Mac Pro. Plus there are some new, faster drives we have not tested in the past. So we gathered up the "usual suspects" along with some new ones and ran various performance benchmarks -- more than usual.
LEGEND of GRAPHS
WD Raptor*2 = Dual WD Raptor 10K 150GB SATA drives in a RAID 0 array
Sam HD103UJ = Samsung Spinpoint F1 7K 1000GB SATA 3G drive
Sea 7200.11 = Seagate Barracuda 7200.11 7K 1000GB SATA 3G drive
WD7500AYYS = Western Digital WD7500AYYS 7K 750GB SATA 3G drive
Sam HD753LJ = Samsung Spinpoint F1 7K 750GB SATA 3G drive
WD10EACS = Western Digital "Green" GP 7K 1000GB SATA 3G drive

The test system was an "early 2008" Mac Pro 8-core 3.2GHz with 16GB of DDR2 memory running Mac OS X Leopard "10.5.2"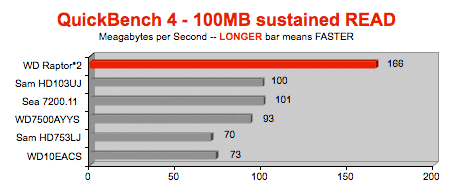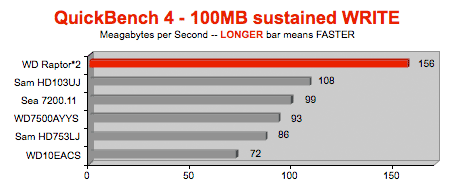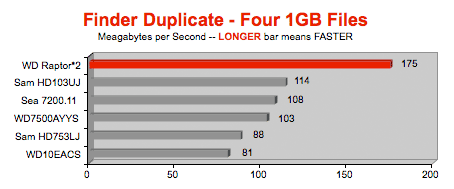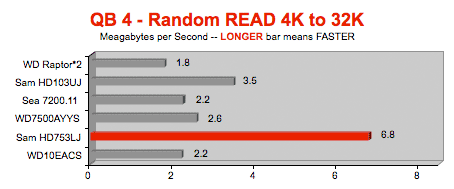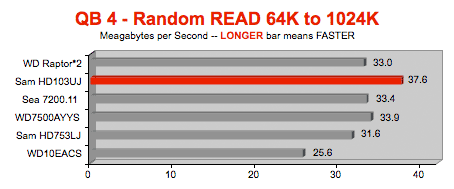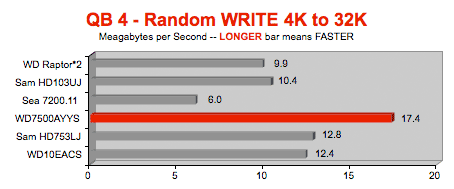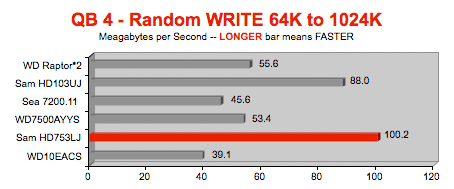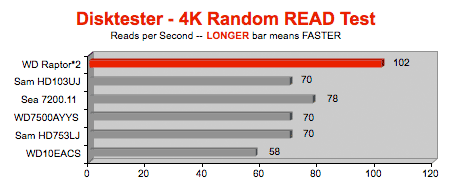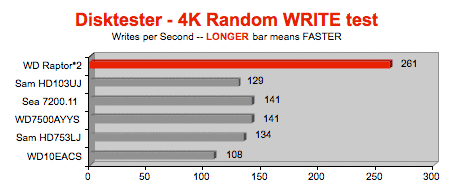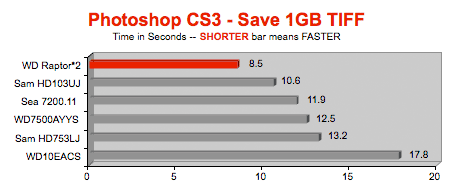 We forced the test below to be a "low memory" Rotate by setting Photoshop's "Memory Usage" preference to 750MB.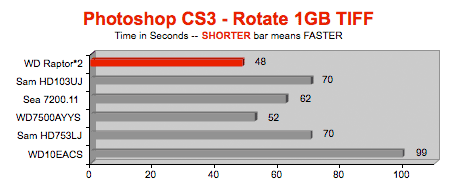 INSIGHTS (Updated)
We added two more drives to the mix. You might recall our shock when the vaunted Samsung Spinpoint F1 750GB only could manage 70MB/s in our 100MB sustained test. It went faster when connected externally to the Firmtek SeriTek/2SE2-E PCIe SATA host adapter (which can't boot OS X) but not as fast as we expected. So we obtained the 1000GB version of the Samsung Spinpoint F1. It was much faster at 100MB/s READ and 108MB/s WRITE (average of 5 runs). So of the 7K SATA drives, it's the new "king of sustained transfers."
We use the random benchmarks as a predictor of how well a drive performs as a boot drive. Pay special attention to the QuickBench 4K - 32K random transfers and the Disktester transactions per second. Based on our findings, both models of Samsung Spinpoint F1 would make an excellent boot drive. The Western Digital WD7500AYYS (enterprise version of the WD7500AAKS) would be an excellent choice as well.
Drives can get really noisy when doing multiple small random transfers. The Disktester random test makes them go "crazy." The Samsungs were the quietest of the drives tested. The WD7500AYYS came in third for quietness.
The WD Raptor 10K drives excelled in transactions per second. That's due to the very low average access time it requires. We concluded, however, that one Raptor was too limited in storage space to be a boot drive and dual Raptors did not impress in all areas of random performance. And they are the noisiest of the drives tested.
MORE TO COME
We plan to test a pair of Seagate Cheetah 15K 300GB SAS drives connected to Apple's SAS adapter and add those results here as well. We're curious to see if they perform well as a boot volume and/or Photoshop scratch volume.
We also are seeking to get a pair of each of the 7K drives featured in the graphs above so we an measure the effect of a RAID 0 (striped) pair on all performance aspects.
Lastly, some of you have asked for power usage data. The WD10EACS would be the lowest on power usage but it's also the slowest performer. What would be interesting is to measure the power usage of the other 1000GB drives by comparison while busy. We'll see if we can capture that data.
WHERE TO BUY SATA 3G DRIVES for your MAC PRO
MacGurus (host adapters, enclosures, drives, cables)

Other World Computing (host adapters, enclosures, drives)

Small Dog Electronics (host adapters, enclosures, drives)

TransIntl (host enclosures, drives, internal mounting kits)

Apple's online store (click on STORAGE in the left margin of main page)

WANT TO ADD MORE DRIVES INSIDE YOUR MAC PRO?
There are two spare SATA ports on the Mac Pro motherboard "hiding" behind the PCIe inlet fan. If you want more than four internal drives mounted in your Mac Pro, one way is to mount extra drives in the empty optical bay and tap into those ports. But you will want those drives secured. Loose, vibrating drives live a short life.

Trans International sells the Pro Caddy, a kit that lets you add two SATA (or ATA/IDE) drives inside the lower, empty optical drive bay bringing your total internal drives to six.

MaxUpgrades sells the "MaxConnect", a kit which enables you to use the lower optical bay to add four more internal hard drives for a total of eight.
WHERE TO BUY A MAC PRO
When ordering products from Apple Store USA, please click THIS TEXT LINK or any Apple display ad as your "portal" to the online store. In so doing, you help to support Bare Feats.
Also check with Small Dog Electronics and Power Max. (Power Max takes trade-ins.)
WHERE TO BUY MEMORY FOR YOUR MAC PRO
Apple charges and arm and a leg for CTO memory options. We suggested ordering your Mac Pro with minimal memory and getting 8GB or 16GB of matched FB-DIMMs that meet Apple's specs and use Apple approved heat sinks from ....