Originally posted 09/09/03 by rob-ART morgan, mad scientist
In an earlier article, we compared Serial ATA to Parallel ATA to FireWire 800, using the same essential drive. In this article, we will compare three different brands of Serial ATA drives: Hitachi Deskstar 7K250, Maxtor DiamondMax Plus 9, and Seagate Barracuda 7200.7. We tossed in some numbers for the factory Serial ATA drive that ships with the G5/1.8GHz Power Mac (which happens to be a Seagate 7200.7).
In addition, we converted two Parallel ATA drives (Hitachi Deskstar 180GXP and Maxtor DiamondMax Plus 9) to Serial ATA using the Addonics adapter. We wanted to see if your existing investment in Parallel ATA drives can be adapted to Serial ATA and still compete with "native" SATA drives.
For a SATA host adapter, we used the FirmTek SeriTek/1S2 Serial ATA PCI card in a G4/1.42GHz MP Power Mac. (You can also use this card in a G5. We will retest once we take delivery of our G5 Dual 2Ghz.)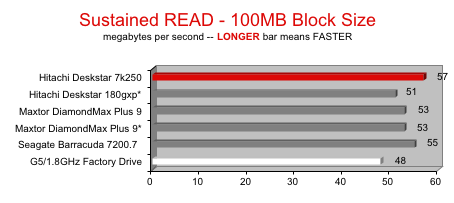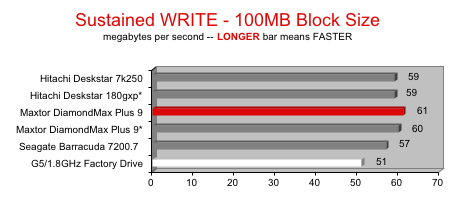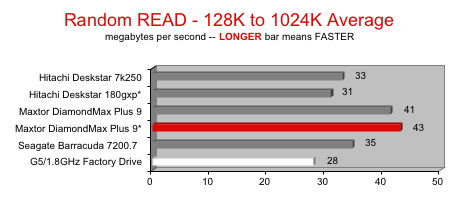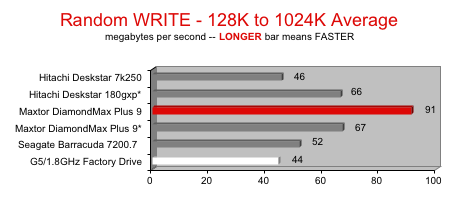 (Drives with "*" have been converted from PATA to SATA.)
CONTINUE TO PAGE 2 TO SEE
REAL WORLD TESTS
AND ANALYSIS