Originally posted 08/13/03 by rob-ART morgan, mad scientist
Updated 8/18/03 with updated SATA firmware and Acard 6885M results
This is PAGE TWO of the Serial ATA versus FireWire 800 versus Parallel ATA-133 page. The Maxtor DiamondMax Plus 9 is used as both single drive and as a striped pair (RAID 0) in all cases.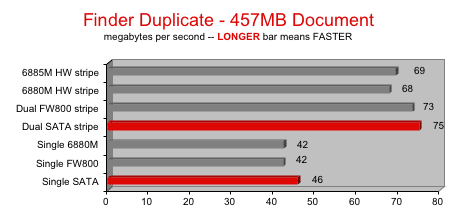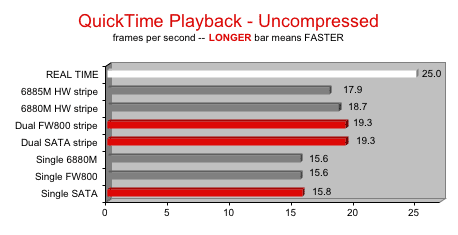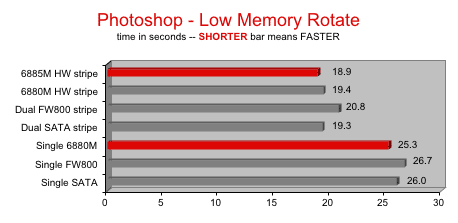 ANALYSIS
Serial ATA results were impressive. The single Serial ATA drive connected to the SeriTek card was fastest in 5 out of 7 tests.
As a striped pair (RAID 0) of Serial ATA drives, it was fastest in 2 out of 3 real world tests. It came in second place on 3 out of 4 benchmark tests.
It would have won 5 out of 7 overall if you remove the 4 channel 64 bit Acard 6885MS PCI card's RAID 0 results. The Serial ATA SeriTek PCI card is 32 bit, as is the Acard 6880M. Considering the 6885MS costs three times as much, the SeriTek Serial ATA card gets the nod for best dual striped drive performance buy.

Good news for those with older Power Macs with the slower PCI bus. Unpublished tests run by FirmTek show the SeriTek Serial ATA card with fast SATA drives in a striped pair to run much faster than standard ATA-66 or ATA-100 or ATA-133 card/drive setup.
So why is Serial ATA so hot?
a) When faster drives are made, it has the theoretical bandwidth of 150MB/sec.
b) Bus master operation requires less CPU attention during transfers between the PCI Bus and system memory.
b) It uses thinner cabling (looks like a firewire cable that was run over by a steam roller). They potentially improve air flow and simplify installation.
c) With the right controller and adaptor/casing, you can run SATA drives externally and "hot swap" them.
Any down side?
Yes. You can only connect one drive per channel. You're allowed two drives per channel with conventional ATA and "lotza" drives per channel on FireWire 800.
Don't toss your Parallel ATA drives yet.
Wiebetech has already announced a SATA dock that lets you use conventional ATA drives as SATA drives externally.
I found a few companies already offering IDE to SATA converters that should allow you to use your existing IDE/ATA drives with a SATA controller. Addonics makes a good PATA-to-SATA adapter but if you use it to convert your internal ATA drives to SATA, you can't close the access door of your G4 Tower. They are looking into modifying the adapter.
We are planning a comparison of various SATA drives from IBM, Maxtor, Seagate, and Western Digital, hopefully by the end of August or early September.
RELATED ARTICLES or LINKS
Take a look at our four drive, four channel RAID shootout between Ultra ATA133, FireWire 800 and Ultra320 SCSI.
Check out these articles on Storage Review:
Raptor 10K SATA drive versus PATA and SCSI drives.

Barracuda 7200.7 SATA and PATA drives

Is 8MB buffer really better than 2MB buffer?
TEST NOTES
The Power Mac G4/1.42MP with 2GB of DDR memory and OS X (10.2.6) was the test mule. It was purchased from Small Dog Electronics.
CONTROLLERS AND DRIVES TESTED
The dual channel SeriTek/1S2 Serial ATA PCI host adapter from FirmTek was connected to single and double 160GB 7200rpm Maxtor DiamondMax Plus 9s (SATA version). SeriTek/1S2 had version 5.0.2 of the firmware.
The single and dual drive FireWire 800 setup was created using two single channel FW800 PCI cards and two IceCube800 enclosures from FWDepot. The drives were 160GB 7200rpm Maxtor DiamondMax Plus 9s (ATA/133 version).
The Acard AEC-6880M dual channel ATA HW RAID Adapter connected to single and double 160GB 7200rpm Maxtor DiamondMax Plus 9s (ATA/133 version).
The Acard AEC-6885MS four channel ATA HW RAID Adapter was tested in only dual drive mode using the same 160GB 7200rpm Maxtor DiamondMax Plus 9s (ATA/133 version). The 6885MS can be ordered direct from Acard or from their dealers.
We used Apple's OS X Drive Utility to create software based striped pairs (RAID 0) for the Serial ATA and FireWire800 setups. Hardware RAID 0 was invoked on the Acard AEC-6880M and AEC-6885MS using the micro switches on the adapters.
SEE "HOW WE TEST" for details on the tests reflected in the graphs.