KEY FEATURES
Normally I jump right into performance graphs but this time I'm listing the key features of the Crest for Mac SSD first.
- synchronous 3000PE/cycle grade A micron NANDs
- SandForce/LSI SF2281 controller
- native mac TRIM support OOTB (no trim enabler or other hacks needed)
- built in UPS with 4 second power loss protection (giving time to flush)
- overload and ESD protection (making it safe to move around)
- highly accurate temperature sensor
- full CNC worked aluminum shell
- for best thermal dissipation every NAND and the controller hosts a thermal pad to the shell.
- full load operation temperature of 36 deg C (97 deg F) ensures long life and maximum data security
- every unit is hand built and tested before shipping
- can be transformed into an SSD2go at a later time via trade-in
- no paint, glue or plastic is used -- green as possible and easily be recycled
- the packaging is of 100% recycling paper; does not use any paint for printing; marked by laser

NOW THE PERFORMANCE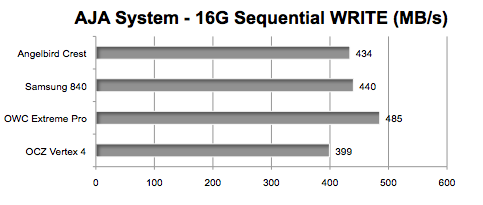 LEGEND OF GRAPHS
Angelbird Crest = Angelbird Crest for Mac 6Gbps SSD 240G
Samsung 840 = Samsung 840 6Gbps SSD 256G
OWC Extreme Pro = OWC Mercury Extreme Pro 6Gbps SSD 240G
OCZ Vertex 4 = OCZ Vertex 4 6Gbps SSD 256G

All four 6G SSDs tested were connected to the Mac Pro using a FirmTek SeriTek/Q6G host adapter to squeeze out maximum large block transfer speed. If you simply plug into the backplane of the Mac Pro, your maximum transfer speed will be more like 270MB/s -- which is still faster than any hard disk drive (HDD).
BOTTOM LINE
The performance of the Angelbird Crest for Mac SSD is on par with other top quality, synchronous 6Gbps SSDs. The fact that it uses the SandForce/LSI controller immediately puts it on my radar. With the 4 second power loss protection and overload protection, it deserves serious consideration.
Below is an illustration of the Crest for Mac Pro attached to the Mac Pro factory drive sled using the adapter plate Angelbird provides.