Angelbird Technologies has taken a fresh approach to bus powered SSD storage. They have created the SSD2go, a smooth, thin, aluminum SSD storage capsule that's 9.5mm thick, 2.5" wide, 5" long, and weighing 5.5 oz. A single USB 3.0 port connects it to your Mac.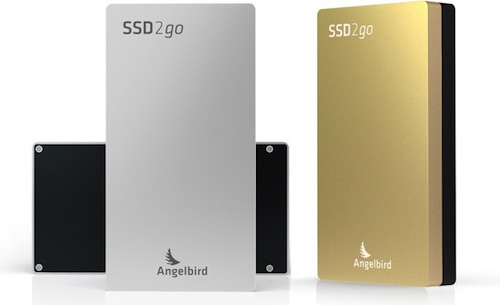 In addition, they offer the SSD2go TWIN -- which I call an SSD "sandwich." Each SSD has its own port. Though we chose images with black, silver, and gold, you can order the SSD2go and SSD2go TWIN in your own choice of colors and capacity.
Since we are all about SPEED, we striped the TWIN SSDs. We ran it and the single SSD model through our normal suite of benchmarks on both the Retina MacBook Pro 15" and the 2012 iMac 27".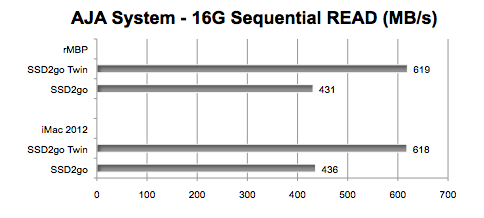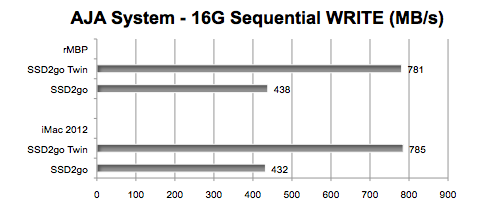 LEGEND OF GRAPHS
rMBP = 'Retina, 15-inch, mid 2012' MacBook Pro 2.7GHz Quad-Core i7
SSD2go = Angelbird SSD2go (single) 6Gbps SSD enclosure connected to USB 3.0 port
SSD2go TWIN = Angelbird SSD2go TWIN 6Gbps SSDs enclosure connected to USB 3.0 ports
iMac 2012 = '27-inch, late 2012' iMac 3.4GHz Quad-Core i7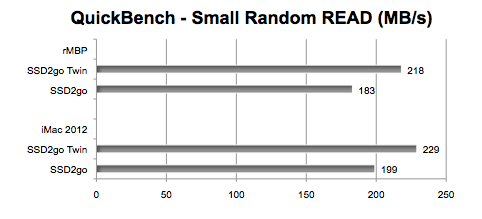 MORE DETAILS ON THE SSD2GO
Both the SSD2go and SSD2go TWIN use Angelbird's SandForce / LSI controller based SSD. It features a 4 second power loss protection (UPS) which, in case of power loss will perform an flush command before shutting down the controller. An overload protection ensures that the drive is best set for being carried around and handled in various environments. Plus the device has a highly accurate temperature sensor built in.
The shell of the SSD2go is CNC worked from a solid peace of the highest quality aluminum. This allows the product to be very stable with the high thermal dissipation to get real world operation temperatures of only 32 - 40C, resulting in long life and stable performance. It is anodized in various colors allowing up to 64 combinations. This way the buyer of the SSD2go is able to customize it at the time of purchase.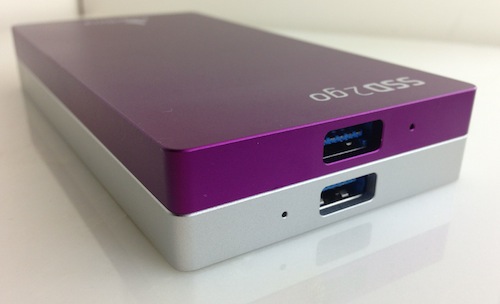 HOW DO THE SSD2GOs COMPARE TO SIMILAR PRODUCTS?
We posted a report back on March 23, 2013, showing the performance of competing bus powered USB 3.0 and Thunderbolt storage devices. Let's just say that the Angelbird SSD2go products compare very well with the fastest notebook sized bus powered USB 3.0 storage products. And they are faster than the Thunderbolt bus powered products.