Originally posted Saturday, March 23rd, 2013, by rob-ART morgan, mad scientist
What prompted this article was the announcement this week that the FirmTek miniSwap/U3 is shipping. You might recall our review of it back in January where it impressed us with new found USB 3.0 speed. How does a USB 3.0 bus powered notebook size storage like the miniSwap/U3 compare to Thunderbolt bus powered notebook size storage devices?
Other than performance, what features distinguish them? But since we at Bare Feats Test Lab are all about performance, that's where we will start. To squeeze the most out of each device, each was equipped with an SSD -- and where possible, one or more 6Gbps 'pro' synchronous SSDs.
AJA System Test measures large sequential read and write speed (which emulates playback and capture of HD video). Settings used included 8GB File Size, 2048x1556 10-bit RGB Video Frame Size, file system cache Disabled. The results in the graph are AVERAGE SUSTAINED speeds, not just PEAK speeds. (HIGHEST number means FASTEST in megabytes per second.)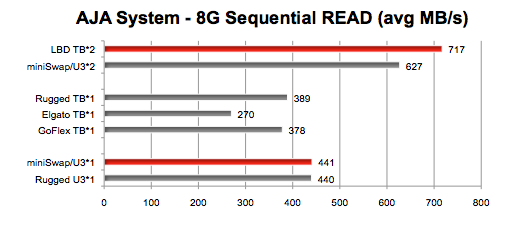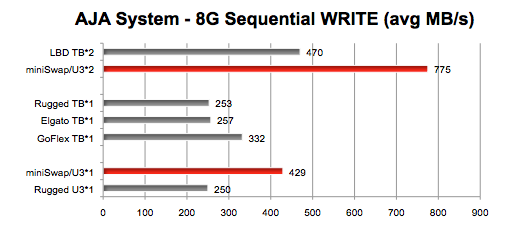 Intech's QuickBench - The Standard Test includes a mix of small random transfers from 4K to 1024K. Not all disk transfers are large and sequential. OS X 'housekeeping' is case in point. We post the average of 5 cycles. (HIGHEST number means the FASTEST in megabytes per second.)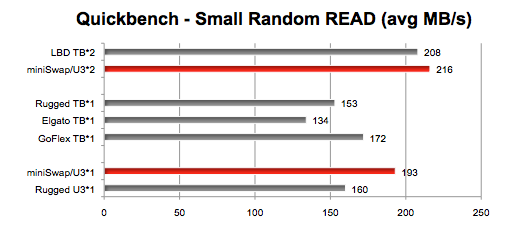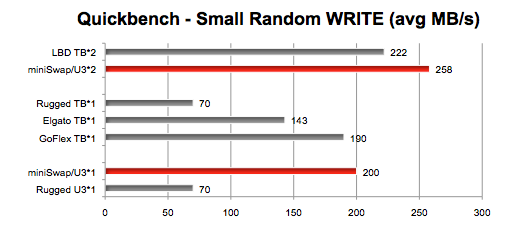 LEGEND of GRAPHS
miniSwap/U3*2 = two FirmTek miniSwap/U3s with 6Gbps Samsung 840 Pro 256G SSDs in RAID 0 set -- each connected directly to a USB 3.0 port
LBD TB*2 = LaCie Little Big Disk Thunderbolt with dual 6Gbps C400 Micron 256G SSDs in RAID 0 set

Rugged TB*1 = LaCie Rugged USB 3.0 (+TB) with single 6Gbps Micron C400 256G SSD (using TB port)
Elgato TB*1 = Elgato Thunderbolt with single 3Gbps SanDisk Ultra 240G SSD
GoFlex TB*1 = Seagate GoFlex Thunderbolt adapter with 6Gbps bare OWC Electra async 240GSSD

miniSwap/U3*1 = FirmTek miniSwap/U3 with single 6Gbps Samsung 840 Pro 256G SSD
Rugged U3*1 = LaCie Rugged USB 3.0 (+TB) with single 6Gbps Micron C400 256G SSD (using USB3 port)

Results in the graphs are from the 2012 Retina MacBook Pro. We also tested on the 2012 iMac, measuring essentially the same results.
SO WHO WINS?
Turns out that the newest, latest USB 3.0 bus powered notebook storage devices are as fast or faster than their Thunderbolt counterparts. How is this possible when Thunderbolt is rated at 10Gbps (theoretical) and USB 3.0 is rated at 5Gbps (theoretical)? Two reasons: a) no single 6Gbps SSD can go faster than about 500MB/s (or 5Gbps) and b) improved USB 3.0 controllers squeeze the full potential from USB 3.0.
What about the dual drive scenario? How could the dual USB 3.0 RAID 0 keep up with the Little Big Disk Thunderbolt (10Gbps) RAID 0 unit? That's because the two miniSwap/U3s were being fed by dual 5Gbps USB 3.0 ports (or 2 x 5 = 10Gbps). Though the emphasis in this article is on "fastest BUS POWERED notebook storage," we overlooked the fact that the Little Big Disk Thunderbolt RAID unit required an AC adapter. At any rate, in this "boxing match," the miniSwap/U3s won three out of four "rounds."
WHAT IF I USE HDDs?
We did some quick benchmarking of three notebook HDDs (WD Green 2TB, WD Black 750GB, Seagate Hybrid 1TB). They clocked 113MB/s, 131MB/s, and 118MB/s respectively on the large sequential transfers. The SSDs were 5 to 10 times faster on the small random transfers. However, if capacity and price is your priority, these notebook HDDs will do the job.
GOOD FEATURES IN EACH NOTEBOOK STORAGE DEVICE
The FirmTek miniSwap/U3 offers the most overall speed and the most versatility (all thicknesses of 2.5" drive fit -- pick your 'poison,' no screws required). Plus it attains its blazing speed via bus power. Two miniSwaps can be stacked and striped to create a bus powered RAID set with the multiple USB 3.0 ports on the 2012 - 2013 Macs.
The LaCie Rugged model we tested had both USB 3.0 and Thunderbolt ports. That gives it a unique kind of flexibility. And it comes with a utility that allows you to create a partition that lets you share documents between OS X and Windows. The only disappointment was the relatively low write speed compared to the other notebook drives in this test.
The LaCie Little Big Disk Thunderbolt is a compact dual drive Thunderbolt product that's fast and has a second pass-through port. You could daisy chain it with one or more other Thunderbolt devices, though be aware that all those devices are sharing that 10Gbps bandwidth. And remember, it's not bus powered.
The Elgato Thunderbolt's most endearing feature is its smallness. Elgato engineers chose a 3Gbps Sandisk Ultra SSD for their unit which accounts for the 270MB/s max large transfer speed -- though the small random speeds are quite adequate.
The Seagate GoFlex Thunderbolt adapter is intended to be mated with one of the GoFlex drive modules -- but they are all slower HDDs as shown on this page where the same adapter is used for the 1TB Backup Plus product. However, you can just plug a bare SSD into it the way we did.
Neither the Elgato nor the GoFlex TB adapter can handle just any SSD. I was able to get the OWC Electra Asynchronous 6G SSD to work with the GoFlex. Neither the Elgato nor the GoFlex bus powered TB devices can mount high-end 6Gbps SSDs with Synchronous NAND. Sometimes it will mount but then immediately dismount as soon as you start using it.
All but one of these examples are sealed at the factory with the drive of the maker's choice. Unless you want to risk violating warranty, only the miniSwap/U3 lets you install your own drive or play drive 'roulette' with multiple drives in your inventory. (After posting this article we received criticism on some forums for not using the same 6G SSD brand and model in all test units. As we have explained, most units tested were sealed at the factory with the manufacturer's preferred SSD brand and model. We chose not to break the seal and nullify the warranty. Rather we chose to report on the performance the average consumer will see when they purchase and use the product as sold.)
BOTTOM LINE
There's something for everyone in this shootout of USB 3.0 and Thunderbolt notebook size storage devices. Most are compact and bus powered. It's good to know that the newest USB 3.0 storage units are as fast as comparable Thunderbolt units.
Feedback or comments? Contact me , mad scientist.
Also, you can follow me on Twitter @barefeats
WHERE TO BUY THESE NOTEBOOK STORAGE UNITS
Order the miniSwap/U3 direct from the FirmTek online store ($99 empty).
Order the LaCie Rugged USB 3.0/Thunderbolt direct from LaCie. Ditto for the LaCie Little Big Disk Thunderbolt.
Order just the Seagate GoFlex Thunderbolt adapter alone through Amazon (ASIN: B006P1QWOQ). Or order it with the 1TB HDD module through the Seagate site's "Configure & Buy" link.
Order the Elgato Thunderbolt portable drive direct from Elgato.
Some of the above units are available on the Apple Store USA (use link below). Click on "For Macs > Storage" on the left sidebar and then click "Narrow by Thunderbolt or USB 3.0" on the left sidebar.
SHOP APPLE STORE USA
Help us earn a commission by ordering your Apple products and most of the above notebook drives using this link:
WHERE TO BUY SOLID STATE DRIVES
Order the Mercury Extreme Pro 6Gbps SSDs from OWC
Order the SwiftData 6Gbps SSDs from Trans International
Order the Samsung 840 Pro SSDs from Amazon or NewEgg
Order the Crest SSD for Mac with TRIM support from Angelbird direct
WHERE TO BUY HIGH CAPACITY NOTEBOOK HDDs.
Click the "Where To Buy" button on the Western Digital Green Mobile 2TB HDD page.
Click the "Where to Buy" button on the Hitachi Global Storage Travelstar 5K1000 page.
See the list of dealers on the Seagate Momentus XT Solid State Hybrid Drive page (500G to 1TB sizes).