Why is the RocketRAID 4522 HBA significant? What are its strengths?
It is superior to the original RocketRAID 43xx series in that it is 6Gbps rated instead of 3Gbps. Yet if you are currently using a RocketRAID 43xx series HBA, you need do nothing to migrate to the faster RocketRAID 4522 HBA. Your current RAID set will mount without having to be rebuilt.

For RAID 5 and other RAID modes that involve parity checks and occasional rebuilding, the 4522 has its own processor and ECC memory. There is no performance hit to your Mac Pro's CPU for those functions. Though a RAID adapter like HighPoint's RocketRAID 2744 is capable of higher transfer speeds, it lacks the onboard processor and memory. That's fine for RAID 0 but can be a weakness for RAID 5 operation and maintenance.
PERFORMANCE RESULTS for the RocketRAID 4522


GRAPH LEGEND
RAID0*8 SSD = eight 6Gbps SSDs in RAID 0 set
RAID0*8 HDD = eight 6Gbps HDDs in RAID 0 set
RAID5*8 HDD = eight 6Gbps HDDs in RAID 5 set
The RocketRAID 4522 was mounted in slot 2 of a 2010 Mac Pro Westmere 6-core 3.3GHz. The drives were mounted in the Stardom ST8-U5 eight bay enclosure.
The SSDs were a mixture of 6Gbps SSDs from TransIntl and Samsung. The HDDs consisted of four Seagate Barracuda 7200.14s and four Hitachi 7K3000s.
INSIGHTS
We included eight 6Gbps SSDs in RAID 0 mode to show the maximum possible transfer speed for the HighPoint RocketRAID 4522. However, the HDDs cost less per gigabyte and, as you can see from the graphs, provide sufficient speed for most applications.
Though a RAID 5 volume has lower transfer speeds than a RAID 0 set due to the parity calculations and distribution of parity blocks, according to Blackmagic Design's DiskSpeedTest, our eight HDD RAID 5 set can handle up to 2K video frame sizes without dropping frames. (see its analysis below; click to enlarge)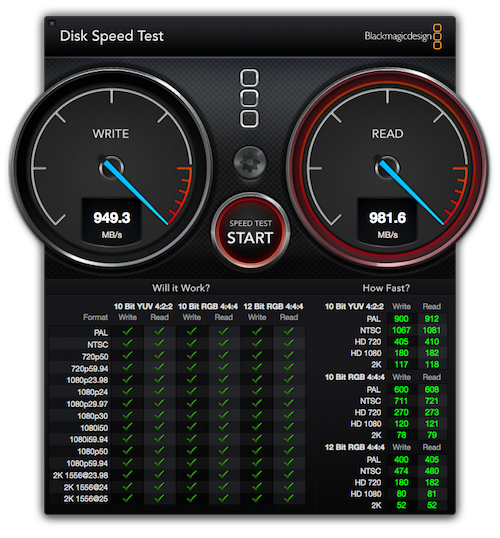 RECAP OF ROCKETRAID 4522 KEY FEATURES
Marvell 88RC9580 800MHz RAID-on-Chip Processor

512MB DDR 3 Cache memory with ECC protection

Optional Battery Backup Module (HPTBBU-05)

Up to 6Gb/s per port

Eight SAS & SATA ports

PCI Express 2.0 x8 rating

Dual Mini-SAS connectors

Alarm Buzzer

Up to 128 SATA / SAS devices via SAS Expander

Browser based RAID manager configures RAID modes JBOD, RAID 0, 1, 5, 6, 10, 50
as well as initialization method, cache policy, block size, and sector size.
BOTTOM LINE
The HighPoint RocketRAID 4522 is a fast and flexible 8-port, 8-lane PCIe RAID adapter and a useful way to "soup up" your 2008 thru 2012 Mac Pro.
Feedback or comments? Contact me , mad scientist.
Also, you can follow me on Twitter @barefeats