Posted Tuesday, March 27th, 2009, by rob-ART morgan, mad scientist.
For those of you looking for massive storage capacity and HD video streaming speed, the HighPoint RocketRAID 4322 represents is a serious SAS/SATA RAID host adapter worth your consideration. It uses the powerful Intel IOP348 1.2GHz I/O processor and with support for RAID 0, 1, 3, 5, and 6. The total bandwidth is over 1000MB/s and there are many added features you can read about on their specifications page.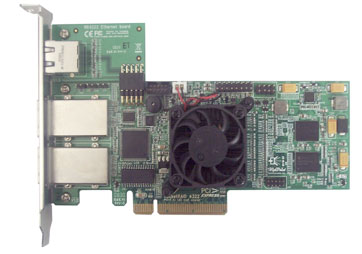 The target transfer rate for Uncompressed 10 bit RGB (4:4:4) at 1920x1080/60i is 237MB/s. And you want your storage device to maintain that rate even when it's nearly filled to capacity. Since most storage units slow as they fill and since disk seeks can interrupt the streaming, I recommend you shoot for at twice that rate. That's why an 8 bay SATA storage system coupled with the RocketRAID 4322 in either RAID 0, RAID 6, or RAID 6 mode can easily meet that need.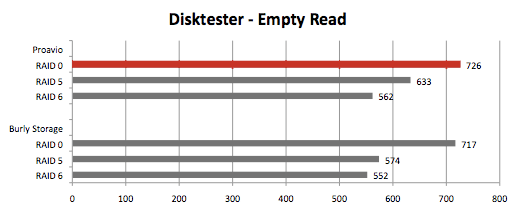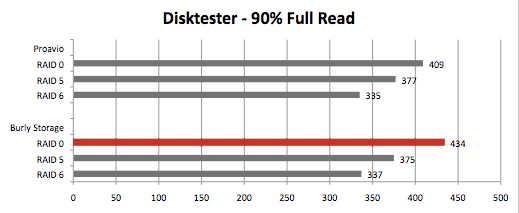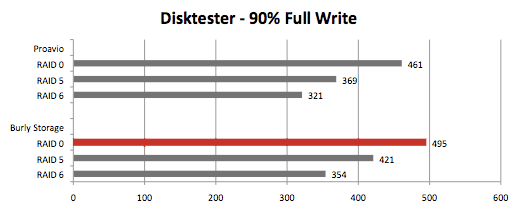 LEGEND of GRAPHS
Proavio = Proavio EB8MS 8 bay SATA enclosure (containing 4x1TB Seagate Barracuda 7200.11s plus 4x1TB Hitachi Deskstar 7K1000s) connected to the RocketRAID 4322 SAS/SATA RAID host adapter
Burly Storage = MacGurus Burly RAID 8 bay SATA enclosure (containing 8x500GB Seagate Barracuda 7200.11 drives) connected to the RocketRAID 4322
RAID 0 = All 8 drives in a RAID 0 set.
RAID 5 = All 8 drives in a RAID 5 set.
RAID 6 = All 8 drives in a RAID 6 set.
Test "Mule" was a 2.93GHz 8-core Mac Pro 2009 'Nehalem.'
INSIGHTS and ANALYSIS
We wish we could have tested with eight of the new Seagate Barracuda 7200.12 drives which we clocked at 127MB/s on a single drive basis. We're confident that in RAID 0 mode, you could achieve 1000+MB/s when the volume is empty. But even our "imperfect" drives sets achieved more than enough speed to handle HD video even when the volume was full -- even when running in RAID 5 or 6 mode.
The RocketRAID 4322 features dual mini-SAS external ports which we connected to the external Proavio and Burly Storage enclosures which each have two mini-SAS ports. A browser based RAID manager provides a way to initialize the drives and create the RAID set.
The Proavio EB8MS enclosure a smooth, sleek aluminum box with a door that covers the drive trays. The MacGurus Burly RAID enclosure is a taller enclosure that's built tough -- like a Hummer SUV. Both use multiple low frequency fans we measured at 50 dB near the back end.