Posted Friday, May 29th, 2009, by rob-ART morgan, mad scientist
Up to now, I've been hesitant to recommend Solid State Drives (SSDs) as a serious alternative to Hard Disk Drives (HDDs) since the really fast ones (like the Intel X25-E) were limited to a maximum capacity of 64G at very high prices. But the OCZ Vertex SSD is a different story. We tested it in the Mac Pro 'Nehalem' not only as a single drive but in two and three drive RAID 0 sets. We compare it to the Intel SSDs in two and three drive sets as well as a pair of WD Velociraptors.
For QuickBench Custom test, we do 5 block transfers of 1GB test size and average them.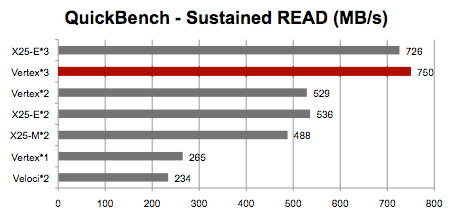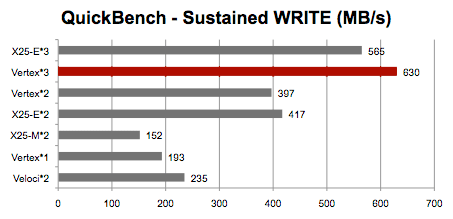 The QuickBench Random test is with small blocks (from 4K to 1024K) which we average after 5 runs.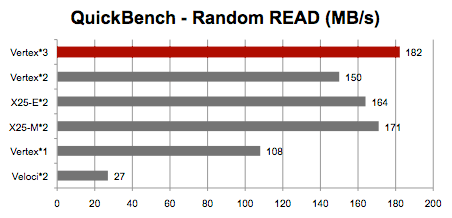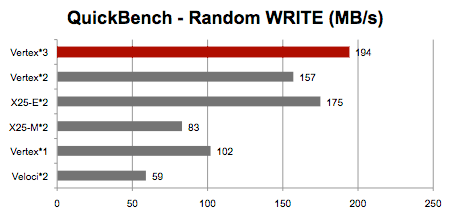 DiskTester's "run-random" test measures how many 4K transfers can be made in random locations across the whole volume.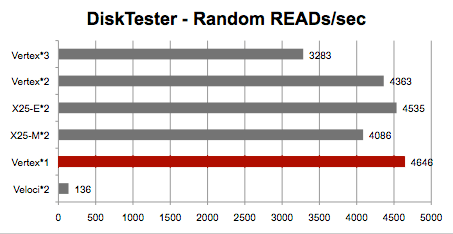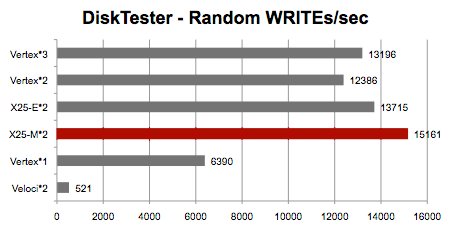 LEGEND OF GRAPHS
RED bar indicates fastest performer for a given test
Vertex = OCZ Vertex 120G SSD (OCZSSD2-1VTX120G)
X25-E = Intel X25-E 32G SSD (SSDSA2SH032G101)
X25-M = Intel X26-M 80G SSD (SSDSA2MH080G1C5)
Veloci = WD Velociraptor 300G 10K HDD (WD3000HLFS
- backplane ready)
*1, *2, *3 indicates the number of drives in a RAID 0 set
FINALLY A GAME CHANGER
SSDs typically have killer READ speeds at over 200MB/s, making them faster than the fastest HDDs. Yet, up until now, the sustained write speeds of SSDs were between 70-80MB/s -- slower than even 7K SATA notebook HDDs. The only exception was the Intel X25-E 'enterprise' SSD which is limited in storage capacity (64G max). That kept us from recommending SSDs as a serious alternative to HDDs. But that's no longer true.
The OCZ Vertex changes the game. It is the first SSD with over 64G capacity that has sustained WRITE speeds that come close to matching the read speeds. It's available in up to 250G capacity.
Another drawback in the past was pricing. The fast but small SSDs were costly at $885 for the Intel X25-E 64G. Now for $800, you can get a 250G OCZ Vertex that's just as fast. And the 120G is selling for $377.
WHAT'S THE BIG DEAL ABOUT SSDs?
In the Mac Pro, it's not only faster than any SATA or SAS HDD boot drive, two or three of them in a RAID 0 set makes for an bodacious boot volume or a screaming scratch drive for Photoshop and Aperture.
For the MacBook Pro and MacBook, it gives you an internal boot drive that's 4 times faster than the fastest factory HDD doing small random transfers and 3 times faster doing large sustained transfers. (We'll post benchmark results for the OCZ Vertex running in the 'Unibody' MacBook Pro in a few days. Suffice to say that the transfer speeds are comparable to those we saw on the Mac Pro.)
DO SSDs SLOW DOWN AFTER USE?
First we want to emphasize that as SSDs fill up, they do not slow down in speed. HDDs, on the other hand, will typically lose half their speed as they approach capacity -- even when brand new.
There are reports that SSDs tend to slow down after repeated use. We can only report that after 50 sustained runs of writing and reading large blocks of data to all sectors of the SSD and then 12,000 random writes and reads to all sectors on the SSD, we measured no drop in speed with the OCZ Vertex.
IS THE APPLE CERTIFIED MAC EDITION WORTH THE EXTRA $$$?
No. We tested both the Mac Edition (OCZSSD2-1VTXA120G) and non-Mac Edition (OCZSSD2-1VTX120G) of the OCZ Vertex 120G. We measured the same performance in all tests. It makes no sense to us to pay $100 more for the Apple logo.
HOW DO I MOUNT 2.5" SSDs IN THE MAC PRO?
Our favorite method is to use the 2.5 inch drive sleds from MaxUpgrades. And if you want to use the empty second optical bay, there's MaxUpgrades' 2.5 inch optical bay kit.
If you want to mount them in a 3.5" external SATA enclosure, there's aways the OCZ OCZACSSDBRKT 3.5-Inch Adaptor Bracket for SSDs sold on Amazon.
HOW DO I MOUNT TWO SSDs IN THE MACBOOK PRO?
One SSD inside the MacBook Pro is straightforward, especially for the Unibody MacBook Pro 15". But if you want dual SDDs inside, check out our article on the MaxConnect Optical Bay Kit.
WHERE TO BUY THE OCZ VERTEX Solid State Drive (SSD):
Amazon and its partners have a good price on the OCZ OCZSSD2-1VTX120G 120GB SATA 2 Vertex SSD (Black). Ditto for the OCZ OCZSSD2-1VTX250G 250GB SATA 2 Vertex Series SSD (Black).
Other World Computing has the Intel X25-E and X25-M on sale.
WHERE TO BUY A CUSTOM SLED to mount SSDs in a Mac Pro:
Order the custom sleds direct from MaxUpgrades that mount SSDs or bare Velociraptors inside the Mac Pro factory bays.
WHERE TO A KIT to put a second SSD or HDD inside a MacBook Pro:
Order the MaxConnect Optical Bay Kit direct from MaxUpgrades.
WERE TO BUY THE OCZ ADAPTOR BRACKET for SSDs:
Amazon and its partners are selling the OCZ OCZACSSDBRKT 3.5-Inch Adaptor Brackets for $20 each. Also check out Other World Computing's "Icy Dock" Converter Case.
WHERE TO BUY APPLE PRODUCTS:
When you purchase Apple USA products, please CLICK THIS LINK or any APPLE BANNERS at the top of our pages. It's a great way to support Bare Feats. since we earn a commission on each click-through that results in a sale.