Originally posted May 6th, 2009, by rob-ART morgan, mad scientist
KILLER LAPTOP BOOT SOLUTION
I've always been jealous of the AlienWare Area 51 extreme laptops. For one thing, they offer dual drive RAID 0 boot option. Of course, those laptops are both heavy and thick. For MacBook Pro users, MaxUpgrades has come up with a kit that enables you to do the same thing without increasing the thickness or weight. It's called the MaxConnect Optical Bay kit.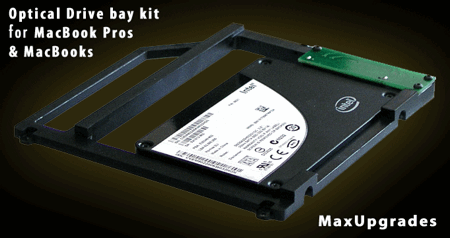 Furthermore, the ultimate boot pair is dual SSDs. And not just any SSD, but the fastest SSD: Intel X25-E. We thought it would be interesting to compare the speed of dual X25-Es to the single 7200rpm 320G factory boot drive.

As an added perspective, we included the results for a single and double Seagate Momentus 7200.4 (500G) boot set which totals one terabyte when striped.



LEGEND of Graphs
X25-E*2 = dual Intel X25-E 32G SSDs in a RAID 0 set
7K500*2 = dual Seagate Momentus 7200.4 500G 7200rpm HDDs in RAID 0 set
7K500 = single Seagate Momentus 7200.4 500G 7200rpm HDD
7K320 = single Hitachi Travelstar 7K320 320G 7200rpm HDD (Apple factory)
QuickBench 4.04 Random test is an average of 5 iterations of 4K to 1M block transfers.
QuickBench 4.04 Extended test is an average of 5 iterations of 20M to 100M block transfers.
"Test Mule" was a 'late 2008' MacBook Pro 2.8GHz 'unibody' 15" running OS X "Leopard" 10.5.6.

INSIGHTS and ANALYSIS
Dual X25-E SSDs using the MaxConnect Optical Bay kit really rock as an extreme boot volume for the MacBook Pro in both small random transfers and large sustained transfers! The bad news is that the X25-Es are expensive and limited to 64G capacity each. There are larger capacity SSDs currently shipping such as the Intel X25-M, but the write speed is an unimpressive 80MB/s per drive. And non-Intel SSDs have major stuttering issues in random write mode.
The good news is that Micron and SanDisk have announced second generation SSDs with capacities up to 256G with read and write speeds to match or exceed the X25-E. We'll be testing them as soon as they are available.
An interesting alternative dual boot combo for the MacBook Pro is the Seagate Momentus 7200.4. It's not nearly as fast as the SSD dual boot solution but it is the fastest 7K notebook HDD you can buy. Plus many of you are looking for added capacity, not just speed. This scenario offers one terabyte when striped. Think of it. One terabyte inside your MacBook Pro! And though not as fast as the SSD pair, a striped pair of Momentus 7200.4s more than doubles the overall transfer rate of the fastest single factory drive.
For you mere mortals wanting to replace the factory drive with a single drive that's faster and with more capacity, a single Seagate Momentus 7200.4 is a compelling option.

WHAT ABOUT THE DISPLACED SUPERDRIVE?
The one compromise with the dual internal HDD or SSD solution is that it displaces the internal slot load SuperDrive. The best alternative to the internal mounting is to install it in a USB enclosure. I noticed MCE Tech offers one with their optical bay kit but I understand it doesn't work with all SuperDrives. You can always put your SuperDrive in "moth balls" and buy a pre-packaged external optical solution like the MacBook Air SuperDrive or Plextor's PX-610U which we will be testing soon.
WHERE TO BUY THE MAXUPGRADES OPTICAL BAY DRIVE MOUNTING KIT
Order the MaxConnect Optical Bay kit direct from MaxUpgrades. They will also sell you the drives you need.
WHERE TO BUY A MACBOOK or MACBOOK PRO
When you purchase Apple USA products, please CLICK THIS LINK or any APPLE BANNERS at the top of our pages. It's a great way to support Bare Feats. since we earn a commission on each click-through that results in a sale.
LOOKING FOR ADOBE SOFTWARE?
Order your copy of Adobe Photoshop CS4 (or the Creative Suite CS4) direct from Adobe USA. Or click these links to Adobe France, Adobe Germany, Adobe Sweden, or Adobe UK. (Clicking our links helps us earn a commission.)
BACKUP STORAGE FOR YOUR MACBOOK PRO
We recommend an external bus powered FireWire 800 drive for overflow and backup storage on your MacBook Pro. Check out...
MEMORY EXPANSION FOR YOUR MACBOOK or MACBOOK PRO
If you need to expand your memory, these companies offer reasonably priced, Mac compatible memory upgrades: