Which is faster, the GeForce2 MX or the Radeon?
Post Date: January 26th, 2001
Updated January 29th to include
tbe GeForce2 MX results from a Sony VAIO Pentium III 1GHz.
by rob ART morgan, chief test pilot
Some of my best ideas for test pages come from YOU via email. Many readers buying Build-To-Order G4 Power Macs have asked me, "Which graphics card should I specify, the GeForce2 MX or the Radeon?" That's what I want to know! When Steve calls me up and asks if he can send me a Power Mac G4 for "long term testing," I need to be ready to tell him how I want it configured.
It's great to have friends and friendly dealers. Wednesday, I received a notice from a programmer friend telling me that Apple would be doing a Tech Update at the University of Hawaii here in Honolulu. Having attended the Expo, I didn't need an update, but they were showing off a G4/466 from the campus bookstore with a GeForce2 MX. Aha! Then Thursday, I received an email from a staff member of Mac Made Easy of Honolulu. "We have a G4/466 in our demo room with a RAGE 128 Pro." Oooo! (And I had an AGP Radeon eval card. Heh, heh, heh.)
So now today, Friday, I can give you results for all three cards running on the same machine. I tested with Quake III Arena, Cinema 4D (fly through), and Photoshop (scrolling).
On Monday, the 29th, I had the opportunity to test a Sony VAIO desktop with GeForce2 MX and 1GHz Pentium III. I could not resist adding its figures to the mix. (See "GeForce2 MX (P3) on charts.)
First, Some Fun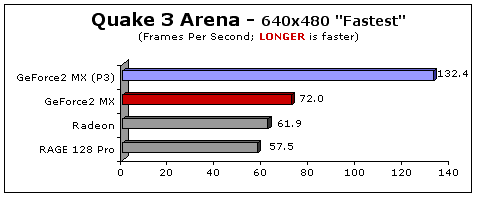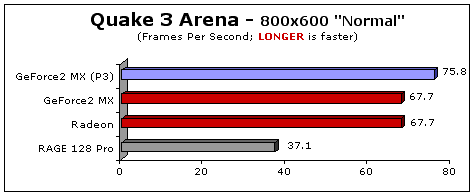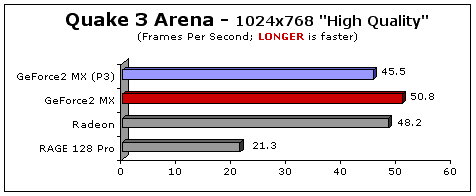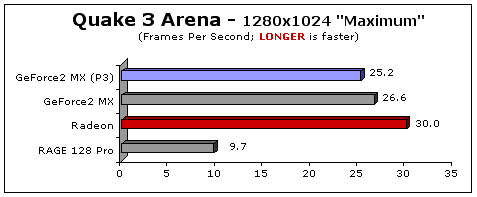 For Serious 3D, 2D, and Conclusion,
Go To
PART 2
.
SPEED TEST RESULTS from Bare Feats (by CATEGORY)
LATEST RESULTS translated into FRENCH by MacGeneration.
LINKS to SPEED tests on other web sites
HOT SPEED DEALS
DOWNLOADS that add more SPEED
SPEED UPGRADE guide
Rob Art Morgan
Publisher &
Chief Test Pilot
rob-art@barefeats.com