Posted 8/29/03 by Rob-ART Morgan, mad scientist
Updated 11/22/03 with G5/1.8 MP numbers.
Do you need a G5? Maybe. Do you want a G5? Of course! But which one is the best buy? And how do they all compare to the most recent G4 models?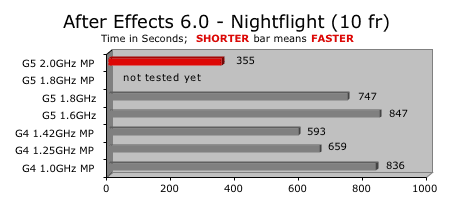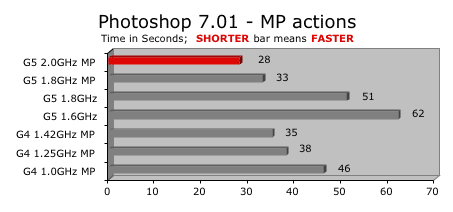 "WAS THE PHOTOSHOP 7.01 G5 UPDATE FROM ADOBE USED?
As of 9/23/03, the G5 update was used on all G5 systems we tested.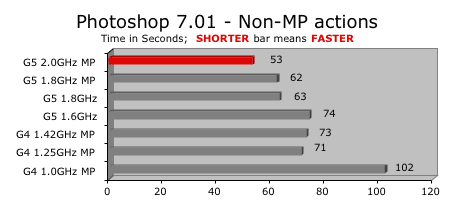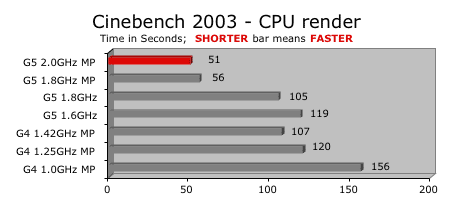 NOTE: The G5 results in the graph above are for the G5 "aware" Cinebench 2003 Beta version. Want to see CB Ratings instead of time in seconds? Take a look at our RATINGS PAGE.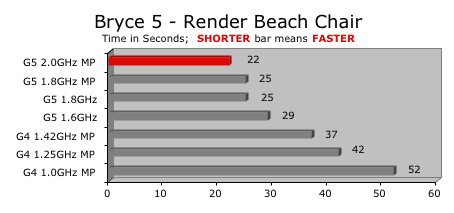 The Dual G5 2.0 is impressive, even though only Photoshop and Cinebench were G5 "aware." We'll continue to monitor software improvements and bring those new results to you on this page as the days go by.
As of 11/22/03, we added the Dual 1.8. It's currently $450 cheaper than the Dual 2.0 (both configured with Radeon 9600 Pro). I say borrow the extra $450 from your Aunt Matilda.
I'm less impressed with the single G5 1.6 and 1.8. If you have a Dual G4 1.42 or 1.25, you might take a long look at the graphs above before you replace your machine with anything but the Dual G5.
WHAT ABOUT 3D GAMES and GRAPHICS?
SEE PAGE TWO.
or RETURN to Main Index Page.