Posted January 7th, 2005, by rob-ART morgan, mad scientist
FirmTek was the first company to release a Serial ATA host adapter for the Mac. Up until a few months ago, they were still the only serious player in the Serial ATA host adapter market. Their two channel SeriTek/1S2 was being used by just about everyone including some companies that rebadged it with their own label. The main downside was that it was a 32 bit card with only 2 internal ports. Those limitations caused frustrations that I have discussed elsewhere.
Back in November, FirmTek became the first company to ship a Serial ATA host adapter with external ports (see our article on the SeriTek/1SE2).
Now the field is suddenly crowded, what with RocketRAID and Tempo-X (both PCI-X and 8 channels). Don't forget the 5 Channel 64 bit SyncRAID (Mac version announced but not shipping). On January 10th, FirmTek will show their new 4 channel PCI-X host adapters at MacWorld Expo San Francisco. One has to wonder what they are bringing to the crowded table with the SeriTek/1V4 (internal connectors) and SeriTek/1VE4 (external connectors).
Three unique things come to mind after spending some time testing their products.
1. Hot-Swap (1VE4 only) - You can plug and unplug cables into your Mac without having to restart. This is true even if the cables go to a RAID set. This is a feature hitherto only available with FireWire storage. No other S-ATA card does that.

2. Bootability - You can connect bootable volumes to the SeriTek 1V4 or 1VE4. They even feature "turbo boot" which means the drive boots just as fast as if it was in the factory slot on the G5.

3. Downward Compatibility - Though they are PCI-X rated, they work fine in any Power Mac with PCI slots. They work with OS X, OS 9 -- even OS 8. (Other cards may work in legacy Power Macs but require OS X.)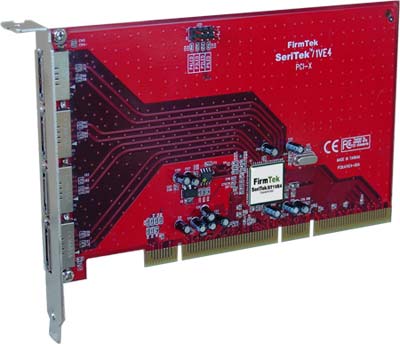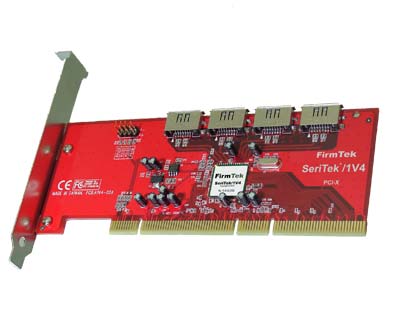 How do they perform? Very well. With four fast Serial ATA drives like the Maxtor MaXLine III (or DiamondMax 10) or Seagate Barracuda 7200.8 drives, you can capture 10 bit 4:4:4 uncompressed HD video.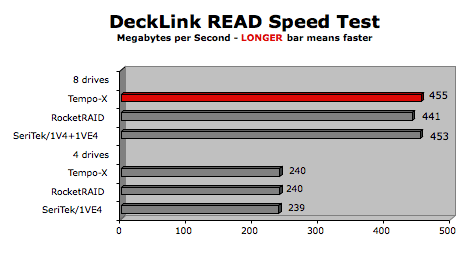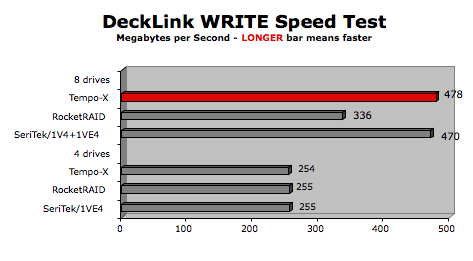 Why didn't they do 8 ports like the RocketRAID or Tempo-X? I suppose they feel there are many users that only need 4 ports and don't want to pay extra for ports they won't use. But the fact that the 1V4 and 1VE4 are PCI-X, you can put two of them in your G5 Power Mac without worrying about the dreaded slowdown experienced with 32 bit host adapters. That's the ticket. One card for internal and one for external ports. But you say your GeForce 6800 or Radeon 9800 XT has reduced your G5 Power Mac to 2 PCI-X slots? No problemo. You can always sell the "fat" graphics card on eBay and buy the very fast "thin" Radeon X800 XT.
Hitachi drive issue? The chipset used by the SeriTek/1V4 and /1VE4 includes an Intel ASIC that doesn't support Spread Spectrum Clocking (SSC). This is a feature designed for SATA III. (We're still at SATA I.) There is even a debate as to whether SSC is even needed for SATA III.
For some reason, Hitachi decided to be different from everybody and enable SSC in all their 7K250 and 7K400 drives. I contacted Hitachi back when I first heard about the issue. They said if I send them a drive, they would disable SSC at the factory. Under pressure from a large OEM and realizing they might lose sales, Hitachi decided to release an alternate version (and part number) for the 7K250s and 7K400s with SSC disabled. That version of Hitachi drive WILL work with the SeriTek 1V4 and 1VE4.
This is a non-problem with many readers who are pouncing on the new Maxtor MaXLine IIIs and DiamondMax 10s or Seagate Barracuda 7200.8s, all of which are faster than the Hitachi 7K250 and 7K400 drives. But for those who are Hitachi "bound," here is the list of part numbers that have SSC disabled and therefore do work with the SeriTek/1V4 and 1VE4:
7K400 (400GB) - 0A30984 and 0A30985
7K250 (250GB) - 0A30340
7K250 (160GB) - 0A30339
7K250 (120GB) - 0A30338
7K250 (80GB) - 0A30337
Do both cards support Deep Sleep? Yes.
Does the cards require a driver to load that might conflict with other Serial ATA cards? No. No software driver is required. It is pure "plug and play."
When will it ship and where do I buy it? You can order the SeriTek/1V4 direct from FirmTek's online store starting January 10th. The SeriTek/1VE4 won't be shipping until mid February. I'm sure both cards will be carried by your favorite reseller at some point.
Pricing? SeriTek/1V4 $119.95; SeriTek/1VE4 $139.95
Anything else I should know? A few things come to mind...
1. If you order the 1VE4 for use with an external enclosure, I recommend you get high quality cables with proper shielding for external use. FirmTek sells high quality cables just for this purpose. Believe me, the wrong cables can cause data corruption and other inconvenient side effects.
2. The 1V4 has metal shielding around the internal connectors. This is unique among cards with internal ports. The biggest advantage is that it keeps the delicate connectors from breaking off. It also helps keep the connection tight.
3. FirmTek is shipping an excellent Serial ATA drive enclosure called the 1EN2. It houses a pair of drives mounted on removable trays, each with its own port. There are no current plans for a 4 drive enclosure but you can always buy two 2 drive enclosures and stack them. That's how I've used them.
4. I have received some reports of "disappearing" drives and "kernel panics" with some Serial ATA host adapters. I even experienced it myself. During my extensive testing of the 1V4 and 1VE4, I have had no such problems.
WHERE TO BUY SATA products
FirmTek (host adapters, cables, converters, enclosures)

Granite Digital (enclosures, host adapters, brackets, cables)

MacGurus (drives, host adapters, enclosures, coolers, hot-swap trays, cables, converters)

Other World Computing (drives, host adapters, enclosures)

Small Dog Electronics (drives, host adapters)

TransIntl (drives, host adapters, SwiftData 200 internal drive mounting kit for G5s)

Wiebetech (G5Jam internal drive mounting kit -- with or without drives, host adapters)
Has Bare Feats helped you? How about helping Bare Feats?