Originally posted 05/10/03 by rob-ART morgan, mad scientist
After all the excitement generated in January, the production versions of FireWire 800 (or IEEE 1394b) are finally starting to hit the streets. I plan to do a shootout between several models but I thought you'd like to see the performance of the first products to arrive in our lab: The FWDepot IceCube800 FireWire/USB2 Enclosure and FW800 PCI Card.
The FWDepot enclosure comes with two FireWire 800 ports, one FireWire 400 port, and a USB 2.0 port. So I decided to run speed tests using all three types of interfaces. In the case of the FW 800 port, I connected it alternately to the FW800 PCI card and the built-in FW800 port of the test computer (Power Mac G4/1.42GHz MP).
I used a Hitachi-IBM 180GXP 7200rpm 8MB buffer drive in the FW800 enclosure. I then took the same drive and connected it to the Sonnet Tempo ATA-133 PCI controller. Finally I ran the same tests with the newest version of the Seagate Cheetah 15K Ultra320 SCSI drive connected to the ATTO UL4D controller.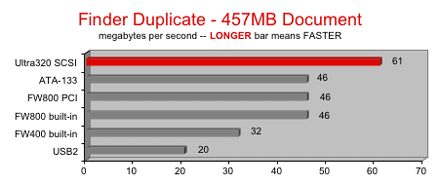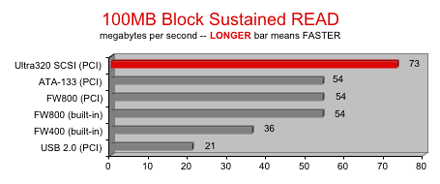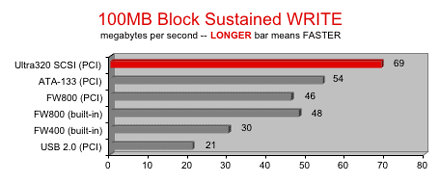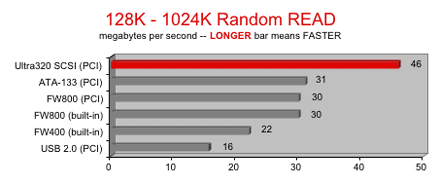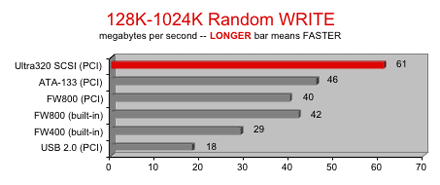 ANALYSIS
1. You can see that the FW800 interface is significantly faster than the FW400 interface in all tests I ran. The gap might have been greater if it wasn't for the limitation of the drive speed. I expect the gap will grow as faster hard drives, improved firmware, and optimized drivers emerge.
2. I wanted to know if the built-in FireWire 800 port was faster or slower than the FireWire 800 PCI ports. Read speed measured identical but write speed was slightly better with built-in.
I've seen that phenomenon before. The write speed has traditionally been lower on PCI based FireWire. It's nice to see with FW800, the gap has closed.
3. As you can see above, the speed of FW800 is now very close to that of ATA-133. In one sense, FW800 could be called "external ATA-6."
That begs the question: "Is FW800 RAID equal to ATA-133 RAID?" We're going to find out next week when we test FW800 RAID in various combinations.
4. USB 2.0 remains a distant last compared to all the other interfaces... except USB 1.0.
5. I offer you a dose of reality by comparing FireWire 800 (and the other interfaces) to one of the fastest Ultra320 SCSI drive/controller combinations: Seagate Cheetah 15K.3 drive on an ATTO UL4D Ultra320 PCI controller. Ultra SCSI is pricey but for sheer speed, it's still the one to beat.
RELATED LINKS
All the currently shipping FireWire 800 products are based on the Oxford 922 chip set. Read more about their bridge chip and bridge board at Oxford's website.
XLR8YourMac has also tested FireWire 800 products.
Check out Bare Feats' articles on FireWire two, three, and four drive 800 RAID, multi-brand FireWire 800 enclosure shootout, and FireWire 800 optimizations.
Storage Technology tested the newest Hitachi-IBM, Maxtor, Seagate, and Western Digital Ultra ATA drives. Although they test on Windows systems using Ultra ATA controllers, the results are instructive, since those are the Hitachi-IBM and Western Digital drives are being shipped in the new FireWire 800 case kits from OWC and LaCie. Be aware that putting the same drives in FireWire 800 cases may produce a different results from Ultra ATA controllers. In my tests, the Hitachi-IBM drive out performed the Western Digital drive.
WHERE TO BUY FIREWIRE 800 PRODUCTS
The FWDepot IceCube800 Enclosure (no drive) and FW800 PCI Card is in stock and can be ordered direct from FWDepot. They also have FW800 cables.
Other World Computing's Mercury Elite FireWire 800 Enclosure and PCI card are very similar in design to that of FWDepot. You can order their enclosure with or without a preinstalled hard drive.
LaCie's FireWire 800 enclosure comes in 200 to 500GB versions. Sounds like they are targeting digital video developers. They can be purchased through Other World Computing and Small Dog Electronics.
Wiebetech let me test their prototype FW800 bridgeboard and PCI card back in January following MacWorld. Their production unit will probably be shipping by the time you read this.
TransIntl.com has the Hitachi-IBM 180GXP drive we used in the test. I've found it to be the fastest ATA drive and works very well in all types of FireWire enclosures.
TEST NOTES
The test computer was our trusty Apple Power Mac G4/1.42GHz Power Mac.
The FireWire 800, FireWire 400, and USB 2.0 tests were done using the FWDepot IceCube800 Enclosure with a Hitachi-IBM 180GXP drive.
FireWire 800 cables were purchased from the Apple online store.
FWDepot's FW800 PCI Card was used alternately with the Power Mac's built-in FW800 port.
USB 2.0 PCI card was SIIG's 5 Port model.
Ultra ATA-133 PCI card was Sonnet's Tempo ATA-133.
The 15,000rpm Ultra320 SCSI drive tested was the Seagate Cheetah 15K.3 drive with 3.6 avg seek time. It's available in 37GB (ST336753LW) and 73GB (ST373453LW) capacities. We tested the 73GB version.
The Ultra320 SCSI controller was the UL4D from ATTO Technology.
SEE "HOW WE TEST" for details on the 5 tests reflected in the graphs. One new variation. For RANDOM READ/WRITE, I averaged the 128K, 256K, 512K, and 1024K random read/writes from Intech's QuickBenchX. I feel they best reflect typical random access block sizes used by the OS and most applications.