NEW fast inkjets squirt it out!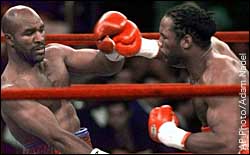 Bare Feats shootout between the HP Deskjet 895Cse and the Epson 900
(Posted April 1999).
© 1999 Rob Art Morgan, editor of BARE FEATS
rob-art@barefeats.com
The fight for the minds and hearts of Mac users is in full swing between Hewlett Packard and Epson. HP got a wake up call when the various Epson models began to eat away at their customer base. The new 895Cse is one of HP's answers. Here's the speed data including some older printers for perspective: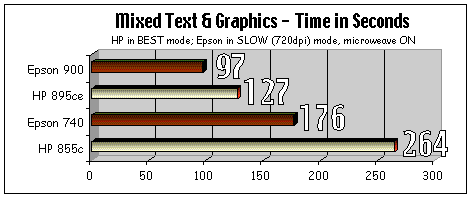 Conclusion: The Epson 900 is the winner. It also has more ports, and offers higher MAX resolution (1440 x 720) than the new HP Deskjet 895Cse. However, the colors on the HP were richer.

For a look at the different print speeds achieved via Serial, Parallell or USB, check this out.
Test Configurations
| | | | | |
| --- | --- | --- | --- | --- |
| PRINTERS | Interfaces | Resolutions | Max BW Speed | Max Color Speed |
| Epson 900 | USB, Serial, Parallel | 360, 720, 1440 | 12ppm | 10ppm |
| HP Deskjet 895Cse | USB, Parallel | 300, 600 | 10ppm | 6ppm |
| Epson 740 | USB, Serial, Parallel | 360, 720, 1440 | 6ppm | 5ppm |
| HP Deskjet 855c | Serial, LocalTalk | 150, 300 | | |
The HP DeskJet 895Cse was driven by a Blue & White G3/300 Minitower through the USB port. (No other USB devices were attached.)
The Epson 900 was driven by a Beige G3/300 Desktop through the serial port. (There were no USB drivers available at the time of the test. Epson promised me some with a few days. Watch for a revised test result.)
The Epson 740 and HP Deskjet 855c were driven by a Power Mac 7500 with G3/300 upgrade through the serial port. These two popular "older" inkjets help give perspective on how good the two newest inkjet printers are in terms of speed.
In earlier tests running an Epson 740 off a 233MHz PowerBook via serial port and a 233MHz iMac via USB port, the print speed was identical. It was concluded that the key factor with inkjet printers is print head speed, not port speed (USB versus Serial versus "whatever").
See MORE SPEED tests
RETURN to bare feats main page
© 1999 Rob Art Morgan, editor of BARE FEATS
Gotta Question? Comment? Want to advertise?
Email Rob Art